Christian Bale's Transformation Into Dick Cheney Involves Some Major Weight Gain and Going Bald
All for his f upcoming film, Backseat.
---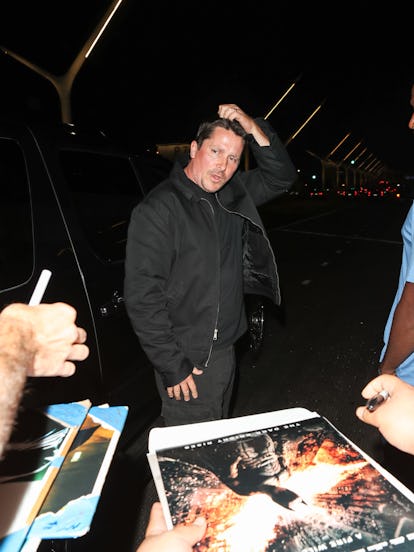 starzfly/Bauer-Griffin/GC Images
Thanksgiving is still more than a week away, but Christian Bale has been living everyday like it's the food-heavy holiday for weeks now. That's because the actor has been bulking up by eating pie as part of his transformation into Dick Cheney for the upcoming film Backseat, which follows the former Vice President's journey into one of the most infamous men in modern politics. When asked about his diet for the film helmed by Adam McKay—best known for 2015's The Big Short and 2008's Stepbrothers—Bale told Variety, "I've just been eating a lot of pies." That regimen has been working, apparently, as he is looking increasingly unrecognizable—even more so than when he first revealed his weight gain back in September. In preparation for filming, which has not yet started, the actor has also shaved his head, as he revealed yesterday while stepping out in public, in a loose-fitting shirt and black pants, for a press junket in Beverly Hills.
By now though, extreme weight gain and loss are nothing new to Bale, who might be one of the greatest on-screen chameleons of his era. Bale famously lost 70 pounds to star in 2004's The Machinist, Entertainment Weekly points out, and added back 100 pounds to suit up for Batman the following year. Most recently, he gained 43 pounds to become Irving Rosenfeld in American Hustle, which he co-starred in alongside Amy Adams, who he'll be reuniting with in Backseat as Lynne Cheney.
While Bale makes these kind of extreme makeovers look easy, he's talked about how it's become more difficult with age. "I thought I was going to lose the weight I gained for American Hustle. I said, two months, flat, that'll do it. I was 185 and I went up to 228 for it. And I'm still working that off! It's almost six months later," Bale said. "Now, I know that when I was in my early twenties it would have been two months and that's it." Hopefully he's savoring those bites as they go down. Gone are the days when his transformations were as easy as pie, apparently.
Related: Zac Efron Is Just the Latest Disney Boy to Play a Cold-Blooded Killer