From Connecticut, Christian Siriano Rescued New York Fashion Week
The designer brought Billy Porter, Coco Rocha, and more NYFW regulars together for a masked extravaganza.
---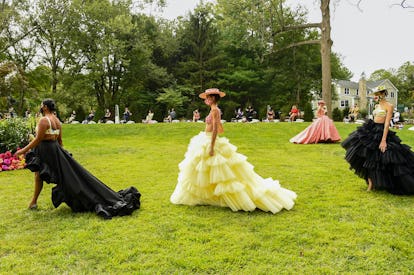 Jamie McCarthy/Getty Images for Christian Siriano
Perhaps I should have seen it coming, but the last thing I expected on a mid-pandemic Thursday was for a briefly maskless stranger to casually touch my arm. "This way, honey," Billy Porter said, steering me across an uneven lawn in Westport, Connecticut, which he navigated in platform heels. Strangely, it was the only real moment I felt foolish for partaking in a group effort to pretend it was a normal New York Fashion Week, converging with dozens of others to take part in what was realistically an irrelevant showing of eveningwear most of America couldn't afford.
But like Porter, I'd been swayed by the fact that it was Christian Siriano, who's been at the forefront of fashion's coronavirus relief efforts and the industry's most vocal advocate for PPE, who had dared take the risk. If anyone could manage to stage a show safely, it was him. As for Porter, he "never" doubted making the two-hour drive to Siriano's home, where the presentation took place, to take it all in. Nor did Coco Rocha, who was seven-or-so months pregnant when Siriano called up asking if she wanted to close the show. "I had a feeling that if he wanted us to do this, he was going to do this right," she said. "So when he told me models would be wearing masks, I was like, Done deal."
Models indeed wore masks, which were custom and coordinated with each look. "I'd seen shows with models not wearing masks, and I was like okay, that's interesting," Siriano said "backstage," which was just inside his sliding backdoor. "But I think for this, right now, we needed them. It showed how you can look great in clothes with the mask. We don't want people to feel like it's a hindrance in their lives, even though it is."
Models kept their masks on while getting changed outside, and even when getting their makeup done. ("Don't look under here," Rocha said with a laugh, gesturing at hers.) But no one seemed as unencumbered by their masks as Rocha, who decided 45 minutes before the show to end it by jumping in Siriano's pool, trailing evening gown, boater hat, heels, and all. Even Siriano didn't expect her to keep her mask on during all that, but somehow, she did.
Save for when taking sips of champagne, everyone else in attendance wore masks, too. I kept mine on from the moment I walked out of my apartment building, climbing into a car that took me from New York City to a land that seemed like make-believe, with Biden-Harris lawn signs, garages with basketball hoops, and one of those official-looking cyclists you always pass on the roads of wealthy enclaves. It was the most greenery I've seen all year.
"I think you're getting out here," the driver suddenly announced as we pulled up to a house barely visible down a gravel driveway and beyond a wooden, old-fashioned gate. There was no one in sight. Just as I started to worry of being stranded wherever this was in the tristate area, two similar-looking SUVs emerged. Heeding one of the drivers' gestures, we followed them a significant distance down the main road, toward the flashing lights of an empty cop car partially pulled up on a lawn. Another U-turn later—two cars watched as we, too, drove up on a lawn to reverse, waiting to do the same—we'd arrived. I was greeted with a temperature check, and given the go-ahead after hearing "98."
Things were so spaced out chez Siriano that as five event staffers stared at me making my way toward them, the long stone path almost felt like a runway. I was guided to what felt like my own private island: a woven mat with a chair and a picnic basket with enough supplies to keep me going for a few days. I couldn't quite figure out why there were also two sizable, fancy pillows on the mat until I remembered that Siriano was among this season's designers to partner with Lowe's on its décor. (They even streamed the show on Twitter.)
There were 30 or so similar islands, which played host to usual NYFW attendees like Leigh Lezark and the critics Vanessa Friedman and Robin Givhan. They were spaced six feet apart in a large ring around Siriano's pool, where models made their entrance across a temporary walkway. Not only did they wear masks; they also wore heels. (Upon closer inspection, each was outfitted with a clear safety guard.) The clothes were standard fare for Siriano, meaning made for a red carpet, with over-the-top feathers, ruffles, and puff sleeves. That was another reason why Siriano wanted to show in-person: "My clothes are made to be seen live, in movement," he said. And they certainly were, even though that meant long train after long train dragged across Siriano's lawn, which wasn't exactly manicured.
Siriano's house, of course, was one of the nicest I've ever been to, but the makeshift use of an uneven lawn as a runway was part of what made me feel almost at home. (There was also the Wi-Fi password, which was a strange mix of numbers and a random word.) Siriano readily acknowledged that anyone could have staged such an operation—"even just your family at home." For him, it was almost like playtime; he even took inspiration from his childhood, looking back to The Wizard of Oz and more of his old favorite films. "This is fun for me, and I needed to do it, even if nobody showed up," he said. "I haven't had a job for six months, and the models haven't, either. They wanted a moment."
"Fashion's in a hard place right now," Siriano continued. "But we can't lose that, or the industry is over. Everybody—magazines, designers, models, actresses. We all go together. And I hope everybody felt that today—that we all should support each other." And should that mean someone gets sick in the process, in this instance, Siriano is prepared. He had all of the models and his crew tested the day before, and collected everyone's information should there be a need for contact tracing.
"What I love is the art that comes out of the darkest of times is very often the most joyful, the most exuberant," Porter said. He was among the many who couldn't seem to thank Siriano enough, towering over him in a glittery pantsuit as they posed for the cameras and embraced. Rocha, having toweled off, did the same. This wasn't the first time I'd seen her make do in the midst of a global disaster; the last time we spoke, she was also pregnant, and managing her concerns about the Zika outbreak as she carried on with her usual travels to various events. When it was time to head back to the city, she bid me farewell with a laugh: "Until next pandemic."
Related: NYFW Spring 2021 Recap: A Return to Fashion, For Now