Christian Siriano Has Made More Than 8,000 Masks for New York Hospitals
The CFDA designer and his team of seamstresses were the first to answer Governor Andrew Cuomo's call to action.
---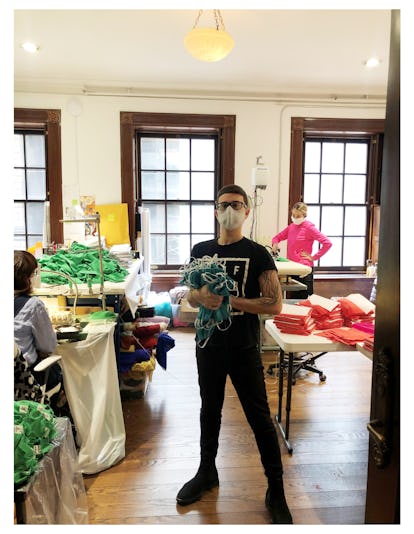 Photograph courtesy of Christian Siriano.
To coincide with the launch of W's stay-at-home Instagram challenge, we reached out to the people for whom a shelter-in-place order is an opportunity for creativity, a call to action.
During a moment when so many celebrities and public figures have been getting it wrong, this eclectic crew has managed to hit all the right quadrants of empathy, humor, creativity, and realness. They've been lifting our spirits between all the dark news and the somber moments, reminded us to laugh, provided us with a much-needed distraction from the very real fears and tragedies, and been caring and thoughtful about what they've put out into the world. While we can't compare them to the doctors, nurses and essential workers risking their lives daily, the people who have pivoted to making charitable contributions, stepping up as entertainers, and sharing mental health resources have added something positive to the conversation.
When New York Governor Andrew Cuomo put out a call for reusable fabric masks, CFDA designer Christian Siriano was the first to answer, firing off a tweet that got a response from the city government in less than half an hour. So far, the designer and his team of seamstresses have made more than 8,000 face masks for New York healthcare workers.
See all the people defining quarantine culture here.
What does your schedule look like right now?
I go into my studio in the city three days a week, and otherwise I'm at my house in Connecticut. Making masks has become our daily life. It's kind of monotonous work, it's the same thing over and over again, but we have a really cool assembly line going. We started really small at 300 a day, 500 a day, but once you're really in a system you're able to make quite a lot—we'll have 12,000 done by this weekend, I think. I'm trimming masks for three hours some days, which is not very exciting but it feels good.
What's the mood like in the studio? Is it more, you're keeping your heads down and working?
It's a pretty zen office for the most part. What's nice is that everybody does their own thing, some people are watching movies on their phone, it's a different work environment than normal which is more hustle-bustle and crazy. I'm personally trying to keep up with what's happening. I'm like, "Who has a new song? Are we listening to Lindsey's new song? Are we listening to Dua's new album?" I try to keep myself in it.
How do you unwind when you're at home?
I've been painting and sketching every day, that's my other way to kind of escape and meditate. We've been selling them on my website, and it's giving people an opportunity to buy a piece of art instead of a dress.
Are there any TV shows or movies that have helped take your mind off things?
I like watching weird crime mysteries, because, for me, that's true escapism. Obviously the whole world watched Tiger King. And I did just watch this HGTV show called Celebrity IOU. The first episode was with Brad Pitt and it was amazing. It's Brad Pitt literally fixing a house. It's fabulous.
Who is the person that has been the most inspiring to you during all of this?
I started working on masks, because I was listening to Andrew Cuomo's addresses every day and he was just taking such charge and taking care of New York and the millions of people who live here. So he's been pretty much the whole reason why I even started doing a project in the first place. You definitely feel like things happen when he's like "Okay, we're going to do this." It's so quick—that doesn't normally happen in politics, When I tweeted, they responded within 30 minutes, which is kind of unbelievable.
What is one of the most important things people can do to help right now?
I know people are making masks for themselves at home, and think it is still a great thing. Even if you're making it for your five friends, or your friends of friends, because everybody should wear something when they're going to the grocery store or anywhere. It doesn't matter if you're not able to make a medical-grade mask—what matters is that you do something.
What is the first thing that you'll do when this is all over?
Make a dress!