Pink, Christina Aguilera, Gwen Stefani Are Teaming Up for a New Documentary Soundtrack
The documentary is also inspiring new music from Pat Benetar, Lykke Li, and Little Mix.
---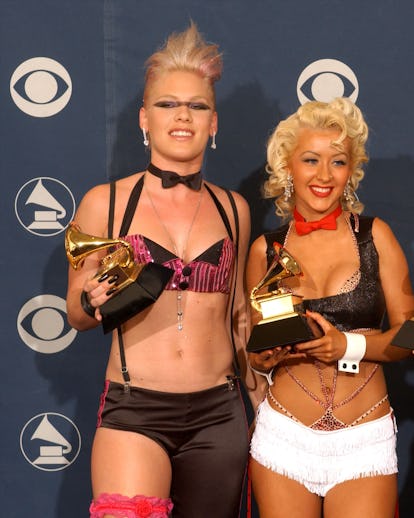 Vince Bucci/Getty Images
The calendar year is 2017, but it may as well be the mid-2000s as all things aughts-related make a comeback. The latest includes Pink, Christina Aguilera and Gwen Stefani, pop icons who reigned during the Juicy Couture golden days. The former TRL princesses will all release individual new songs on the soundtrack for a powerful upcoming documentary called Served Like a Girl, Variety reports, it's for a good cause.
They'll also be joined on the project by The Hills theme song creator Natasha Bedingfield and Pat Benatar, as well as younger artists like Little Mix, Lykke Li and Lizzo.
The profits from the soundtrack will go towards Final Salute, which importantly assists female veterans, who receive far less benefits than their male counterparts, as the documentary explores. Served Like a Girl shines the light on the less-talked about gender gap between male and female veterans through the lens of the Ms. Veteran America competition, the proceeds for which provides housing for homeless female veterans and their children.
"Served Like a Girl is about the journey of five veterans as they compete for the title of Ms. Veteran America, which is a competition that was started by a homeless female veteran in order to raise awareness and funds for homeless female veterans," director Lysa Heslov told Gold Derby. "The majority of us when we think about homeless veterans automatically think about a man possibly suffering from alcoholism or mental illness pushing a shopping cart. We don't think about the fact that women are coming back from combat with PTSD. They're having a very difficult time transitioning back into civilian life and they're suffering. I think they really, truly are the unsung heroes… There was a responsibility in [my] hands to tell a story in a way that invokes humor and tragedy and sadness and all of those emotions that you feel couched in this competition."
Linda Perry, the former 4 Non Blondes singer who broke through as an A-list pop songwriter and producer with the duel smash hits of Pink's "Get This Party Started" and Aguilera's "Beautiful," will be heading up the musical side of the project.
Check out the full track list and trailer for the film below.
Pat Benatar – "Dancing Through The Wreckage" P!nk – "Halfway Gone" Christina Aguilera – "America" Gwen Stefani – "Medicine Man" Natasha Bedingfield – "Hey Boy" Chely Wright – "Shine A Light" Lizzo – "Good As Hell" Dorothy – "Naked Eye" Beth Lowen – "Joyride" Lykke Li – "End of the Night" Maya Heslov – "Fighter" Willa Amai – "Scars" Little Mix – "Saluten'
Related: Christina Aguilera Returns to Movies With a Part in a Very Intriguing Sci-Fi Film
See What's Trending in W Video: