A 2000s Pop Culture Museum Is Coming to New York City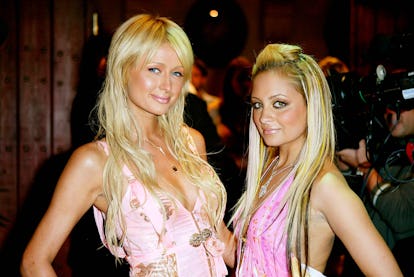 Frazer Harrison/Getty Images
Paris Hilton may have invented everything you're doing in 2017, but your favorite Instagram account is putting it all on display. Pop Culture Died in 2009 is bringing a pop culture museum to New York City in collaboration with the Tonya Harding & Nancy Kerrigan 1994 Museum (the people who brought you the Mary-Kate and Ashley Olsen museum last year) to open a gallery this summer dedicated to your favorite 2000s queens, including Mischa Barton, Lindsay Lohan, and Nicole Richie.
The exhibit will be based on Richie's infamous Memorial Day 2007 barbecue, which resulted in multiple scandals, starting with Richie's e-vite and ending with Barton in an ambulance. Featuring art by Laura Collins, Derek Covington Smith, Tiny Stitchers (Ashley Chávez and Caroline Cristal), Lila Freeman, Randy G, Natassha Kwb, the MaVa, and Pop Aesthete, the pop culture museum will include some of the era's most iconic moments like Britney Spears, Hilton, and Lohan together in a car, Lohan wearing just a bikini and an ankle monitor, a triptych of Naomi Campbell's glamorous community service looks (which wound up in a shoot for W), and Winona Ryder in court, according to co-curators Matt Harkins and Viviana Rosales Olen. There will also be a hand-knit, ankle alcohol-monitoring bracelet, an "IRL .gif of Janet Jackson," and a full barbecue table spread featuring miniature food.
The theme extends to the guest experience. "We can all read [Nicole Richie's] e-mail but nobody knows who was CC'd, so we're asking visitors to imagine that everyone was," Harkins and Olen wrote in an email to W. "Lindsay Lohan, Britney Spears, Naomi Campbell, Winona Ryder, Janet Jackson, Anna Nicole Smith, and anyone who visits. The only person not invited is Justin Timberlake."
On the event's Facebook page, the museum operators write, "We feel it's time to celebrate the icons of the aughts we all know and love as the rockstars they are. Sure not all of them 'played music' but their music was the sound of a faceplant while exiting a Range Rover, a catchphrase created organically on a reality show, the beeping of a court enforced alcohol monitoring bracelet, the mixing of antibiotics with things you shouldn't mix antibiotics with. The list goes on, do you hear the music now?"
Gather up your denim skirts and Juicy tracksuits, and mark this down in your Sidekick: The exhibit is from July 28 to August 11. Get a sneak peek of some of the artwork, below.
Related: [Naomi Campbell: The Naomi Diaries}(https://www.wmagazine.com/story/naomi-campbell-probation)
Paris Hilton Breaks Down Her 13 Favorite 2000s Trends, And Why They're Still Hot:
Once Upon a Time, Lindsay Lohan Had Your Ultimate Early '00s Wardrobe
Lindsay Lohan during Mean Girls World Premiere at Cinerama Dome in Hollywood, California, United States.

Getty
indsay Lohan arrives for the premiere of Herbie: Fully Loaded at the El Capitan Theatre on June 19, 2005 in Hollywood, California.

Getty
Lindsay Lohan departing the Metropolitan Museum of Art Costume Institute Benefit Gala "AngloMania: Tradition and Transgression in British Fashion" at the Metropolitan Museum of Art May 1, 2006 in New York City.

Getty
Lindsay Lohan attends the MTV's Iced Out New Years Eve celebration on December 31, 2004 in New York City.

Getty
Lindsay Lohan attends a party for Calvin Klein.

Getty
Lindsay Lohan at the Tommy Hilfiger Paris Store on Rue Saint Honore in Paris, France.

Getty
Lindsay Lohan attends the Cartier Charity Love Bracelet Party in June 2006.

Getty
Lindsay Lohan during Saved Los Angeles Premiere at The National in Westwood, California.

Getty
Lindsay Lohan attends the 2004 Teen Choice Awards.

Getty
Lindsay Lohan attends the 2004 MTV Movie Awards.

Getty
Lindsay Lohan during Movieline's Hollywood Life 7th Annual Young Hollywood Awards.

Getty
Lindsay Lohan during Mr. And Mrs. Smith Los Angeles Premiere.

Getty
Lindsay Lohan during Cartier Celebrates 25 Years in Beverly Hills in Honor of Project A.L.S. at Cartier Store in Beverly Hills, California.

GEtty
Lindsay Lohan stops by TRL at the MTV Studios on December 6, 2005.

Getty
Lindsay Lohan during 12th Annual Race to Erase MS Themed "Rock & Royalty to Erase MS" – Arrivals at The Westin Century Plaza Hotel & Spa in Los Angeles, California.

Getty
Lindsay Lohan during 12th Annual Premiere Women in Hollywood in Beverly Hills, California.

Getty
Lindsay Lohan visits TRL at MTV Studios in New York City on May 8, 2006.

Getty
Lindsay Lohan during 14th Annual Elton John AIDS Foundation Oscar Party Co-hosted by Audi, Chopard and VH1 – Arrivals at Pacific Design Center in Hollywood, California.

Getty
Lindsay Lohan during 2005 MTV Movie Awards at Shrine Auditorium in Los Angeles, California.

Getty