Winona Ryder: Ryder on the Storm
This summer, Winona Ryder returns to the sort of light comedy that made her a star, with performances in Simone and Mr. Deeds. As for drama, well, there's plenty of that in her personal life.
---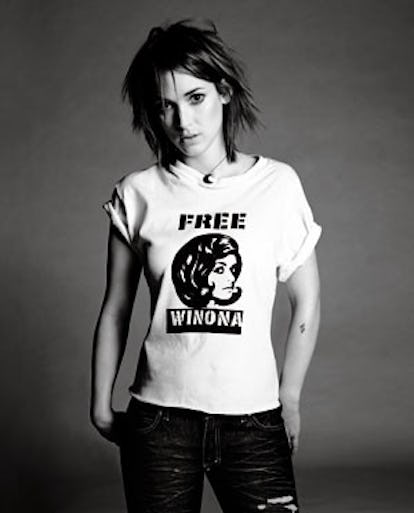 Winona Ryder would like the world to know she has nothing to hide.
In the interest of promoting her two new summer movie comedies, Mr. Deeds, a remake of the 1936 Gary Cooper film, with Adam Sandler, and Simone, a futuristic Hollywood satire by writer-director Andrew Niccol—and, no doubt, of doing a little emergency repair work on her tattered public image—the 30-year-old actress welcomes a reporter into her New York abode on Gramercy Park. Answering the door dressed in a creme gauze hippie dress and red sweater, her feet bare (the better to display her bright red toenails), her now-auburn longish hair looking fashionably shaggy (courtesy of Garren), she offers a thorough tour.
Decorated with fringed lamps and supersoft lighting in a style best described as boho feminine, Ryder's apartment is dominated by her black-and-white photography collection, which includes a large format Bruce Davidson shot of Timothy Leary (her late godfather), dancing in a white suit. There are also plenty of personal snapshots and Sixties-era photos of her parents, Michael and Cindy Horowitz, a hippie couple who emigrated to Northern California and raised Ryder and her three siblings on a commune. After proudly displaying her formidable collection of books and CDs (Wilco is a current favorite) and happily showing off her bedroom—"I cleaned it just for you!" she announces—Ryder positions herself on a big fluffy chocolate velvet sofa with pillows that almost dwarf her and settles in with a can of Coke and a pack of Saltines.
Apparently she's in the mood to chat. The one thing Ryder cannot chat about, however, is her arrest outside of Saks Fifth Avenue in Beverly Hills on December 12, for allegedly shoplifting and possessing pharmaceutical drugs without a prescription. Contrary to police claims, a store videotape reportedly does not show her removing tags from the items she left the store with. But the case, which was to go to a hearing in Los Angeles on May 8, is proceeding. So on the advice of legal counsel, Ryder declines to discuss any details of the charges. She still finds plenty to talk about.
W [observing photos of her parents]: It seems like you have the coolest parents in the world.
Ryder: Yeah, I do. They are so cool. As I've been growing up as an adult, I've become even more aware of it. I spend as much time as I can with my family in Northern California. And when I'm not there, we're on the phone. I was watching Saturday Night Live over the phone with my dad this weekend! No matter where I am in the world, I call him and we go over the whole show. [Indeed, Ryder is currently in discussions about hosting an episode.]
W: What does this say about your social life?
Ryder: [giggling loudly] It says that it's not as interesting as people think! Winona Ryder's home with her dad watching Saturday Night Live—instead of having this life that I've been reading about that I wish I did have. When I read about all the dates I have, it's like living vicariously through my own supposed life. My parents are so madly in love it's kind of freaky, and I'm going to have to find that, the most amazing soul mate. I have been incredibly lucky with the guys I've been linked to, though. The dream list—oooh! I often wonder if when they read they're linked to me, maybe they'll give me a call. Not to say that I don't date—I do date once in a while, and I've gone out with wonderful people in the past. Although not with Jimmy Fallon, who everyone thinks is my boyfriend. We're just great friends. I'm very, very close to the boyfriends that I've had. Especially Dave [Pirner, lead singer of Soul Asylum].
W: I remember reading that Beck and you were an item.
Ryder: I know. When I read that, I thought, That's so cool! Wow! I wish! That's usually what my response is when I hear about a new guy I'm with.
W: Finding a person with enough nerve to ask you out can't be the easiest thing in the world.
Ryder: One major problem I have is that I rarely meet people who don't think they know things about me. Not to complain, because I know movie stars are just not allowed to complain. I've watched them try, and it doesn't quite work. I am so insanely blessed, and I have no reason to complain. So actually, I do believe there are people out there who know who I am who haven't made judgments— because I've met those people.
W: You do seem to have a thing about men in the music business.
Ryder: I grew up around the music industry. I have been going to shows my whole life. My dad took me to see the last Sex Pistols show at the Fillmore. I was seven. The famous one where Johnny Rotten said, "Ever feel like you've been cheated?"
W: Did you have a clue what was going on?
Ryder: Oh, yeah! I worshipped that music. I have every T-shirt and poster from every Ramones show, because my dad took me every single time they played. My mom was more folksy—she's from Minneapolis, more of a Dylan person.
W: Didn't you go off with Dave Pirner and live in Minneapolis for a while?
Ryder: Yeah, I love Minneapolis. There's such an incredible music scene there. It's where Dylan is from, and The Replacements, Husker Du, Soul Asylum…
W: You really know your music.
Ryder: I do, I do. It's another thing that comes up with guys— a lot of guys don't like it when you know more about music than them. Especially the whole area that includes Bruce Springsteen. Because I'm a die-hard Springsteen fanatic.
W: I thought you were a bit more alternative.
Ryder: Bruce isn't mainstream. Well, he is. There's a lose-lose thing for musicians that I don't subscribe to—if you sell anything, you're not cool anymore. I mean, when I read Catcher in the Rye, I truly believed I was the only person who understood this character. My dad gave that book to me when I was 10 or 11. Then I found out everyone had that same feeling about Holden Caulfield, and I was pissed. So, I can see where people could have the backlash.
W: Why don't you try to bring Salinger to the screen? Ryder: No! I remember saying this in an interview for an English magazine, for Heathers—they asked me what I would do if they made a movie of Catcher in the Rye, and I said I would bomb the set!
W: Don't you want to be Franny, from Franny and Zooey?
Ryder: Unfortunately, I am Franny! But I couldn't play her anymore. Franny was very young. How the hell J.D. knew that much about young girls is beyond me. I don't read biographies of him, but I was one of the bidders on the letters that horrible woman was selling.
W: You tried to buy Joyce Maynard's letters?
Ryder: I was outbid by a man who had the exact same plan I had— to offer them back to Salinger. And if he didn't want them, to ignite them. Salinger has asked in every way possible for his privacy. I know a little bit what that's like. I love being an actress, but I never, ever thought that meant anybody had the right to know anything about my personal life. I still stand by the idea that acting does not mean you have to give up your personal privacy.
W: That issue comes up in Simone, with Al Pacino, which is about a computer-generated celebrity, who of course can't do live interviews. How did you get involved with the film?
Ryder: I got a call from Al. He's an insomniac. We talk in the middle of the night. You know I did that Looking for Richard thing with him. And unbeknownst to all of us, it came out as a film. It was supposed to be for Al's archives. It's sort of the genius A1 Pacino—he can talk you into just about anything.
W: Are you an insomniac?
Ryder: Yes, I don't sleep, he doesn't sleep. So it is very normal that we call each other at two in the morning. I just love him so much. Obviously his work is stellar and brilliant, but as a person he is just one of the most wonderful, generous people I have ever known. So from that we had this friendship. And I personally think he's incredibly attractive. I find him just irresistible, and there is this age difference between us, but…
W: Did you have rehearsals with him for The Godfather III before you dropped out of that film?
Ryder: No, I spoke to him on the phone then. When I didn't do the movie, he called me and was like, "Don't worry about it." At the end of the day I am glad I didn't do that film. I mean, I would have loved to have been a part of it, but I don't know…
W: Did you ever think when you were growing up on a commune that you would be famous and have a lot of money?
Ryder: Certainly that was not encouraged. But I wouldn't say it was discouraged. My parents always wanted me to do something important. I wanted very much to be a writer, or an activist. I wanted to change the world, to be part of a movement. I never thought of myself as being in any kind of a spotlight.
W: How did you have so much composure as a kid doing movies?
Ryder: I didn't have any composure back then. I was very scared. But I'd been in a couple of bands. We didn't have any gigs—we were terrible. But at least that got me over my stage fright. Also, I was very into skateboarding. I really wanted to skate competitively and make it my career for a while.
W: You must have gotten bruised a lot.
Ryder: Actually, I never broke a bone until the movie, until I did Deeds. I broke my arm. We were shooting a scene where Adam and I are riding bikes down a long flight of stairs in Central Park. I was in heels and my heel got caught in the pedal. The funniest thing is we were just standing there, but I was totally showing off like an idiot. Suddenly, I was on the ground and he was like, "Are you okay?" I got up and I was like, "Yeah, I 'm fine. No problem!" And in the morning, oh, God, my arm hurts.
W: How did you finish the movie?
Ryder: Well, I'm an actress—I'm trained to hide my pain. But eventually, I went to the doctor, and it was broken in three places! Miraculously they were joint breaks so you don't put
those in a cast.
W: With Mr. Deeds, was there a conscious choice to get back into comedy?
Ryder: I've always been a fan of Adam Sandler. I'm, like, very strange that way. I can be the biggest snob. Then I realize I'm not a snob at all. One of the things that's so cool about Adam is he doesn't do press. That is because he's been so screwed over by it. I think what was written when Chris Farley died really upset him. You see, I've been through this stuff. I have grown up on-screen and been around Hollywood and have seen people go through horrendous tragedy and stupid scandal. Then the exploitation of the tragedy and exploitation of the scandal. I have seen so much horrible stuff. But when you lose a good friend and then watch the press do that—that's unforgivable.
W: Well, Adam Sandler agreed to talk to W—ever so briefly— about you. This is his quote, which he insisted be run in its entirety: "Winona kept leaving messages on my answering machine, boasting, 'I'm way funnier than you, Adam Sandler, and you'd better recognize it.' Finally, after the 23rd insult to my comic abilities, I *69ed little Miss HaHa and threw down the gauntlet. 'Winona Ryder, if you think you're so damn funny, then prove it to me on the silver screen. Me versus you. Mano a mano. The person who receives the most laughs gets a fresh pizza pie of their choice, paid for by the loser.' Fifty-two days later, after a long, grueling movie shoot, Ms. Ryder happily devoured a large mushroom-and-green-pepper pizza, at my expense. My hat's off to you, doe eyes. You are one funny diva."
Ryder: That is so sweet!
W: So why haven't we heard any Winona Ryder links to Adam Sandier yet?
Ryder: Oh, no! Adam has the greatest girlfriend. But I can totally see why he would be a heartthrob. He is so sweet and adorable—and so handsome. You just melt in his presence. The other thing about Adam is that he is completely the most noble person you would ever meet. I just really wanted to do this movie.
W: You once said you would never do a remake.
Ryder: I know. That's the other thing about doing press—if you change your mind, they say, "She lied!" I didn' t lie, I just changed my mind. But the original Mr. Deeds Goes to Town is a great movie. It is weird to talk about this, because of what has happened in the world since we made the movie—but the reason I wanted to do it was I felt the world needed a family-type movie.
W: It's really a sweet film.
Ryder: And a huge thing that happened in my life recently was the birth of my niece. Having this new baby in the family completely changed my life. I just wanted to make a movie that was about goodness and kindness.
W: Meanwhile, your character in Simone is this total monster diva actress.
Ryder: I freaked out over that script, and of course when I was first talking to Andrew Niccol, who's so great, I was like, "Can I be Simone?" I didn't realize she'd actually be computer-generated. Then they asked me to be the bitchy actress, and I thought, okay. I didn't know if it was going to be funny or not, because I actually know actors who behave like that. I have seen it. In fact, I've seen much worse.
W: And the irony of course is that you're a rather glamorous movie star yourself…
Ryder: It's funny to hear that. If I showed you scripts from my first few movies, the descriptions of the characters all said "the ugly girl." Starting with the character I played in Lucas; she was described as homely, unattractive. Beetlejuice was like, "Enter Lydia, a freak who looks like an Edward Gorey character.' I was going to public school when it came out, and you'd think that maybe the kids would be like, "Wow, you are in the number-one movie in America!" But they were like, "You witch, you're that freak!" They threw Cheetos and cafeteria food at me.
W: You're kidding.
Ryder: Seriously, that's what my life was like.
CLICK HERE to return to the W Classics archive.