Christina Hendricks's Retro Beauty
The actress celebrates Birchbox's Mad Men-inspired collection.
---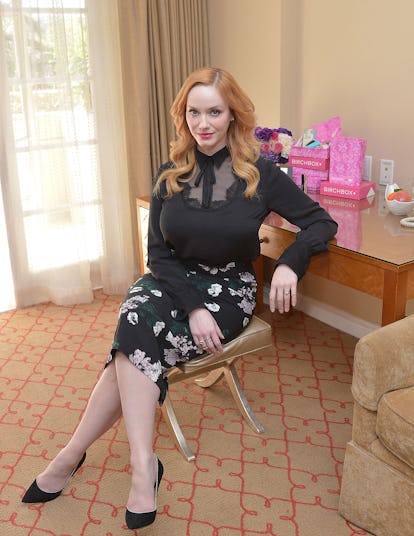 Mad Men may be in its final season, but the show's retro beauty looks are still going strong. Now, Birchbox is helping wannabe Joans, Peggys, and Bettys out with a limited-edition collection of Mad Men-inspired goods, including Cargo peach blush, old school shaving cream, and Anastasia brow gel. Actress Christina Hendricks was a fan of midcentury glam long before she nailed the role of Joan Holloway. "I already liked the look, but [being on the show] taught me how to perfect it," she said at the launch on Wednesday. "I've gotten very, very good at the 1960s eye—it's very Brigitte Bardot, very Twiggy." And even though filming has wrapped, she continues to use some of the makeup tips and tricks she learned on set. "On a lot of shows, you'll get touched up all day long, but my Mad Men look just stayed," she explained. "So, if I'm going to an event these days and I'm doing my own makeup, I do a little more powder than I used to. It just really sets it." Of course, the ladies aren't the only ones on the show with a very specific look. "The guys always look so handsome and so put together," Hendricks said. And so, for modern day Don Drapers, there's a men's box with goods like a Harry's razor, musky Plant body wash, and Baxter of California facial scrub.