Christopher Wool in the Studio: The Iconic Artist on His Ambitious New Directions
The artist Christopher Wool famously used New York as the backdrop and inspiration for his iconic paintings. Now, he's embarking on a different—and equally ambitious—stage of his career.
---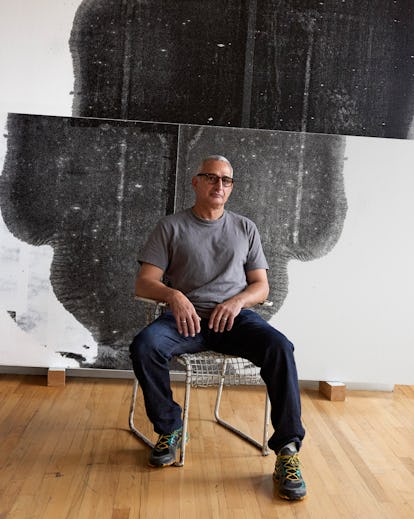 Photograph by Stephen Shore.
Christopher Wool has a reputation for not talking much. He's of the let-the-work-speak-for-itself school and rarely grants interviews, an aversion perhaps not altogether surprising for an artist who rose to prominence in the late 1980s playing with the hostile, slippery nature of the painted word. But on a gruelingly hot morning in September, Wool welcomes me to his studio in the far eastern blocks of New York's East Village. The words front and rear are stenciled in block capitals on the building's facade, a detail so uncannily reminiscent of the artist's seminal text paintings that I half-expect them to have been graffitied by the man himself. But Wool is the rare abstract painter who pulls his inspiration—and even his materials—directly from the environment. Arguably, no contemporary artist has utilized the gritty, messy vernacular and anxious disquiet of the city to such masterful effect.
In person, the 63-year-old artist has a warm, gravelly voice and a relaxed, engaged demeanor. Although Wool spent his formative years hanging out in the bohemian, punk rock art and music scenes of 1970s and '80s New York, there's a soft-spoken, Midwestern friendliness to him that suggests his middle-class Chicago roots never entirely lost their grip. The East Village studio has been his for a while. He bought the sixth (and top) floor in 1991, just weeks before Mayor David Dinkins closed nearby Tompkins Square Park. Wool recalls many of the ejected homeless people setting up camp in a vacant lot right across the street. "That was the tail end of the East Village being a really tough neighborhood," he notes.
He acquired the fifth floor around 2005, after it was partially destroyed in a fire, and here, spread out in this two-floor aerie, Wool has been working on a rash of different projects. These include large-scale Rorschach-like ­silk-screen paintings leaning against one wall, for a show at the Chicago gallery Corbett vs. Dempsey next spring, and a new series of tube-and-brush-applied paint drawings rendered on older, discarded prints that were lying around the studio. Recycling, reappropriating, and cannibalizing previous images and works has become a signature practice of Wool's, creating a collision of layers and densities. "Sometimes, it's helpful to have something to react to—or against," he says of his constant self-referencing and repurposing. In Wool's world, an image never seems entirely finished. ­Something can always be added or removed or rejiggered.
The lithographic print he made exclusively for W, in collaboration with the storied print publisher Universal Limited Art Editions and the art adviser Sharon Coplan Hurowitz, is another of his recent projects. The print's background is a metal-plate etching, on top of which Wool created a ribbed, red-and-black monotype; a picture of the original was ­captured and then altered by Wool in Photoshop. It's likely the biggest artist print run in the publisher's history, and Wool says that democratic approach to sharing what he makes particularly appealed to him at this stage of his career.
Of course, Wool has long been a favorite of elite collectors, but attention—and auction prices—spiked in 2013, when the Guggenheim Museum in New York hosted a major retrospective of his work. The critically acclaimed exhibition served as a de facto coronation of Wool as one of the most important and influential living American artists. He is proud of the retrospective, but the commitment required for such a monumental, all-encompassing survey was bound to take its toll. He admits to still being in a bit of a post-Guggenheim stupor; it took him a year or two to get back on his feet creatively. But one of the boons of a successful retrospective is the feeling that there is very little left to prove. In truth, even before the Guggenheim show, Wool had begun exploring new horizons, and evolving in unexpected ways.
In addition to being a painter, Wool has always taken black and white photographs (some even become the starting blocks for his paintings). It was only after buying a house in the tiny West Texas desert town of Marfa, in 2007, that Wool found himself drawn to making sculpture. "The sculptures are directly inspired by being there," Wool says. "Unlike New York, there's so much open space." Wool and his wife of more than 20 years, the German painter Charline von Heyl, share a studio they built in the center of Marfa and a l980s log cabin kit house on the edge of town. Their house looks out onto big open skies and vast high desert. In the same way that Wool plucked his early painting stencils from the vocabulary of the New York City streets, so too the material for his sculptures is quite literally collected off the desert floor. Wool walks his land and gathers old fencing and hay-baling wire, which he then fashions into small, abstract maquettes that look like lyrical scribbles. The ranching wire actually echoes the haptic line in many of his recent paintings. ("When I discovered the wire, I saw it as a ­three-dimensional version of my drawings, only done better," he acknowledges.) A few of these maquettes are chosen to be 3-D scanned, blown up, and cast at a foundry in bronze and steel as outdoor sculptures. "The big difference is the whole issue of scale," Wool says. "Scale is pretty straightforward in painting—how it relates to wall or room size, or whether it will fit through the door. But once you take sculpture outside, the scale is so much less relational. It's much more open and independent." Wool is still learning the ins and outs of his sculptural practice, although he's already installed three sculptures on his property in Marfa and one at a public plaza in downtown Chicago.
Wool swears that despite rumors about Marfa being overrun with artists and developers, it's still a quiet, peaceful place. "I'm down there without an agenda," he says. While he and von Heyl are often in Marfa at the same time, they're careful to keep a respectful distance when it comes to work. They split their studio right down the center, and Wool makes it clear that while they do occasionally confer with each other about their paintings, they have always been ­separate, stand-alone artists following their own respective career arcs. Wool isn't planning on giving up New York for Marfa anytime soon, although he concedes that the city isn't the same wild beast it was when he arrived in the mid-1970s. "For a while, I wondered how much New York had changed and how much I'd just gotten older," he reflects. "It really is a different place. For me now, New York has become a place for work, and where my friends are—not much else."
Wool studied at the New York Studio School after a year at Sarah Lawrence College, and eventually settled in a ­Chinatown loft in 1976. Like the musicians, dancers, artists, and writers around him, he began experimenting with materials and techniques—as well as soaking in the subversive atmosphere. "I can't imagine being an artist at that age and not being in New York," he says. "The city became part of the work." Certainly, his radical turn toward black and white letter stencils and house-painting pattern rollers sprung directly from the inner-city scrawl. "New York is very black and white," he says. "Also, a lot of New York for me back then was by night."
In 1988, not long after the famous Black Monday Wall Street crash of 1987, Wool exhibited his first text painting, which said "sell the house sell the car sell the kids," in a two-artist show with Robert Gober at 303 Gallery. The ­painting is now so iconic—it sold at Christie's in 2013 for more than $26 million—that it's hard to imagine a young Wool ­worrying over its reception. "It was an experiment," he says. "Previously, I had been making abstract paintings, so it was certainly a departure. I was still young and extremely ­insecure. But I remember [the gallerist] Paula Cooper coming into the gallery, taking one look at the painting, and ­saying, 'My sentiments exactly.' I immediately relaxed."
In those text pieces, Wool managed to capture such a mash-up of social and aesthetic forces that they carry a radical charge even to this day. They alluded to the much-prophesied "death of painting" debate of that era, with their reductive style and celebration of the mass-produced ­template over the artist's gestural hand; yet they're rife with drips and glitches, and allow for the ghostly presence of underlying layers. They spoke the language of Pop, with references to entertainment and advertisement signage ("Sell the house, sell the car, sell the kids" is lifted from the 1979 film ­Apocalypse Now; another work from the period borrows from a 1977 Richard Hell album cover), but the words themselves are broken up and awkwardly spaced to the point that the viewer is left to slowly sound them out, like a child learning a new language. The canvases could also be interpreted as iconoclastic political statements. "They were a little bit political," Wool acknowledges. "But I really did see them first as paintings." After a few years, Wool moved on to new experiments—investigating unconventional modes of layering and image building that have led to canvases covered in a controlled chaos of splatters, tangles, displaced letters, digital swooshes, and blots. But it was the text works, with their loaded meanings, that made him a star.
Wool has had a galvanizing influence on a wide swath of artists, despite the critic Dave Hickey's scathing pronouncement, in a 1998 Artforum review of a show at the Museum of Contemporary Art, Los Angeles, that he failed to have "any meaningful visible impact on the work of the new young painters." In fact, Wool ushered in a style and spirit—knowing, graphic, wry, sleek—that has become increasingly prominent in recent years. The abstract painter Joe Bradley remembers discovering Wool's text paintings in art school. "On one hand, they are so mean-spirited and confrontational, but they're also really funny and sexy and arch," Bradley says. "He sets such narrow parameters, and yet he teases so much out of them. It's almost like seeing someone maintain a poker face for 35 years. He never loses his cool."
Wool, meanwhile, is still pushing boundaries. Back in his studio, a series of works on paper he was experimenting on the night before have been left to dry on the floor. What is immediately startling and decidedly un-Woolian about them is their overt celebration of color. Wool's trademark New York City black and white has given way to thick patches of salmon pink, squiggles of bark brown, and sinuous lines of yellow—often accumulating together on the same sheet. On a nearby table, paint tubes and oil sticks are laid out. Wool hasn't worked with oil paint in a long time, and rarely with color. Although the works are done using sticks and tubes instead of a ­paintbrush, they come dangerously close to betraying the idiosyncratic markings of a master artist's hand. Once seen as an apostle of painting's demise, here, on the top floor of his East Village studio, Wool seems ready to celebrate its unruly, volatile afterlife.