The Artist Cj Hendry Is Turning Brooklyn Rainbow One Monochrome Room at a Time
Her new pop-up installation is flooding Greenpoint with color (and Instagram paparazzi).
---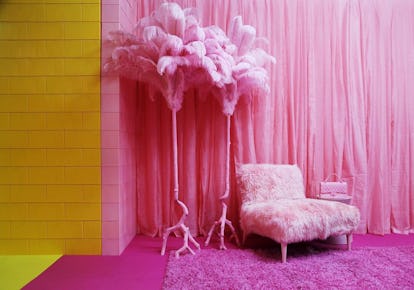 Courtesy of @veselinatsankova
A seven-room home in New York City is already notable in and of itself, but there are plenty more obvious reasons why the house that the Australian artist Cj Hendry erected inside a 22,000-square-foot industrial space in Greenpoint, Brooklyn, earlier this week, stands out. As the installation's title, "MONOCHROME," suggests, each space is decorated in an explosion of one color. (Though, to be fair, there is a little variation, like mingling bubblegum and hot pinks.)
Each room's color scheme is also spelled out on a wall in a triptych of framed paintings of crumpled Pantone shades. The installation's teaser, for example, showcased Swedish Blue:
Hendry, who's 30, never went to art school; instead, she studied accounting and finance before dropping out of college to make the type of works that, as it turned out, Kanye West would want customized (she created a piece for him that superimposed West's face on a $100 bill; it was ironic). Those hyperrealistic, highly detailed drawings were, more often than not, black-and-white—a far cry from the brightly colored turn her Instagram took last March, an evolution that mirrored her real-life collaboration with Christian Louboutin to create a rainbow of heels, whose crayon soles allowed visitors to spread the colors onto the walls of a booth at the Art Basel Hong Kong fair.
Between spaces like a green kitchen, a yellow bedroom, a blue living room, a quick walk-through of Hendry's latest provides encounters with everything from a deep purple toilet (and toilet paper) to a fuzzy red dinner table to a forest green stove. The canary yellow room, for one, looks like a perfect fit for Rihanna, who's been known to embrace the color as part of the head-to-toe monochrome trend. As for the pink one? As Henry illustrates below, it's perfect for anyone who'd like nothing more to dive into and nap in a giant stuffed animal ball pit. In case you can't make it to 276 Greenpoint Ave. before it closes up shop on Sunday, or aren't prepared to brave what some are calling the "Instagram paparazzi," take a tour via Instagram, here.
Related: See Zendaya, Blake Lively, and Gigi Hadid All Make the Case for the Monochromatic Outfit Trend