Claire Foy Loses Her Mind (But Gains an American Accent) in Unsane Trailer
Steven Soderbergh shot the film entirely on iPhones.
---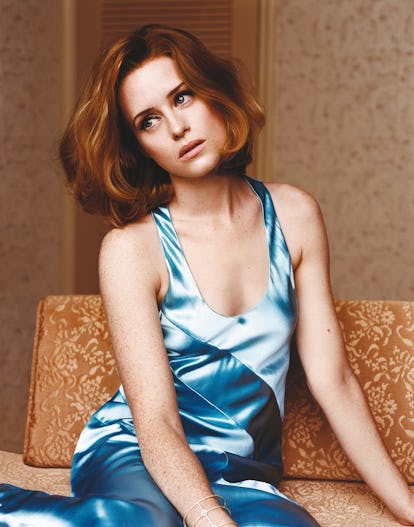 ALASDAIR MCLELLAN
We're used to seeing Claire Foy surrounded by fineries and speaking in a regal British accent on The Crown, so we can assure you that the Claire Foy we see in the first trailer for Steven Soderbergh's upcoming creepy thriller Unsane is assuredly unlike any version of the actress we've seen before. In the film, Foy plays an unnamed American woman who has recently had to relocate to a new city after a stalker makes her life a living hell. Or, at least, we think we do. The trailer then takes a swift turn, and we're left unsure of what is real and what is in the character's head.
The film will only be Foy's second after taking on her breakout role as Netflix's version of Queen Elizabeth II, and, unlike both The Crown and Breathe, finds the actress not only in modern times in America, but in way less sumptuous settings. Highlighting that fact is Soderbergh's choice to film the entire movie on iPhones (a choice he says he'll maintain throughout the rest of his career—although Soderbergh did "retire" once before, so, who knows if that holds).
We can only guess if Foy's character is the victim of some mysterious plot or if she actually is suffering from her own instability.
Unsane also stars Juno Temple, SNL alum Jay Pharoah, Stranger Things' Aimee Mullins, and Amy Irving.
Not a whole lot else is known about the film, because, well, Soderbergh and his cast shot the film in secret (something undoubtedly easier to do on iPhone cameras), and no one even knew the project existed until last July. Though, the film will get a traditional theatrical release on March 23.
Foy, of course, is done with her commitment to The Crown and, it seems, the small screen for a while. She has a jam-packed agenda of movie roles coming up. She'll co-star in a biopic about the composer Vivaldi, will play the wife of Ryan Gosling's Neil Armstrong in Damien Chazelle's First Man, and, of course, will attempt to reboot the Girl With The Dragon Tattoo franchise as Lisbeth Salander in an upcoming sequel series.
Related: The Crown's Claire Foy On the Struggles of Being a New Mom and an Actress
10 Ruffled, Elizabethan-Inspired Blouses Fit for a Queen