Clara McGregor, Ewan's Daughter, Is Ready for Her First Fashion Week
The 20-year-old daughter of Scottish actor Ewan McGregor is following in her dad's footsteps in Hollywood. But first? A little modeling on the side.
---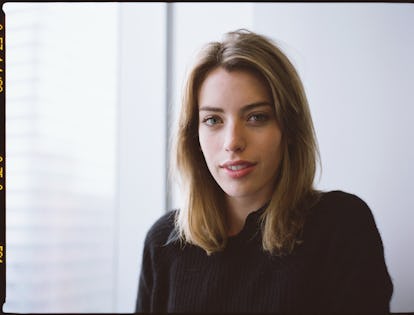 This New York Fashion Week—as with most fashion weeks lately—there will be a new celebrity scion sitting front row: Clara McGregor. The eldest daughter of Scottish actor Ewan McGregor and French production designer Eve Mavrakis, McGregor, 20, is stunning and unpretentious. She prefers all-black jeans and a sweater over flashy fashions and is currently a hardworking sophomore at New York University. Like her parents, she wants to one day go into film, but in the meantime she's trying her hand at modeling.
This past December, McGregor was offered a contract with Wilhelmina models, joining the likes of Hopper Penn and an ever-growing list of signed scions. In fact, her first, just-released campaign for the brand Fay was with Bob Dylan's grandson, Levi Dylan, who is also signed by Wilhelmina.
"It's early days," said McGregor coyly just weeks before her first fashion week. As of now, her schedule includes Baja East, the combined Oscar de la Renta and Monse double whammy, and Moncler, which is an eclectic mix, but by the end she'll have a 360-degree view of what the fuss is all about.
You've lived in New York for the past two years, but where are you from originally? I grew up in London and lived there until I was around 12. Then I moved to L.A. where I did middle school and high school. I moved to New York for college at New York University. I'm a Cinema Studies major and Business of Entertainment minor.
You're set! Have you seen any movies recently that you liked? I just saw Gold, which was pretty good. I loved La La Land. But I have a list; I'm going to go see Moonlight and 20th Century Women —all those.
Do you have a favorite movie of all time? I'm not saying these are the greatest movies of all time, but I love Almost Famous and Ferris Bueller's Day Off. Those are my happy movies.
When did you get into modeling? It started with my interest in photography, but then my interests shifted and I got more into acting. I've always wanted to expand what I was doing and I really love fashion; modeling just seemed like it went hand-in-hand with acting and photography.
You were in a music video recently. Tell me about that. Yeah! My friends, the Post Nobles. They're really cool and my friend Ryan, who directed this film I shot this summer called Groove, also directed it. It was a really fun day.
What were you like as a kid? What was your style? I was such a tomboy. I was very practical; I would always be running around and climbing trees. As I got older, I wanted to dress more feminine. I really keep things simple and I'm still trying to figure out my own style. I tend to just wear all-black.
Do you have any style icons or inspirations that you look to? So many. For brands, I love Marni, Marc Jacobs, and Calvin Klein. Of course, Chanel. I feel like there's really been a re-boot in the fashion industry to make everything more youthful and fun. In terms of icons, Kate Moss and Christy Turlington. All their outfits from the '90s are coming back. I love the way my mom dresses. As I get older, I see myself dressing more and more like my mom. She's been collecting clothes since she was really young, like she still has pieces that she got when she was in her twenties, so I love going through her closet.
Do your parents give you advice about entering the fashion and entertainment industry? Yeah, they're always very realistic with me about the struggles that come with being in the public eye. They're super supportive, but they've also warned me.
What do you do for fun in New York? I love going thrift shopping and to museums, especially the ones downtown like the New Museum. I have a lot of friends who do music, so I go to a lot of concerts and to see them DJ. It's endless—the food!
What sort of music do you like to listen to? It really depends. I go from Kanye and Chance the Rapper to Oasis; classic rock to Fatboy Slim.
Do you have a fashion pet peeve? I really don't like sandals that lace up all the way to your knees.
I saw on Instagram that you've been traveling. Where did you go? I went to Bali for two weeks with my boyfriend. It was amazing. We backpacked around. I would like to travel to Tokyo and Cuba next.
Have you ever been to fashion week? No! New York is going to be my first one. I'm really excited.
Like Father, Like Daughter: Clara McGregor Loves To Wear Black
Watch W's most popular videos below.