Liquid Lunch
With juice fasting replacing dieting, Christine Lennon chews over the pros and cons of the postsolids life.
---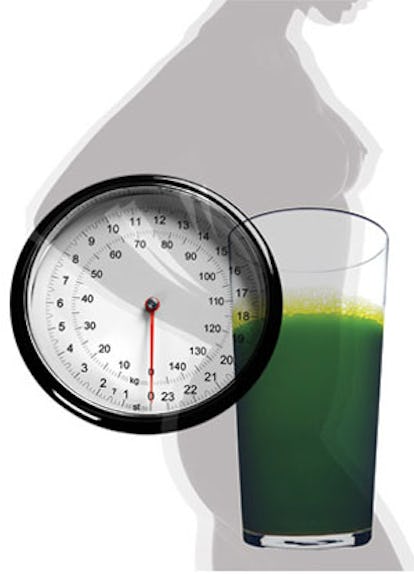 A second before I tried to change lanes directly into the side of a fast-moving vehicle, I had thought, Dang, I'm hungry. A rectangular bottle of kale and romaine juice knocked about in the round cup holder of my car, which was clearly designed for a more sensible, lettuce-free drink. I had guzzled some lemon and cayenne–infused water, and had even enjoyed the hot tartness of it. But the disembodied kale—which, in its more natural state, I love—was just not palatable, and hunger finally killed my focus. Gandhi may have been willing to fast until death; he didn't have to get behind the wheel of a hybrid with kids in the backseat.
Day two of my three-day juice fast was not exactly the rejuvenating experience the cultists had claimed it would be. Still, it was better than admitting I was on a diet. When was the last time anyone fessed up to dieting to lose those mystical "last five pounds"? Everywhere you turn lately, some clear-eyed sylph is cleansing and raving about the staggering energy she has. I longed to feel that buzzy lightness—and, yes, looser pants. So I logged on to pressedjuicery.com and waited for the box to arrive.
Status updates from more and more of my Facebook friends, meanwhile, flaunted their crystal-clear colons. But can a well-thought-out juice binge make a noticeable difference in our health? Moreover (and, often, more to the point), can it make us skinny? No. Well, maybe—it depends how long you do it and which doctor you ask.
Michael Galitzer M.D., an antiaging specialist in Santa Monica, is careful to point out that cleanses, which are believed to reduce stress on the digestive system, are intended "to reduce toxicity or acidity, not to lose weight," though he does note that weight loss can occur in the short term. But Susan Levin M.S., R.D., of the Physicians Committee for Responsible Medicine in Washington, D.C., a nonprofit nutrition-advocacy organization, has a different take. "As a mental or spiritual gateway to a lifestyle change, a healthier way of eating, cleansing has its benefits," she says. "But if your goal is to lose weight, it's not going to work long term. It's a crash diet." Levin is also careful to note that the fiber of most edible plants is just as beneficial to healthy elimination (yes, we're talking poo) and weight loss as its liquid version—but only if the pulp remains in the juice.
There was a time when abstaining from solid food was considered an eating disorder. But with massive "colon cleanse" shrines now at Whole Foods, this new movement—sorry—is now perceived as a healthy choice. Not for me. I can't square the pound and a half I've lost against the "do not operate machinery" feeling that's overtaken me. Occasionally I'll skip a meal in favor of some kale juice—a shot of apple juice helps—and feel blissfully healthy for an hour or so. But overall, I'm really into lame, old-school chewing, even if these days I'm trying to do less of it. Just don't call it a diet.
HEALTHIER CLEANSES Dr. Frank Lipman, director of Eleven Eleven Wellness Center in Manhattan, encourages clients (Donna Karan and Maggie Gyllenhaal, among them) to eat plenty on his cleanse—just stay away from sweets.
THE MORE, THE BETTER High in antixodants and activates the liver's detox process: Asparagus Avocado Blueberries Brussels sprouts Cauliflower
PASS ON THESE, PLEASE Packed with sugar or can trigger inflammation: Dates Greek yogurt Potatoes Tomatoes Whole wheat
Scale and body: Getty Images; Juice: CNP Montrose