Clémence von Mueffling's French Girl Beauty Rules
Both her mother and grandmother were beauty directors at French Vogue, so you better believe Clémence von Mueffling knows a thing or two.
---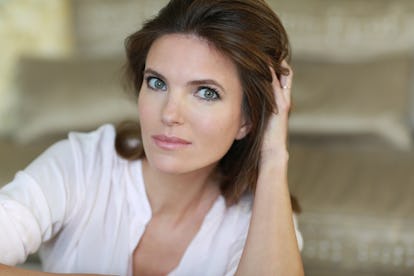 Photo by Pamela Berkovic
Stretch mark cream at the age of 13?
It's not such a crazy idea, when you consider that's smack dab in the middle of one's growth spurt. Or if both your mother and grandmother were beauty editors.
Beauty is in Clémence von Mueffling's blood. Her mother and grandmother were beauty directors at French Vogue. Von Mueffling chose a different route, sort of. She earned her stripes working at Dior, Clarins and fragrance house Puig, but decided to finally embrace her heritage, launching the online publication Beauty and Well Being in 2014. Von Mueffling, who looks like the love child of Maria Shriver, Caroline Kennedy and Stephanie Seymour, shared her favorite finds with us, including that stretch mark cream, to which she remains loyal. Incroyable!
What is your first beauty memory? You probably have quite a few! I do! First, I'd say my mother's perfumes. She had such a love of fragrance; it was her specialty at French Vogue. She won Le Prix Jasmin from the Fragrance Foundation very often. In her bathroom are all these huge fragrance bottles. Nina Ricci L'air du Temps, Fracas, huge bottles. Some were very very beautiful and gorgeous. Here's my other one: My mother would send me to summer camp in the States. I was just 13, but already very aware of which products to use, and she had already given me a product for stretch marks.
No! How old were you?? 13, but you know you have to remember… at 17 it might be too late.
I see your point… I had Clarins Eau Dynamisante. Not the spray, but the lotion which smells even stronger! And my perfume at the time was Estee by Estee Lauder, which was also a very strong fragrance. I remember arriving at the camp and everyone asking, "Where is that smell coming from??" I said, "Ok, I'm not using these again until I go back to France." One more memory: My mother would receive this big hat box from L'Oreal every Christmas filled with products, with holiday decorations mixed in.
I've never heard of that! Maybe they just do that in France. Ok, what was your worst beauty blunder? Like, did you ever over-tweeze your eyebrows? I was never allowed to touch my eyebrows.
Good! But a friend recently told me, "Oh, you're getting little white hairs coming in. You should cut them out." So I did! And I am still paying the price because they've all decided to grow in even stronger! And now it's very difficult for me to hide them. They're like the hair of a witch!
But you're letting them grow now. Yeah. That was a huge mistake. I just had it colored for the first time.
Where did you go? To Marris at Julien Farel Salon. A lot of people recommended her.
You've got great skin. Who is your dermatologist? I don't have one here, but I see Philippe Simonin in Paris. He's kind of a genius. My mother was the first journalist to write about him. He invents all these non-invasive machines that flatten out wrinkles, help with sun marks, all in a very natural way. He's really, really amazing. He was telling me that every time you scrub your face you actually remove 3 out of your 12 layers of skin. It takes 48 hours to replace one layer, so more or less it takes one week to completely rebuild. So if you're going to be taking even a little bit of sun after you exfoliate, your skin will be more prone to sun marks. I really learned a lot from him.
What skin products do you use? I'm definitely faithful to French pharma brands like Avene and La Roche Posay, but I also like to try tons of others. I've recently discovered Omorovicza; they have great products. Also, Biologique Recherche, Tata Harper.
What beauty products are currently in your purse? A YSL transparent lip gloss, Clarins lip balm, this L'Occitane hand lotion. I always have something for my hands, and most important—a small nail file. This natural brand Antonym for lips and finally, Frederic Malle Eau de Magnolia. I haven't been excited about a fragrance for a long time. It's incredible!
I'm not that familiar with that one. It's not new, but it's not among his first ones, either. For many years, I wore Cristalle by Chanel, then Chance. When I was working at Dior, I wore several of theirs.
I love Diorissimo. I have not tried that, actually.
Then we're even! It's wonderful. Have you tried Frederic Malle's En Passant? It's like a walking into a flower shop. I'm dying to smell Frederic's new creation that he did with Alber Elbaz. Me too. And the Dries von Noten one is also very good.
Everything Frederic does is very good. Ok, if we pulled back your shower curtain, what would we find? Frederic Malle Eau de Magnolia shower gel, of course. And sometimes Clarins Eau Dynamisante shower mouse, which is a thick, very rich foam. Very rich. But I also have a more natural shower gel, like Dr. Bronner's.
Love them. Which flavor? I like almond and lavender.
Hair care? David Mallet L'Hydratation shampoo, Leonor Greyl and Christophe Robin hair masks. And then always a shower sponge and a cleansing washcloth that you can put your hand in, like a glove. You don't find them here, but in France you buy it where you buy your bath towels.
What beauty trend do you not get? Too much dermabrasion.
What are you currently obsessed with? I have two: In the past few years, I have discovered some incredibly delicious dark chocolates. It's my favorites snack or sweet treat after lunch and dinner. The darker, the better (less sugar too!) but I also love if they have a touch of additional flavor… almonds, pinch of sea salt… Some of the best brands here in New York are Alter Eco and La Colombe. In Europe, I love the ones at Pierre Hermé. Also, I've been obsessed with finding the perfect nail polish color. This time of the year I love to get a red that is not too strong, that still has a little touch of summer. I just discovered the latest edition to Kure Bazaar fabulous nail polish collection: Vinyl. It is the perfect blend of elegance, glamour and fun at the same time. Watch: Meet India Makailah Graham, the Winner of the Wmag Model Search