Coco Gordon Moore, Kim Gordon's Daughter, Is the Modern Embodiment of '90s Cool
The 22-year-old is bringing back the cult '90s skate brand X-Girl, with the help of MadeMe and her mother's blessing.
---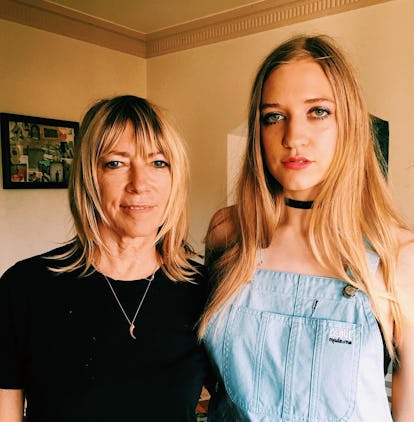 X-girl Instagram
23 years ago, in the thick of the androgynous and grunge-tastic '90s, Sonic Youth bassist Kim Gordon and stylist Daisy von Furth created X-Girl — a clothing label for the skater girl who was tired of wearing the boys-only streetwear brand X-Large. It quickly attracted a cult following of cool kids including Sofia Coppola, Spike Jonze, Kathleen Hanna and Chloë Sevigny. But despite its success, Gordon and Furth decided to hand the brand over to a Japanese parent company just five years after its birth, which still operates the brand today.
It was recently announced though that Coco Gordon Moore, Gordon's 22-year-old daughter with fellow Sonic Youth member Thurston Moore, is bringing the brand back in the family after all these years with the help of MadeMe, a New York-based label founded by Erin Magee, who has collaborated with photographers Petra Collins and Natalia Mantini in the past as well.
"Seeing old photos from the '90s of my mom, Daisy von Furth, Sofia Coppola, and Chloë Sevigny wearing the clothes was a huge influence on my fashion style," Moore told i-D magazine with regards to the new collection, which re-issues '90s staples like overalls, berets, and crochet sweaters. "I wanted to dress just like them."
Moore agreed to make her solo modeling debut in the X-Girl x MadeMe lookbook and video, both of which were made by Chloë Sevigny's boyfriend, Ricky Saiz, in keeping with the campaign's nostalgic throwback to a video Sevigny herself starred in in 1995. Moore's only other experience though in front of the camera was alongside her mother for the Marc Jacobs Fall 2015 campaign, which was shot by Juergen Teller. But of course, she's a natural.
For the most part, however, Moore, who is a senior at the School of the Art Institute in Chicago, keeps to herself. Her Instagram is private and her Twitter (@MooreWeed) is angsty, political, and deeply personal like any 22-year-old's profile should be. On Sunday night, for example, she tweeted about the presidential debate, her desire to be an artist and a writer, and how we shouldn't joke about rape culture.
Like her mother, Moore is also interested in becoming a painter, and has had her work represented in the past by 303 Gallery. You can find a whole catalogue of her paintings though on her website, which features series titled, "Things In My Closet I Never Wear," "Gossip Paintings," and "Bathroom Series."
It's clear from both Moore's artwork and demeanor behind the camera that she's the perfect candidate to carry on the X-Girl legacy. In sum: she's the next generation of the '90s cool girl in every way.