Riverdale's Cole Sprouse Photographs Sam Smith For L'Uomo Vogue
Cole Sprouse photographs Sam Smith in an arresting closeup for the cover of L'Uomo Vogue.
---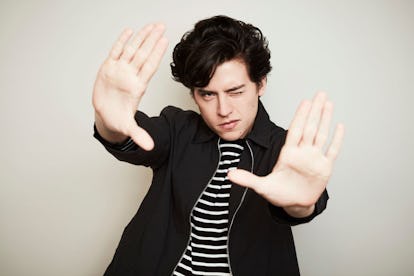 Maarten de Boer/Getty Images
Cole Sprouse is quickly becoming one of the most up-and-coming fashion photographers in the industry.
Most recently, the actor, who plays the brooding Jughead Jones on CW's Riverdale, photographed the singer Sam Smith for the November cover of L'Uomo Vogue, in anticipation of the release of his upcoming album The Thrill of it All. For the issue, Sprouse captured the "Too Good At Goodbyes" crooner in a series of pensive shots, including an arresting black-and-white closeup for the cover.
While Sprouse's first entered the world of photography with an experimental, often-comedic Instagram account called "camera_duels" (which documents all of the people who attempt to sneak quick photos of the actor while he's going about his business throughout the day), the 25 year-old has been working on his professional skills for quite a while. The Sam Smith cover isn't the first time the CW actor and former Disney star has taken on the role of fashion photographer; his images of Game of Thrones' Sophie Turner, Riverdale co-star Lili Reinhart and Kendall Jenner have also been shared widely across social media to positive reception. Even when he's not photographing models for fashion shoots, he steadily posts personal shots from spontaneous shoots with famous friends on his other Instagram account, from Zoey Deutch to heartthrob co-star KJ Apa.
While we know Grammy-winning Sam Smith isn't the only distinguished artist that has caught Sprouse's eye, it's clear that he often has one stylistic method in mind: shooting his subjects in wide open spaces. Sprouse's penchant for fields and forests makes sense considering open natural space isn't too hard to come by in British Columbia, where the cast of Riverdale often shoots their scenes for the show.
Sprouse has also achieved what some might consider the highest form of praise: he's garnered the support of his twin brother, Dylan Sprouse, who commented "This is cool, brother" on his Instagram of Sam Smith. Imitation might be the sincerest form of flattery, but nothing compares to a compliment from your identical twin.
Related: Cole Sprouse Photographed Game of Thrones Star Sophie Turner for New Shoot
RIP L'Uomo Vogue: A Look Back at Its Most Epic Covers, From Brad Pitt to Zayn Malik
Justin Timberlake shot by Steven Klein, November 2002.

Courtesy of L'Uomo Vogue
Kim Kardashian, July 2012.

Courtesy of L'Uomo Vogue
Zayn Malik, February 2016.

Courtesy of L'Uomo Vogue
David Bowie, December 2000.

Courtesy of L'Uomo Vogue
Nelson Mandela by Anton Corbijn, November 2008.

Courtesy of L'Uomo Vogue
Justin Bieber, August 2015.

Courtesy of L'Uomo Vogue
Anthony Kiedis, November 2003.

Courtesy of L'Uomo Vogue
Brad Pitt by Steven Meisel, December 1997.

Courtesy of L'Uomo Vogue
Daniel Day-Lewis, May 1998.

Courtesy of L'Uomo Vogue
Michael Jackson by Bruce Weber, October 2007.

Courtesy of L'Uomo Vogue
Stella and Julian Schnabel, July/August 2007.

Courtesy of L'Uomo Vogue
Josh Harnett, March 2001.

Courtesy of L'Uomo Vogue
Madonna by Tom Munro, May 2014.

Courtesy of L'Uomo Vogue
Sean Penn by Bruce Weber, December 1999.

Courtesy of L'Uomo Vogue
Brooklyn Beckham, July 2016.

Courtesy of L'Uomo Vogue
Keith Richards, January 2009.

Courtesy of L'Uomo Vogue
Joaquin Phoenix by Steven Meisel, April 2001.

Courtesy of L'Uomo Vogue
Pedro Almodóvar, April 2017.

Courtesy of L'Uomo Vogue
Sam Shepard, September 2006.

Courtesy of L'Uomo Vogue
*Riverdale's Lili Reinhart Talks Boy Bands, Lizzie McGuire, And Other Pop Culture Obsessions*