Confederate Backlash: The Game of Thrones Creators Respond to the Controversy Over Their Slavery Series
"We all knew it was coming in one form or another," showrunner David Benioff said of the controversy.
---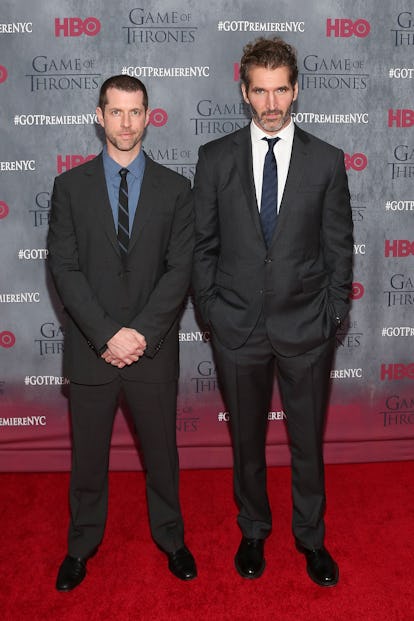 Taylor Hill/Getty Images
The internet has been wrapped up in a maelstrom of Games of Thrones enthusiasm over the past few weeks, gearing up to the season seven premiere this past Sunday. On Wednesday, though, things took a turn: HBO announced that David Benioff and D. B. Weiss, the series's showrunners, were working on Confederate, a series with the bold alternate-history premise of an America where the South has successfully seceded from the Union—and where slavery is still an institution.
Predictably, backlash quickly ensued. Over the years, Benioff and Weiss have weathered criticisms for the way Game of Thrones often handles sexual violence and race. With Confederate, though, angry worries were voiced that the pair would end up glamorizing the confederacy. Much of the uproar also argued out that should such a story exist, it definitely should not be told by two white men.
That backlash were, of course, met with some backlash of its own; others have argued that the series could serve as a cautionary tale, especially in today's political climate. Still, in the past 36 hours, the show has generated a shocking amount of controversy for a project that hasn't even been written yet and isn't set to start production until after the final season of Game of Thrones.
Benioff and Weiss are the big names behind Confederate, it should be noted. The husband-wife duo Nichelle Tramble Spellman, a writer and producer who's worked on The Good Wife, and Malcolm Spellman, a writer and producer who's worked on Empire, are also on board; the original response to the announcement seems to have missed out their involvement (and the fact that both are black). Malcolm Spellman also defended the project on Twitter, though it now appears that both he and his wife have both deleted their accounts.
In the latest development of the backlash to the backlash, the four creators decided to clear things up themselves by coming together for a group interview, which Vulture published on Friday, to explain their reasoning and address the controversy.
"We all knew it was coming in one form or another," Benioff said, recalling how Spellman warned him he was dealing with "weapons-grade material," which he'd originally intended to turn into a feature film. But, he explained, "with the success we've had on Thrones, and how happy we've been with HBO, it's really opened up storytelling possibilities and world-building possibilities, especially in a story like this, which we imagined being an ensemble with dozens of characters and multiple story lines." Benioff and Weiss tapped the Spellmans, he said, because he and Weiss were too "lazy" to do it all themselves. (And, you know, because they're "great writers.")
"It goes without saying slavery is the worst thing that ever happened in American history," Weiss added, explaining that he and Benioff wanted to turn their fascination with the history of the Civil War into an "alternative-history" and "science-fiction" TV show because "it's an ugly and a painful history, but we all think this is a reason to talk about it, not a reason to run from it. And this feels like a potentially valuable way to talk about it."
The Spellmans agreed to come onboard because they already had a "comfort level" with Benioff and Weiss, and because "they knew they needed black voices on it," too. "For me and Nichelle, it's deeply personal because we are the offspring of this history. We deal with it directly and have for our entire lives. We deal with it in Hollywood, we deal with it in the real world when we're dealing with friends and family members," Malcolm said. "And I think Nichelle and I both felt a sense of urgency in trying to find a way to support a discussion that is percolating but isn't happening enough. As people of color and minorities in general are starting to get a voice, I think there's a duty to force this discussion."
Nichelle, for her part, remembers her excitement at making a "black Game of Thrones spin-off" turning to terror when she realized what they were potentially dealing with. But along with that feeling came excitement, too: "Immediately what the conversation turned into is how we could draw parallels between what has been described as America's original sin to a present-day conversation," she said, which is why they plan to shy from typical Civil War-era imagery—including "no whips and no plantations"—and set things in the present day.
Still, "we haven't written any scripts yet. We don't have an outline yet. We don't even have character names," Beinoff clarified. "I guess that's what was a little bit surprising about some of the outrage. It's just a little premature. You know, we might f— it up. But we haven't yet," he continued.
And in case you're wondering whether Benioff expected to be from absolved from the backlash by bringing on black co-writers, Malcolm has an opinion on that, too: "What people have to understand is, and what we are obligated to repeat in every interview is: We've got black aunties. We've got black nephews, uncles. Black parents and black grandparents. We deal with them every single day. We deal with the struggle every single day. And people don't have to get onboard with what we're doing based on a press release," he said. "But when they're writing about us, and commenting about us, they should be mindful of the fact that there are no sellouts involved in this show. Me and Nichelle are not props being used to protect someone else."
"Neither one of them is afraid to call us an asshole. Believe me," Beinoff added with a laugh. "That's happened many times before. And it'll happen again."
Related: Game of Thrones Season 7 Premiere Recap: Daenerys Makes Her Return to Dragonstone
See W's most popular videos: