Connie Britton, Rosie O'Donnell, and Frankie Shaw on SMILF, Their Stealthily Subversive New TV Comedy About Single Moms
Sex, motherhood, gender power dynamics—a lot is happening underneath the laughs on the new Showtime series.
---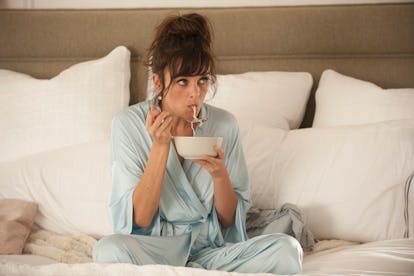 LACEY TERRELL/SHOWTIME
SMILF, creator and star Frankie Shaw's new Showtime series, started as a television pilot proof-of-concept, inadvertently morphed into a Sundance prizewinning short starring Shaw and Thomas Middleditch, and was finally redeveloped into the TV series that premiered on Sunday [SMILF](). Based in part on Shaw's life as a self-described "broke single mom" in Boston, SMILF follows three mothers, Bridgette Bird, the "smilf" (or "single mother I'd like to f—"), her wealthy employer Ally, played by Connie Britton, and Bridgette's mother, Tutu, played with dramatic force by Rosie O'Donnell. Bridgette lives, works, and raises her young son Larry—named after the Celtics legend—in Southie, a predominantly working-class Irish Catholic neighborhood in Boston. Her son's father Rafi (Miguel Gomez), and his new girlfriend Nelson (Samara Weaving), a seemingly dim-witted Aussie sportscaster with a heart of gold, round out a superb cast.
The pilot episode begins with Bridgette on a playground basketball court, dribbling with fervor to "Wait (The Whisper Song)" by the Ying Yang Twins. She's flirting successfully with one of the other players, until everything falls apart when he realizes that the kid in the stroller next to her is actually her son. This is how things tend to go for Bridgette.
Shaw, who also writes, directs, and produces the semi-autobiographical vehicle, stars as Bridgette, an aspiring actress in Boston who tutors the high school-aged children of a wealthy family to get by. When she's at work, she finds herself inhibited by a need for a stimulating personal life. When she wants to have sex, her parenting responsibilities get in the way. She does her best to be everything she can—a mother, a daughter, a single working woman who has sexual needs to fulfill—but it never seems to work out completely.
With a title like SMILF, it might be hard for some viewers to imagine that the show takes a hard feminist stance on its portrayal of women and mothers, and Shaw was worried that the titillating colloquialism might turn some people off. "SMILF is a great title for a nine minute short that's going to Sundance," Shaw quipped on the phone. She thought about changing the title to Dirty Bird, since Bridgette's last name is Bird, but received mixed feedback from her friends. As she barreled towards a premiere date for the series, she decided to leave it as SMILF.
Each episode is directed by a woman, and the series aims to demystify any misconceptions of what it is like to be a young single mother. "There's no room for 'Bridgette' in the 'I' in SMILF," Shaw explained. "She's not the subject, she's the object in that title… The process of Bridgette in the show is of going from being object to subject within herself… Even using 'The Whisper Song' in the pilot, that was intentional to be something where you can be surrounded by a culture where you are the object and not even realize it." (SMILF boasts a killer soundtrack, with Shaw aiming to feature a track by Harlem rapper Princess Nokia in nearly every episode, and women artists in general on heavy rotation.)
And the sex scenes, which Shaw described as the "weirdest" parts of the show, are written and shot to protect the women from degradation by the male gaze. "It's so intentional that I want the men naked during sex, and the women naked when they're not sexualized, like in the bath," Shaw said.
Shaw's personal experience has become her political one, as well. "There is a blatant lack of flexibility and support for mothers," she said. "There is proof that we would be economically better off, women wouldn't drop out of the workforce after having companies put so much money into training women as they're rising up and for them to fall off, only to have to put a man in that position or a woman without children." Shaw cited The Price of Motherhood by Ann Crittenden as a major influence on her artistic and personal perspective. "If we had a better system with our government, with our workforce, through healthcare and through childcare, all of it, we would be a richer country, because that's always the concern, right?"
For Shaw, being open and honest with her own 9-year-old son about her busy work schedule is crucial. "Personally I'm working more than I've ever worked," she said. When she's working on SMILF, she and her son not only FaceTime twice a day but also have "an open dialogue" about the realities of her job as creator and star of this series. "Motherhood and parenthood in general isn't some perfect equilibrium," she explained. "I think systemically there's a problem. How do you make it work within the system that we are currently in? Support, I think. And honest dialogue."
Shaw's portrait of motherhood also isn't only limited to the working class. Ally, played by Connie Britton, is a bourgeois stay-at-home mom who hires Bridgette to tutor her kids. Ally, explained Britton, is "very different from most of the other moms I've played"—and she has played some of TV's most iconic moms, like Tami Taylor on Friday Night Lights, Vivien Harmon on American Horror Story, and Rayna Jaymes on Nashville. A former lawyer, Ally now spends her time bathing in her expensive home or driving to yoga class while nannies raise her children. She appears to have it all. "What was interesting to me about this character is the idea that this is a woman who had everything going for her—has everything going for her—and yet because of the choices that she's made in her life, partly fueled by money, partly fueled by her own ideas of what she's supposed to do as a woman, she has gotten to this place where she feels lost," Britton explained. "She feels like she doesn't know herself."
Britton, who is also a single mother, said that Shaw "nailed" the show's depiction of the realities of being fully in charge of another human being's life, while also attempting to tend to one's own needs as a person. And of course, making the money to do all of that.
"I actually think it's sort of a mythology, the idea that women can 'have it all'," Britton said. "I mean, I can tell you for sure I was raised to believe that I could have it all. Then life becomes this struggle and this series of disappointments and failings when you realize you can't have it all. And that is a conflict that women are dealing with in a very real way in the culture because… in so many ways there are so many opportunities for women, and yet in so many ways the culture is so diminishing to women and women's opportunities. Yet if you're raised to believe you can have it all, you're actually fighting against cultural norms that are not in favor of that."
As a character who once believed in the "mythology" that she could have it all, Ally deals with what Britton called "major boundary issues." She seems oblivious to the fact that while Bridgette is her employee, she is a tutor, not a nanny, who has a family of her own that she needs to support. To Britton, Ally is a complex figure who struggles with her own narcissism but is also emblematic of the struggles that women of a certain socioeconomic status face: "I've known so many women in my life who have made choices that seemed like what they were supposed to do, and it kind of destroyed their souls a little bit."
A scene in which Bridgette signs up for a "sugar daddy" service so that she can afford childcare feels like a distillation of the systemic disrespect towards women and abuse of power by men in so many industries: Bridgette finds herself on a date with a "sugar daddy," and the terms of their encounter is that the two of them share a meal and nothing else, nothing physical. They get to know each other and bond over his daughter and Bridgette's shared interest in the WNBA, and she feels that she can trust him enough to let her guard down for just a minute. Of course, then he crosses a physical boundary, and what could have been a very tender interaction becomes a violation of trust.
At the heart of the scene is the dichotomy between the fantasy and reality men and women have in their heads about sex, money, and power. Bridgette's fantasy is that she could participate in a form of prostitution while resolving her struggles about her sexual viability after childbirth. But in reality, "you have these people who end up connecting, and then he still sees her as the object," said Shaw. Episode after episode, Bridgette continually discovers that she is damned if she does and damned if she doesn't—which is the unfortunate reality of being a woman in this world. "There's so much shame people have around sexual assault and sexual harassment… We don't talk about it because then we have to face the darkest part of us," says Shaw. "But it happens all the time, so what if we just say the realities of the statistics and we take away the shame? That is a big theme throughout the season and the show."
Like the women of Big Little Lies or Better Things, the women of SMILF bond over their motherhood and their own dysfunctions and shortcomings. Bridgette and her mother Tutu relate to one another through their individual trauma: Bridgette makes an offhand comment about parental abuse in an audition, and she also flippantly addresses Tutu's inability to fully deal with the death of her friends. Tutu, played by Rosie O'Donnell, is a fiery, gruff, no-nonsense parent who also deeply loves her daughter and grandson. When asked about the concept of parenting with "tough love," O'Donnell said, "I don't really consider [Tutu] 'tough love' at all. I consider her mentally ill. She's a mentally ill, untreated woman who never really got help to deal with all of the turmoil inside of her. So it fumbles out of her and onto the things she loves most which is her daughter and her grandchild, and I don't think she's even aware of it."
O'Donnell, who was not originally cast in the role of Tutu, said she found inspiration in her own life experiences as a daughter and mother. "I was able to take everything that I sort of had observed; my own sort of struggles as a woman and a mom and a motherless daughter trying to be a mother, and you know, seeing that I had a lot in common with Tutu in some ways. She was put in charge very early of a big family. There was a lot of abuse and it was never taken care of or treated. So I felt that was a very relatable Irish Catholic commonality that spoke to me."
"When I first saw the short, which did not have the character of Tutu in it, I was blown away by how genius it was and unique and what an original voice. I said yes right away and then we went and shot the pilot." The day she filmed SMILF's pilot was coincidentally the morning after the 2016 Presidential election, when Donald Trump was elected into office as President of the United States. O'Donnell's shock and disdain made the experience of filming the pilot difficult for her, so she and Shaw ended up re-shooting their scenes once the pilot was picked up to series about six months later.
O'Donnell refers to the mental illness and depressive state of Tutu as "a constant and vivid thread for the character," and Shaw's exploration of trauma and mental illness as a constant force to be reckoned with to each mother, not just Tutu. For Ally, according to Connie Britton, "It's more subtle, but it's absolutely there. There are moments with my character where we find her—and Frankie really wanted this and we talked a lot about it—where she literally just shuts down and sort of stares off into space for a second and then she clicks back in." Shaw wanted to show the dissociative response to living through a traumatic experience, something each of the main characters has experienced, and will attempt to reckon with over the course of the season. "I think about how many women have undergone some sort of trauma, which leads to anxiety, depression, whatever kind of symptoms that can cause a woman to be called any sort of name. I didn't want to have characters who are flawed or self absorbed or narcissistic without actually talking about why they're like that," said Shaw.
SMILF, which is laugh-out-loud funny, might pull viewers in with a seemingly farcical title, and they might assume the series is just a witty rollick, but in the last few minutes of each episode there is a gut punch—or sometimes a literal punch—that demands spectators recognize the raw actualities of motherhood, and respect the resiliency of women. Shaw uses her unique, offbeat voice to expertly take heartbreaking scenes, and spins them into hilarious, bittersweet moments, before turning the attention back to the complexities of being a mother, a daughter, a laborer and a sexual being, all in one. SMILF's moments of levity allow for the exploration of some of the darkest and most devastating truths of being a woman, but as Shaw says, "We're always laughing at our own tragedies and darkness. At some point you kind of have to."
Related: Rosie O'Donnell Breaks Her Silence on Donald Trump: "I Seriously Worry Whether I Will Be Able to Live Through His Presidency"
See W's most popular videos: