Princess Nokia Confirms She Was the Hero New Yorker Who Doused a Racist Man With Hot Soup on the Subway
The Harlem-based rapper confirmed on Twitter that she tossed soup at a racist man on the subway before kicking him out of the car.
---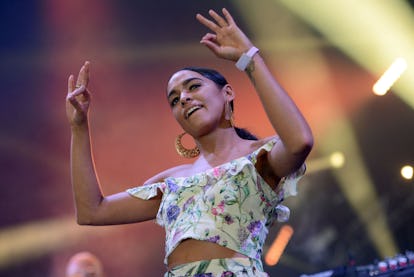 Scott Dudelson/Getty Images
Princess Nokia, the fresh face of hip hop and critical darling known for songs that celebrate a multicultural upbringing in New York City and honor the complexity of her communities, is now known for one more very important thing: heroically rebuking a racist man attempting to harass MTA passengers with a bevy of scathing words. On Monday, cell phone footage captured a woman as she tossed a hot cup of soup at a man screeching racial epithets at passengers on a crowded New York City subway car, and now there is confirmation that the Harlem-based rapper known as Princess Nokia is the woman behind the soup.
"Putting yourself in potential danger is scary," Princess Nokia tweeted after confirming that she is indeed the soup-thrower in a viral video exposing a man drunkenly shouting the n-word at a group of train car passengers on a Brooklyn bound L train. She has since verified that she slapped the man after he called a group of boys on the train the n-word, and that the rest of the train car offered support in standing up to the inebriated racist named Paul Lawson. Lawson can be seen and heard on camera claiming his rationale for unleashing a stream of slurs at black passengers on the train is that he is an New York University Law graduate with rights to the First Amendment. (Lawson later addressed the incident with a few Facebook comments he later deleted.)
Princess Nokia's voice can be heard addressing Lawson, until about the 1:45 mark in the video where she appears on camera as she douses Lawson with a cup full of soup, then physically kicks him out of the train at the Bedford Avenue stop while he continues to taunt her and the rest of the car. She revealed that she was the heroine in the video via Twitter thread, asking "Any other racists wanna try us again?"
Princess Nokia's soup-tossing act of bravery takes place not one full year after a surge in reports of hate crimes and swastika vandalism in public spaces and on public transportation across the city following the election of Donald Trump. Just one week after the 2016 Presidential election, the Southern Poverty Law Center reported 701 incidents of hateful harassment across the nation, and this L train incident isn't the first time Lawson's hateful antics have gone viral. Only a few months ago, he was caught on camera berating a MTA passenger with homophobic and racist insults, before the passenger pushed him out of the car to a round of supportive applause.
Making it her mission to stop hate crimes when she sees them, Princess Nokia later tweeted "I be damned if I let some drunk bigot call a group of young teenage boys racist names and allow him to get away with it." It's no surprise the buzzy rapper stood up to a bigoted subway passenger; she's a real New Yorker with an activist ethos, working hard to create safe spaces for her fans at her shows and with projects like her "Smart Girl Club" collective, where she co-hosts a feminist podcast.
Bringing her activist roots to the forefront in just about everything she does, Princess Nokia consistently pledges to be inclusive in how she engages with fans across social media and at her performances, with a zero-tolerance policy for harassment. The sporty MC is anything but conventional, hitting the stage at a variety of venues ranging from the Brooklyn Museum and Afropunk Festival to lecturing at Brown University. Across cultures, platforms and identities, for Princess Nokia the bottom line is that she "will do anything to defend the honor of my brothers and sisters."
Related: Afropunk Festival Returns to Brooklyn, Closes Out Summer Festival Street Style on a High Note
See What's Trending in W Video: