Constance Wu's Hand-Embroidered 'Crazy Rich Asians' Premiere Dress Took 765 Hours to Make
It's covered in more than 200,000 Swarovski crystals.
---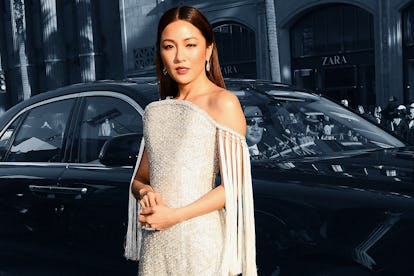 Composite. Emma McIntyre/Getty Images
In Crazy Rich Asians—both Kevin Kwan's 2013 novel and the upcoming film adaptation—actress Constance Wu plays Rachel, a young woman who is thrown without warning into her boyfriend Nick's family's unbelievably wealthy life in Singapore. While Rachel has trouble coming to terms with that lifestyle, Wu appears to be a little more comfortable with over-the-top opulence, as evidenced by the breathtaking ensemble she wore to the film's premiere in Hollywood on Tuesday.
Wu's gown, designed by Meghan Markle-approved label Ralph & Russo, featured a high strapless neckline and off-the-shoulder straps dripping with hip-length silk tassels. The silvery dress, which pooled around Wu's feet, was covered in more than 200,000 Swarovski crystals, according to Vogue, and collectively took around 490 hours to be hand-embroidered. The rest of the gown was reportedly constructed in 275 hours, making the entire process over 750 hours, or more than 31 days.
Micaela Erlanger, Wu's stylist, told Vogue that, beyond matching the opulent lives of the film's characters, certain aspects of the "couture red-carpet moment" held even deeper significance for Wu and for Hollywood as a whole. "In history, tassels have almost always been a symbol of power and prestige, not to mention they make for a glamorous detail," Erlanger said. "This movie is so important for so many reasons, and I felt that Constance should look both powerful and glamorous." (Among those reasons? Crazy Rich Asians is the first Hollywood film to feature a majority Asian cast since 1993's The Joy Luck Club, 25 years ago.)
And lest you think that, with such an impressive gown, Wu and Erlanger would go easy on the accessories, think again. Wu also wore pink pear-cut diamond drop earrings by Lorraine Schwartz that clocked in at a whopping 90 carats, carried a boxy, reflective silver clutch, and donned sky-high ivory platform pumps with bedazzled stacked stiletto heels. "The gown itself is such a statement, but we really wanted to complete the look with the perfect accessories," Erlanger told Vogue. Mission accomplished.