In With The New
With contemporary art booming out of control, how can museums afford to play?
---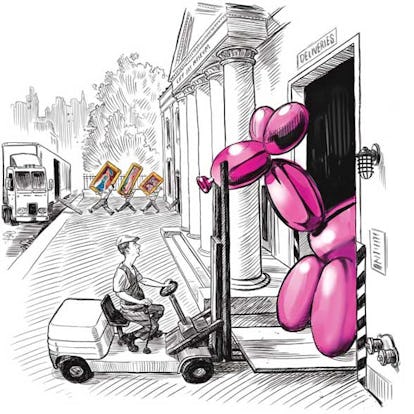 The Albright-Knox Art Gallery, a public museum in Buffalo, New York, has been acquiring new art since 1863, when the luminist painter Albert Bierstadt, then at the peak of his financial success, gave the fledgling institution a canvas, The Marina Piccola, Capri (1859). The museum's charter mission was then—and has remained since—to collect and exhibit works by living artists, and over the decades its directors have tried to keep pace with new styles, from Impressionism to Pop and beyond, and new media, such as photography, which first entered the collection in 1910. "What makes the collection here interesting," says senior curator Douglas Dreishpoon, who speaks at almost a whisper but still projects a lecturer's animated enthusiasm, "is that artworks were bought at or very near the time they were made."
It's a Tuesday in early September, a day that the gallery is closed to the public, and as Dreishpoon enters the Albright-Knox's 1905 Greek Revival building, he flips on the lights to better show the holdings on display in "Remix," an exhibition drawn from the permanent collection. In front of him is a classic Pollock drip painting, Convergence (1952), as well as a murky Franz Kline from 1958 that was inspired by Pollock's death and acquired for the museum the following year by Seymour H. Knox Jr. The deep-pocketed board president—whose numerous gifts during the Fifties and Sixties also included the Pollock and works by Rothko, de Kooning, Rauschenberg, Johns and Warhol—was so generous that the institution decided to tack his name onto the end of what had previously been known as the Albright Art Gallery.
Damien Hirst's $100 million memento mori, For the Love of God, 2007, platinum, diamonds and human teeth
Dreishpoon is equally proud of recently acquired works in the collection: photographs by Olafur Eliasson, a sculpture from Matthew Barney's "Drawing Restraint" series and a gorgeous James Turrell light installation. In contrast to the Knox gifts, these works were purchased with funds from the Albright-Knox's restricted endowment for acquisitions, and each one represents a careful and calculated deliberation.
"We had been interested in Turrell's work for a long time and were in discussions with his gallery," explains Dreishpoon, who backed the 2005 purchase. "There came a point when the price structure was going to take a leap, and we decided it was time to get in."
That dilemma of when to "get in" highlights how much the process—and the price—of buying new art has changed since old Mr. Knox's day. In recent years the art market has been redefined by the global rush to contemporary, wherein billionaires from both hemispheres duke it out for iconic trophies and thousands of merely rich collectors swarm art fairs in search of the next emerging genius. Somewhere in that melee are museum directors and curators dreaming about something new for the permanent collection—and wondering how in the world they'll ever pay for it.
Even leaving aside the astronomical values now common for 20th-century masterpieces—David Geffen got $140 million for the Pollock that he sold last year, reportedly to Mexican financier David Martinez—prices for the work of living, breathing contemporary artists have soared to stratospheric levels. This past February, respected midcareer painter Peter Doig saw his White Canoe (1990–91) sell at auction for some $10 million, while this November a seven-foot-tall Jeff Koons sculpture, Diamond (Blue) (2005), is going on the block at Christie's with a $12 million estimate. And those numbers pale alongside the $100 million allegedly paid for Damien Hirst's diamond and platinum memento mori For the Love of God (2007).
"It's not a new phenomenon that work by living artists is more expensive than the work of nonliving artists, but today you can pay half a million for a brand-new photograph," says Gary Tinterow, curator in charge of 19th-century, modern and contemporary art at the Metropolitan Museum of Art. "That wasn't the case 10 years ago."
Peter Doig's $10 million White Canoe, 1990–91, oil on canvas
Once upon a time in the Sixties, the world of contemporary art was run like a mom-and-pop business, with artists in SoHo making work that was thoughtfully scrutinized by critics, evaluated by curators and sold through a handful of dealers for relatively modest sums. Back then, the high- dollar auction sales came from the Old Masters, Impressionist and Postimpressionist departments. Today it's the postwar styles of Abstract Expressionism, Minimalism and Pop that set new high-water marks seemingly every auction season, and the world of contemporary has transformed itself into something like a global commodities market awash with cash from Greenwich hedge fund managers, Russian oligarchs and Asian capitalists. Meanwhile, the markets for entire historical periods—Italian baroque and 18th-century French painting, for example—have stagnated. It's not just the most sought-after work of mediagenic stars like Hirst and Koons that sells before the paint is dry. Artists barely out of graduate school are being collected by the likes of Charles Saatchi, the Rubell family and Eugenio López, and speculative purchases of works by young artists are rampant.
The market for contemporary art, in other words, may just be too darned hot these days. And while the average art lover probably won't care whether Adam Lindemann—author of Collecting Contemporary and an advocate for the asset approach to art investing—realizes a lucrative gain on his investment, there is a danger that the discerning role of public institutions will be trampled in the stampede.
"There is a common public perception that high times in the art markets are good times for arts institutions," says Michael Govan, director of the Los Angeles County Museum of Art. "Often exactly the opposite is true. In a hot market, people are buying everything in sight, and it's very hard to raise funds for museum acquisitions. Because of the speed of the market and the price of the market, good times are not good for museums."
And LACMA has it better than some: Govan estimates that one third of the museum's trustees collect contemporary art, and, as the director notes, it never hurts to cultivate close relationships with "collectors who don't have limited budgets." Indeed, Eli Broad is roughly a modern-day analogue to Seymour Knox. The billionaire megacollector gave $50 million for a new building on the LACMA campus and an additional $10 million for acquisitions. Called the Broad Contemporary Art Museum, it's set to open next year.
Jeff Koons's Diamond (Blue), 2005, stainless steel, on the block at Christie's with a $12 million estimate
But not every museum is blessed with a sugar-daddy donor like Broad. Smaller museums may have to make unenviable choices. After several years of deliberation, the Albright-Knox decided to unlock the riches in its own storeroom when it auctioned off 207 works through Sotheby's in New York this past summer. The sale of antiquities and non-Western works, many of which came to the gallery during the tenure of a comparatively conservative director in the Thirties, realized about $71 million—with a single Roman bronze of the goddess Artemis with a stag selling for $28.6 million, a world-record price for any sculpture. But some critics called the decision a desperate measure for a desperate time. "A heinous blunder," says veteran Manhattan dealer Richard Feigen, who believes it was shortsighted to swap a proven masterpiece for a handful of untested newer works.
Albright-Knox director Louis Grachos admits he has had to defend the institution against a barrage of criticism, but counters that the works sold were "outside the modernist tradition" and thus extraneous to the gallery's core mission of collecting the art of its time. (The bronze, he points out, had not been shown at the gallery since 1997.) And the sale proceeds, he insists, are crucial to the museum's future survival. When they are added to the preexisting $22 million acquisitions endowment, the total pot of approximately $93 million will allow the gallery to spend as much as almost $5 million on new art annually.
"We now feel we can act very quickly to bring new work into the gallery," says Grachos. "We can continue to grow the collection in smart and exciting ways and not be reduced to second-tier work." In the months since the sale, the Albright-Knox's art committee has moved quickly to approve a large Philip Taaffe mixed media on canvas, a Bruce Nauman video installation jointly owned with the Whitney Museum and a Sol LeWitt wall drawing that had been conceptualized just before the painter's death in April. And although the gallery declines to provide sale prices, its earlier purchase of the Barney "Drawing Restraint" work was said to have cost $325,000.
The Asia Society in Manhattan declared its own in-with-the-new ambitions this fall when it announced that it would add contemporary Asian art to its permanent collection of traditional Asian art established in 1978 with a gift by John D. Rockefeller III. Museum director Melissa Chiu is raising money from donors to pay for the purchases, after an initial gift of 28 works, including pieces by Nam June Paik and Yoko Ono. Chiu cautions that financial realities will limit her reach to works on video and film and in new media, since this is one field where it is still possible to acquire within her limited budget. "You have to have a focus," says Chiu. "You can't go out with a scattershot approach; it's simply not possible because of the market."
Given such difficulties, it may be worthwhile to ask why museums with a traditional focus should even attempt to shoulder their way into the crowded contemporary market. The question may be answered most authoritatively by the Metropolitan. America's most venerable art museum with encyclopedic holdings in every period and culture, the Met has in recent years moved to increase its contemporary programming, even though Manhattan is crowded with other institutions that show new art, from the Whitney and Guggenheim museums uptown to the Museum of Modern Art in midtown to the soon-to-open New Museum of Contemporary Art on the Bowery. Even so, in 2006, the Met invited artist Kara Walker to create new work for a show she organized from the museum's own holdings, and last May Tinterow mounted a solo exhibition of work by Leipzig School painter Neo Rauch and a show of the painting and sculpture of Frank Stella. This fall the museum even welcomed into its galleries one of the most iconic—and notorious—artworks of recent decades, Hirst's shark sculpture The Physical Impossibility of Death in the Mind of Someone Living (1991), loaned by Steven A. Cohen, who bought it for $8 million in 2004. The decision, inevitably, was a controversial one from the moment it was announced.
"In the run-up, people have already lined up for and against his sculpture," says Tinterow. "Or they have lined up for and against Damien Hirst, or for and against contemporary art. But they're not looking at the work of art. They're talking around it."
Still, they are talking—and as any curator, dealer or collector can tell you, buzz is what contemporary art is all about, and even the most august institution can benefit from that. "I can't tell you what the future reception of that work will be among generations who are yet unborn," says Tinterow. "But I have no inhibition to show it, because it is indubitably iconic and because it elicits great public fascination. People want to see what artists are doing today, and we need to serve that interest."
Credits from top: Prudence Cuming; courtesy of Sotheby's London; courtesy of Christie's New York, 2007