Just Kids
Forget "Look, but don't touch." For a new generation of children and artists alike, play's definitely the thing.
---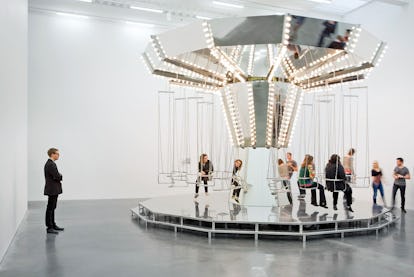 "Experience," Carsten Holler's 2011crowd-pleasing survey show at the New Museum in New York, was one great big amusement park—unless, of course, you happened to be a child. The multistory slide, the mirrored carousel, the Giant Psycho Tank were all strictly off-limits to anyone shorter than four feet. Even the seemingly benign magic mushroom sculptures were fiercely guarded by uniformed security.
Last October, however, at Frieze London, the Belgian artist redeemed himself in the eyes of the toddler set with Gartenkinder, an installation of sculpture-cum-toys made just for kids. It included a giant dice that concealed a climbing frame, a huge musical mushroom, and a pink rubber octopus. "Children approach art from a personal perspective. They're not imprinted by culture," says Höller, who will have a major retrospective at the Hayward Gallery in London in June. "Wouldn't it be great to have that later in life?"
Höller is not alone in his thinking. Artists ranging from the Dadaists to Alexander Calder have attempted to channel a childlike exuberance into their creative process. Nevertheless, the avant-garde has seldom stooped so low as to address children directly. But a new generation of artists is rewriting the museum rules—"Look, but don't touch" be damned.
For his part, Höller is interested in eliciting childhood memories (though, in the case of a grown man who reportedly got trapped in the dice on the opening day of the fair, that ambition apparently backfired) as well as creating a shift in art world attitudes. His goal, he says, is to foster an environment in which there is less pressure "to defend art's seriousness" and where "we have the luxury to include a childish aspect." Jeff Koons, who, it is worth noting, has seven children, seemed to be on the same page when he created a Kids Activity Guide to accompany his blockbuster retrospective at the Whitney Museum of American Art last year. "Koons says he wants to communicate to viewers that he cares about them," reads a page featuring the artist's shiny metal Rabbit, from 1986. "'When you're reflected in my surfaces it's about affirmation…It's about you…It's about your experience.'" And while touching Koons's enormous pile of Play-Doh was definitely a no-no, kids at New York's Children's Museum of the Arts are often encouraged to physically interact with the work on view. In 2012, they were allowed to use giant combs to groom a shaggy 11-foot-tall pink dog by the artist Misaki Kawai.
A groundbreaking precedent—and a touchstone for Höller—was the Danish artist-activist Palle Nielsen's 1968 installation The Model: A Model for a Qualitative Society. A young art student who'd been building playgrounds in neglected Copenhagen neighborhoods, Nielsen was invited to transform the entire Moderna Museet in Stockholm into an adventure park. This was the museum that in 1966 had hosted the French feminist artist Niki de Saint Phalle's Hon, a giantess lying on her back, her legs spread to allow visitors to enter her body and walk around. Still, The Model upped the ante on radical interactive work. In the course of the show's three-week run, some 20,000 kids climbed ropes and jungle gyms, dove into a foam-filled pool, played instruments, and dressed up in masks of political figures including Mao Zedong and Lyndon B. Johnson. Though forgotten for more than three decades, the project has been recently revived by Nielsen in museums across Europe, including at the Arken Museum of Modern Art outside Copenhagen just last year.
"This is only an exhibition for those who are not playing," Nielsen wrote in 1968. Today, he concedes that while the work's founding principle—to liberate children through creative play—remains constant, his motivations have changed. "Back then parents stood around the walls; now they play alongside their children," he says. "Children are living in a 2-D world with digital devices. They have to use their bodies."
To that end, the British performance artist Marvin Gaye Chetwynd has taken art for kids beyond the gallery with a soft play space and café commissioned for a new leisure center in London.Chetwynd's improvisational performances have long tapped into the charm of the dress-up box, papier-mâché, and face paint, fusing references as diverse as Star Wars and Karl Marx into subversive carnivalesque parades. One of her own formative art experiences was a Nam June Paik exhibition she visited as a child. "The robotic stacked TV figures made a huge impression on me," Chetwynd says. "I had a feeling that you could have fun and do anything you liked as an artist and the art world would lap it up." Creating a functional play space for kids has stretched her in unimagined ways: "In learning what it is to design useful public works, it's almost as if this project has made me more adult than I usually am. The irresponsible tyrant child in my creative process has had to be kept in check."
Meanwhile, in her recent show at the Hammer Museum in Los Angeles, the New Zealand–born artist Francis Upritchard included dinosaur sculptures made of papier-mâché and Brazilian balata rubber (created as part of an annual Children's Commission for London's Whitechapel Gallery) alongside the marionette-size figures she's been focusing on in recent years. "I don't think children need to be treated any differently as an audience," she insists. "Somehow, art or gallery material aimed at kids can seem secondary or dumbed down. I love the idea that a child could be quite an expert about dinosaurs. They know so much about them—all the different names."
That children might actually have the edge over adults when it comes to experiencing art is a notion that many of these artists return to again and again. As Höller notes, "Children see the world through different eyes. Maybe they are the real art lovers."
Carsten Höller's Mirror Carousel, 2005. Photograph by Benoit Pailley.
Gartenkinder, 2014, Höller's play space at Frieze London. Photograph by Matthew Lloyd/Getty for Gagosian Gallery.
Jeff Koons's Rabbit, 1986. Courtesy of Jeff Koons Museum of Contemporary Art Chicago.
Palle Nielsen's The Model, 2014. Photograph by Sofie Amalie Klougart.