Gucci Model and Muse Laura Hagested Decodes Scandinavian Cool at Copenhagen Fashion Week
In the midst of Copenhagen Fashion Week, one of Denmark's hottest models of the moment talks about her favorite labels from her homeland, working with Alexander Wang, and where she goes for a beer when she's off-duty.
---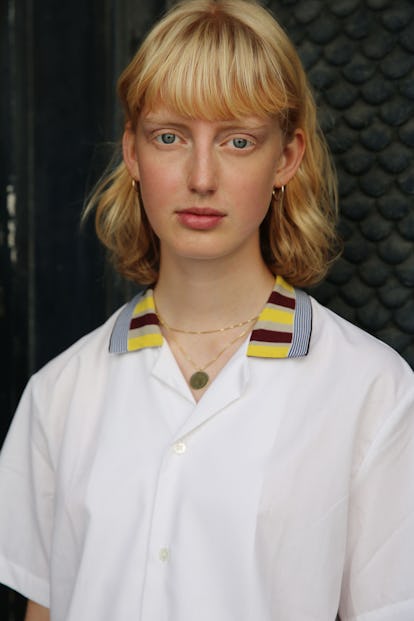 20-year-old model Laura Hagested has walked in Alessandro Michele's Gucci runway shows and landed coveted slots in his ad campaigns. This week, however, the Danish model was back in Copenhagen for the city's Spring 2017 runway shows, where she appeared on the catwalk for brands including Lala Berlin and Won Hundred. She took a break from the shows for a few minutes to decode her cool-girl Danish style and share a few highlights from her career thus far, here.
What was the first show you ever walked in? I opened the Kopenhagen Fur show at Copenhagen Fashion Week two years ago as my first show ever. I remember sweating immensely in my enormous fur coat, plus being rather terrified regarding my control of the very high heels I was wearing, but despite the terrified catwalk face I must have had on, I didn't trip, so I would call it a success all in all.
Define your style in three words: Playful, slightly boyish and with attention to detail.
Daily uniform: Some sort of cropped trouser (I hardly ever wear dresses or skirts), a t-shirt, sneakers (these days I swear by my checkered Vans slip-ons), and a good sock – for some reason I find that the latter makes all the difference. As a tribute to the Danish summer I must also add a knit and my yellow rainproof Carhartt anorak, but really I wish those were not necessary on this list.
Favorite Danish brands: Saks Potts, Sakura, Agger-Flachs and Clouds make everything I want to wear at the moment.
Favorite items in your wardrobe: My multi-colored lamb fur from Saks Potts adds a little party to every boring outfit, and so does the red leather belt with the funny buckle that I found in a thrift shop a while ago. Everything Acne Studios I own is also very cherished (an all-time favorite brand of mine), and for the sake of the story I must also mention a black silk and wool wrap dress from Balenciaga that I got for walking the show a year and a half ago – one of my first big international shows. I remember finishing a regular school day to travel to Paris and within a few hours finding myself talking to Alexander Wang himself at the fitting. On the catwalk the day, I caught a glimpse of Kanye out the corner of my eye. I don't wear the dress very often, but it holds good memories.
Based on your Instagram, I can tell you are a shoe fanatic. What's your preferred footwear: I hardly ever wear anything but sneakers since comfort is my main priority when it comes to shoes, but if I had all the money in the world (and an office job allowing me to sit down most of my time) my feet would be covered in Miu Miu, Marni and Gucci.
Nighttime fashion look: Not-too-tight trousers and sneakers allowing me to dance, my North Face bubble jacket so that I won't get cold when cycling home, and jewelry to make it seem as if I did, in fact, dress up for the occasion.
Best recent discoveries: That Game of Thrones is available on Putlocker. And the Talk Talk album "Spirit of Eden."
What are you lusting after for your wardrobe: I've wanted a pair of Marni sandals for the last three years, maybe it's about time to act on it. I also really want a pair of Dickies skater pants. Maybe I should add 'schizophrenic' to the list describing my style.
Style pet peeve: Time always seems to prove those wrong in the end – for instance I never thought I should wear socks in sandals and yet here I am. But I don't, however, see leggings (especially those nylon ones cutting halfway between the knee and the foot) getting their revival in the near future.
Favorite haunts during Copenhagen Fashion Week: I've had many great hours with my friends on Copenhagen's many bodegas playing pool and drinking cheap beers from the bottle. I also love the city for its many green spots – Kastellet, Assistens Kirkegård and the botanical gardens just to name a few.
Summer wardrobe must-haves: I recently got a pair of red Adidas Adilettes for my birthday; they are the most comfortable thing and paired with a good glitter sock they end up looking somewhat cool, too. Otherwise, everything white is great with golden summer skin.
What's always in your bag: My earphones and – if it's a long journey – a book. I always try to make the most of my transport time and I consider that limbo between two locations a very relaxing place to be.
If you weren't a model, your dream job would be: I dream of becoming an artist or a writer, actually preferably both at the same time. To be more realistic I'd love to write articles and reviews of literature and art for a newspaper.
Watch Juno Temple do ASMR, "quietly" channeling blondie: