How Coperni Made a Comeback In a Major Way
After a years-long hiatus, the streamlined, tech-savvy fashion label Coperni is back—and here to stay.
---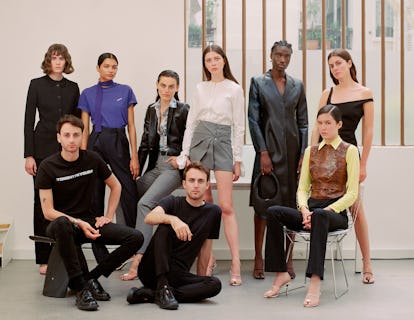 Photograph by Clare Shilland; Styled by Helena Tejedor. Hair by Christos Vourlis for Bumble and Bumble at Bryant Artists; makeup by Kathy Le Sant at Call My Agent; Manicures by Sally Derbali for Kure Bazaar at Atomo Management; Models: Shawna Blackburn and Bintou Konate at New York Model Management, Daphne Simons at Diva Models, Loreline Plessis-Lagarde at The Identity, Kennah Lau and Lea Issarni at Next management. Casting by Edward Kim at The Talent Group. Photography Assistant: Oscar Dumas; Fashion Assistant: Theo Guigui.
For this fall's relaunch of their fashion line Coperni, Sébastien Meyer and Arnaud Vaillant took to Instagram to create a series of cheeky videos that play out like a choose-your-own-adventure game, starring their friends and ­collaborators. Beginning at @copernize_your_life, users can head one way to see Hanne Gaby Odiele booking it across Paris, in a pastiche of Run Lola Run, or head another to watch Teddy Quinlivan's makeup tutorial on French beauty, which offers tips on smoking cigarettes and concealing smile lines. Written and directed by the film producer Cécile Winckler, another member of Coperni's stylish crew, the game is so wildly entertaining that it sucks you in for a good 20 minutes, leaving you, no matter which route(s) you take, at a superfun dance party that also doubles as an announcement for the brand's Fashion Week celebration, which took place this past February. As a marketing tactic, it's clever on many levels, but perhaps most of all because it presents Coperni in a big, lively, inclusive way. "All the brands are showing things on Instagram, but the idea was to give control to the user, who has the real power," says Meyer, who came up with the concept.
The line owes its name to Nicolaus ­Copernicus, whose heliocentric theory—that the sun, rather than the earth, is the center of our ­planetary system—changed science forever when it was published in 1543. Meyer and Vaillant aspire to be similarly radical in their thinking. "It's the duty of our generation to try something new," says Vaillant, who is the business half of the operation. "We can't do the same thing every season; we have to take risks." The two first launched their line in 2013 with a collection of sleek, minimalist, forward-thinking clothes that were an immediate hit with critics and customers, earning them—after just two seasons—a spot among the finalists for the 2015 LVMH Prize for Young Fashion Designers. Then, in an unexpected move, they withdrew from the running and put Coperni (then called Coperni Femme) on hold in order to become the artistic directors of Courrèges. Though they had a successful run there, producing highly coveted, pared-down ­architectural pieces and experimenting with techy items like 3-D printed tops and self-heating coats, the iconic French house—known for its futuristic sensibility in the 1960s—proved too staid for their liking. "It was our dream to work at Courrèges," Vaillant says. "But the established fashion system is pretty conservative."
And so, after two and a half years, they left and started work on a tech project that they are totally hush-hush about, until pressed. "It's a digital tool to consume in a different way" is all Meyer will divulge, adding that it'll be released next year. In the meantime, there's the Coperni relaunch. And while they admit their mentality is quite different this time around—"we're much more relaxed," ­Vaillant says—it's reassuring to know that, aesthetically, they haven't veered radically off course. Their clean, tailored style remains fully intact. For fall, there is smart suiting with trompe l'oeil details and crisp sweatshirts neatly printed with their logo. "We still have the same values," Meyer says. "We love chic, efficient, well-made pieces." And, as the name of their line attests, many of their ideas stem from science and technology. A bag shaped like the airplane-mode switch on an iPhone has already become a best-seller. "I probably shouldn't say this," Meyer adds. "But we find companies like Apple much more inspiring than anything happening in fashion."