Pop Stars (Wrongly) Think Italians Are Singing Their Songs From Balconies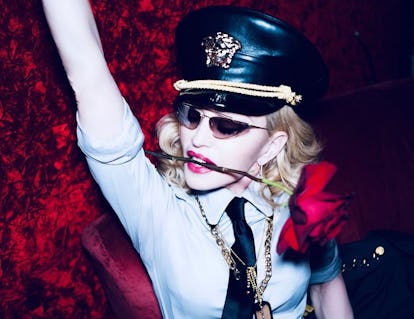 Courtesy of @madonna.
During the rapid spread of the coronavirus, it seems to be pretty widely agreed that there are a few things you can do to prevent the virus from spreading further: practice social distancing and work from home if possible, wash your hands frequently after touching surfaces, and maybe even take a little bit of time to meditate.
What's not included on the list of best practices is to believe in the false information that is easily disseminated on the Internet.
Now, we couldn't get through the weekend without celebrities giving their takes on the spread of the coronavirus COVID-19. And they should be free to share their self distancing tips because celebrities are people too, but what was unexpected was the number of pop stars falling for a meme hoax involving quarantined Italian citizens singing their songs from their balconies.
To clarify, the Italian citizens who have been quarantined to their homes are indeed singing across balconies and rooftops to keep themselves sane and busy and connected during the global pandemic. They just aren't, for example, collaborating on an a capella rendition of Katy Perry's "Roar" or Madonna's "I Rise."
No matter, both Perry and Madonna seemingly fell for the trap that is memes in the time of the coronavirus. The obvious joke of taking one of the real videos of Italians singing in solidarity across their balconies and dubbing it with uplifting pop songs was lost on both of them.
On March 14th, Perry, in a now-deleted tweet that has been preserved thanks to @PopBase, quote retweeted one of the videos dubbed with her pop anthem "Roar," earnestly wrote, "You cannot break the human spirit. We are one in this," before adding a heart emoji and the Hungarian flag rather than the Italian one. She has since replaced the tweet, yet only updated it to reflect the proper flag, rather than addressing the fact that she got fooled by a meme.
Madonna, too, was fooled by a similar video, which was dubbed with her Madame X deep cut, "I Rise."
Cheryl Cole also fell for the joke, in which her song "Fight For This Love" was dubbed over a (now-deleted) video of people singing on their balconies.
The spread of false information by pop stars on Twitter who need to learn a thing or two about fact checking doesn't end there. (Keri Hilson, for example, is spreading her belief that our 5G LTE networks are behind the spread of a deadly virus, which of course has been debunked.)
Thankfully, no one from the cast of Cats has been fooled, nor has Nicki Minaj. Yet.
Related: Wait, Should We All Be Meditating in the Time of Coronavirus?