Rock Star
Corsica's unspoiled, untamed beauty has turned it into a bastion of stealthy chic. As Christopher Bagley discovers, though, that authenticity comes with an edge.
---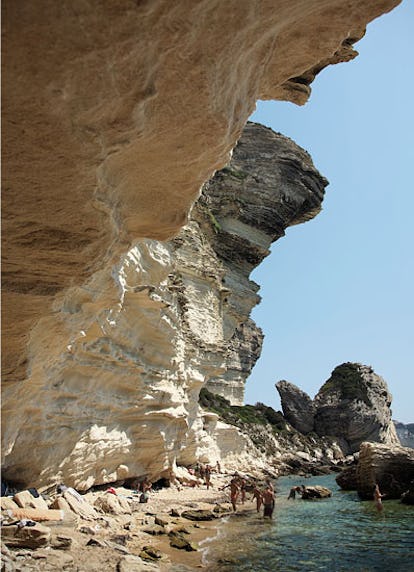 It's been said that when you arrive in an unfamiliar place, the quickest way to get a sense of the scene is to pick up a copy of the local newspaper. If that's true, then the tourism council of Corsica—the increasingly glamorous yet perennially trouble-plagued French Mediterranean island—might want to launch a censored version of the daily Corse-Matin for vacationers. Among the paper's features during my stay were an account of a bring-your-own-rifle memorial service for an assassinated Corsican nationalist (the front-page photo showed armed mourners wearing black masks and hoods in the middle of the woods), a report on packs of wild boar descending from the mountains to forage for food at luxury beachside resorts, and an item about a dismembered corpse discovered in the pristine waters of the Valinco Gulf.
The Aiguilles de Bavella mountains in Alta Rocca
One bit of news that didn't make the paper: Kate Moss had arrived on the ­island. She and her then new husband, rocker Jamie Hince, were honeymooning on a yacht in the port of Saint-Florent, but the editors at Corse-Matin either didn't know that or—more likely—didn't care.
This 3,400-square-mile chunk of geological eye candy just north of Sardinia has long held an irresistible allure for in-the-know Europeans, even if its sternly independent natives haven't always returned the affection. Almost everyone who's been to Corsica will be quick to call it the most gorgeous island in the ­Mediterranean—an impossibly scenic amalgam of alpine peaks, thick chestnut forests, and fortified medieval villages, all surrounded by a coastline of spectacular granite cliffs and calm turquoise coves that rival anything in Greece or St. Barths. Over the centuries, however, the persistence of warfare and insularity and deadly vendettas—not to mention, more recently, a penchant among local ­activists for bombing the seasonal homes of wealthy vacationers from the ­mainland—have given Corsica something of an image problem. Of course, that very problem has helped stave off large-scale development, which has only increased the island's cachet in an age that values the unspoiled and the untamed.
"While every other place is getting ruined, Corsica is still unbelievably natural and wild," says model and actress Laetitia Casta (last year's Gainsbourg; this fall's Arbitrage), who is ­half-Corsican and spends summers at her family's place on the northern coast. "Now it's becoming more fashionable to go there, but that's because it remains so unique and so authentic."
In addition to its embarrassment of natural wonders, ­Corsica increasingly boasts a certain kind of stealthy chic—one that has little to do with the paparazzi-friendly draws of Saint-Tropez or Ibiza. "All kinds of interesting people are coming here," says Philippe Costamagna, director of the Palais Fesch museum in the city of Ajaccio. "But they're hidden in pockets." The Palais Fesch's extraordinary collection of Italian paintings is considered, after the Louvre's, the best in France, and Costamagna—a transplanted Parisian who lives north of Ajaccio in an 18th-­century manse—is accustomed to receiving luminaries such as Princess Caroline of Hanover, who anchors her yacht in the local harbor.
Still, many Europeans, especially Parisians, have learned that it can be risky to become too attached to Corsica. There's a long list of flush Frenchmen—including actors Jean Reno and Christian Clavier—who have bought properties on the island, or tried to, then surrendered in the face of dubious permit challenges or death threats from separatists and environmental activists.
My seatmate on the flight from Paris to Corsica is an effervescent 72-year-old who, as it turns out, is the island's first native movie star. Marie-José Nat, named best actress at Cannes in 1974 for Les Violons du Bal, doesn't seem very menacing, particularly when she invites me over for lunch near the town of ­Bonifacio, at the ­island's southern tip, the next day. ­Although Nat owns the village's most imposing house, perched atop 240- foot-high limestone cliffs, she spends most of her time at a retreat in the countryside, where she greets me by extending a plate of freshly picked figs still warm from the morning sun. Reminiscing about her bucolic childhood on a nearby farm—her mother was a shepherdess—Nat tells me that, in her eyes, Corsica's wild beauty, along with its inhabitants' "strong, stubborn character," has remained remarkably intact.
Of course, it's possible to vacation here happily oblivious to all of the island's social and political complexities—that's what most tourists do in July and August, when the beaches are thronged with sunseekers. Americans, still rare here, will generally receive a warm welcome, as will most Europeans; the bad blood is primarily between the Corsicans and the mainland French, whose relationship has been poisoned by centuries of mutual mistrust and resentment. Though there are plenty of grievances from both sides, the long-held stereotypes aptly illustrate the discord: Parisians, in particular, view the Corsicans as proud, uncultivated brutes, while Corsicans view the Parisians as proud, overcultivated snobs.
Jean Touitou, the Paris-based A.P.C. founder, recently rented a place near the port town of Saint-Florent, where a local contact insisted on introducing him to village merchants at the beginning of his stay so that he wouldn't be overcharged or mistreated all summer. "Basically, a Corsican guy cannot stand attitude," he says. "If you are ­humble—more than humble—and show a lot of respect, you can get along. But if you act like you deserve the best table at a restaurant because you are a powerful man in Paris or ­wherever, the owner will say, 'No, we're full'—even if you can see that the place is empty."
The close juxtaposition of the refined and the rustic on the ­island is ­giving rise to some peculiar ­culture clashes. Around Saint-Florent, you'll find summer compounds of a handful of well-known French families—the d'Ormessons, the de ­Ribes, the Rheimses—not far from a host of budget inns and campgrounds. According to Touitou, many unsuspecting yachters dock in the ­marina and come ashore looking for ­Riviera-style glamour, only to find it sorely lacking. "So they wander into the village supermarket," he says, "where they see German campers having a riot in the cheap-beer section."
Dining options are still notoriously sparse: Lee ­Radziwill, who for many seasons rented Jacqueline de Ribes's place, barely remembers a single dinner out. "We had a wonderful cook, and we always ate at home with friends," she says. In the past few years, though, the high-end action has been ­picking up quickly, particularly around the southern resort of Porto-Vecchio. At ­Casadelmar, a five-star boutique hotel in a stunning setting on the bay, with a jet-set vibe worthy of Capri, the Michelin-starred restaurant has a wine list with a $10,000 Krug Champagne. Evidently, it's not just for show either: The sommelier tells me he's sold more than a few bottles. "We have a certain Eastern European clientele," he says diplomatically.
The recent influx of Russian oligarchs—­arriving via yacht or on private flights from their footholds in the Côte d'Azur—is, as one might expect, not always welcomed by ­Corsicans. Some luxury-hotel owners confess to strictly limiting the number of Russian guests at any given time. "I could be full with them all year if I wanted," says one. "But that would scare off the French—and then if Moscow has an economic crisis, I'm empty."
Still, no matter how fancy things might be getting on the southeast coast, nature lovers can head a few miles inland, where Corsica's glorious interior is crisscrossed by one of ­Europe's most challenging hiking trails, the GR20, and split into several chunks of protected parkland. ­Costamagna, though, isn't about to play favorites. "The entire island is beautiful," he says. "You can see why the French and ­English and Italians fought so much over it. You have these colossal mountains right near the ocean, and sublime forests everywhere."
Among the evidence of Corsica's richly checkered history are crumbling 16th-century Genovese watchtowers dotting the coastline and clusters of Neolithic stone menhirs that, 5,000 years later, still stand in open fields like speechless sentinels. There are also countless medieval villages in which the arrival of your rental car will be the big event of the day. One afternoon, while driving around the mountain roads east of Corte, I stop to check out the ruins of a Franciscan monastery; hidden around the back and all but unmarked is an auberge with a 15th-century olive press and walls laden with antique firearms. With the kind of appealing gruffness typical of Corsicans, the chef-owner-farmer, Xavier Bernardi, explains how he raises and slaughters his own animals to prepare local specialties such as trippa piena—an entire pig's stomach, stuffed with blood and lard-stewed herbs and cooked for eight hours. Tradition holds that the cook must taste the bloody stuffing while it's raw to make sure it's properly seasoned.
On the chance that you're not into pig's blood, there's another place to sample Corsica's ancient and elusive culture—and it happens to be the chicest ­address on the island. At Domaine de Murtoli, 17 ­cottages are spread out across an Edenic 6,200 acres along the coast south of Sartène. Owner Paul ­Canarelli, a native Corsican who inherited most of the land from his grandfather, converted its extant ­centuries-old shepherds' houses and fishermen's huts into haute-rustic cottages.
Canarelli's guests, including plenty of privacy-­obsessed European celebs and politicians, can cook meals in their own kitchen with ingredients picked from the organic garden, or they can head to the seaside restaurant and order a sublime veal-and-langoustine tartare, confident that virtually everything that passes their lips has been raised, grown, or caught on the property. "What is luxury?" Canarelli asks. "It's not gold faucets—it's being able to eat just-caught fish while watching your kids swim in clean water. It's space. And these days, there's less and less of that."
This being Corsica, such a venture is not without its controversies, including a recent debate about ­Canarelli's right to limit public access to Murtoli's prime beach. Canarelli insists he's only trying to keep out the billionaires who disembark from their yachts onto noisy Jet Skis and zoom around on them for hours. There can be a few land hazards during high season as well, including certain pampered Parisians. "Some will arrive here and immediately complain when they see a wasp," Canarelli says. "You're in the country! The wasps were here before you. It's you who needs to adapt to them." Given that he's ­generally booked a year in advance, Canarelli never hesitates to invoke his Corsican privilege of barring outsiders not to his liking. "I have a blacklist," he says with a half-smile. "It gets longer every year."
For the record, I should note that during my stay in Corsica, I didn't witness a single contract killing, nor were any hotels blown up. A few morbid jokes were made at my expense, though. One morning while wandering around the village of Erbajolo, I stopped for an orange juice at a café where a posse of octogenarians was huddled around a table, starting the day with a few rounds of pastis. Upon learning I was a ­magazine writer from the U.S., the men invited me to join them. After peppering me with questions about the Normandy invasion, their beret-clad ringleader asked, deadpan, how high a ransom my editors would be willing to pay in the event of my kidnapping. Then he laughed and went off to lunch. A few minutes later, when I asked the waitress for my check, I learned he'd already paid it.