Ryan Murphy Promises (Threatens?) More Coven Witches on American Horror Story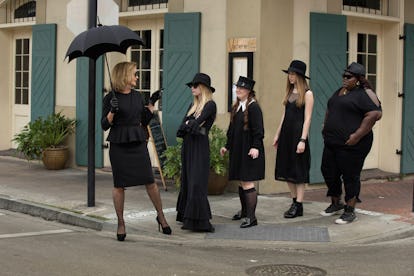 ©FX Networks/Courtesy Everett Collection
The storyline surrounding the much anticipated return of Cordelia Goode and her coven of witches to American Horror Story on the most recent season wrapped up in a finale that was both underwhelming and far from definitive about what happened. Of course, that means it is possible that the saga of Miss Robichaux's Academy isn't quite over.
Right on cue, the producer Ryan Murphy is already teasing the possibility that viewers haven't seen the last of them.
"The witches will be back," Murphy told Entertainment Tonight at a ceremony for his new star on the Hollywood Walk of Fame. "Not next season, but we have something really fun planned."
Who knows what, exactly, that could mean, but at this point, the guessing game of future seasons and the anthology series's self-referential mythology is perhaps enjoyed more by the fan base than what actually ends up happening during the final episode of any given season. What's more fun, really: the actual return of the witches, or spending a few years gossiping and theorizing about their return?
As for what will happen next season, Murphy kept things vague. "I can't say what it is," he told the program. "I'm going to this luncheon, and many of the Horror Story actors are there, and I'm gonna tell them for the first time. So I have to tell them first."
Whatever the case, Murphy's continued commitment to both AHS and its breakout witches should bring a sigh of relief to both fans of the show and it's home network, FX.
Murphy, meanwhile, is in the midst of establishing a slate of shows for his new home, Netflix, some of which involve AHS alum. In fact, he just confirmed that Jessica Lange is joining Gwyneth Paltrow and Ben Platt as part of the cast for his upcoming musical series, The Politician. Sarah Paulson is also getting her own show, in the form of Nurse Ratched.
Still, that doesn't mean he's giving up on his shows that will remain on FX, if his continued commitment to teasing fans about the return of the witches is any indication.
Related: American Horror Story: Apocalypse's Costume Designers on the Modern Witch Fashion of Sarah Paulson, Emma Roberts, and Stevie Nicks