American Horror Story: Apocalypse's Costume Designers on the Modern Witch Fashion of Sarah Paulson, Emma Roberts, and Stevie Nicks
Ryan Murphy's costume designers break down their signature looks.
---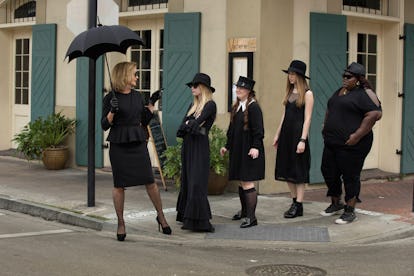 ©FX Networks/Courtesy Everett Collection
Welcome to [W's Witch Week](https://www.wmagazine.com/topic/witch-week), a celebration of all things witchy. In the days leading up to Halloween, we'll be boiling up a wicked brew of all things occult, from pop culture's favorite new witches to the real women practicing Wicca today.
Witches on television and in movies all tend to be costumed the same way: flowing black dresses, pointy black hats, a broomstick for good measure. But when Ryan Murphy is your boss, "same" certainly doesn't cut it. After tackling a haunted house full of ghosts (and a certain black latex catsuit) and a 1960s insane asylum, the American Horror Story costume designer Lou Eyrich was tasked with reinventing the witch for the show's third season, American Horror Story: Coven, and making the actresses Sarah Paulson, Jessica Lange, Emma Roberts, Taissa Farmiga, Frances Conroy, and others "witch chic," per Murphy's explicit directions. Gone were the shapeless sack dresses of yore, and in their place, vintage Yves Saint Laurent, as well as straight-from-the-runway Givenchy, Prada, and more, making for one very stylish coven, indeed. Now, four seasons later, the witches are back for American Horror Story: Apocalypse, and with them, those very witchy costumes, thanks to this season's co-designer Paula Bradley. Here, she and Eyrich break down how they created individual looks for each witch, and what it was really like working with Stevie Nicks.
What was the initial inspiration behind the costumes for Coven?
Lou Eyrich: We were down in New Orleans, and we did a lot of research on witches. We did a lot of Yves Saint Laurent and '70s-inspired looks and made it a bit more modern. Mostly, being down in New Orleans gave us an atmosphere that inspired us. For Taissa, it was more of a Margiela and Ann Demeulemeester feel. Madison [Roberts] was high-waisted short shorts and a lot of fur, because she was playing the rich Hollywood actress. And then always the hats. We had a bunch custom-made here in L.A., at Gladys Tamez Millinery. And right when we were shooting, BCBG came out with [these hats]. And, of course, there is the famous, huge Saint Laurent hats that we were able to nab and used in all the promos.
Was there anything that you really wanted to stay away from?
Eyrich: Back then, we didn't want to do a lot of capes, whereas this season was all about the capes. We wanted it to be modern witchy, or romantic witchy. It was really about making sure each girl had her own flavor, from Nan [Jamie Brewer] to Queenie [Gabourey Sidibe] to Zoe [Farmiga] to the Supremes. They all had their distinct style.
Did any of the actresses provide any input into their costumes?
Eyrich: Yes. Both Paula and I really like to collaborate with the actors; they have their say, we have our say. I have no problem if it really does suit their character. But everybody knows that the main ideas come from Mr. Ryan Murphy. He gives us the tone, and he knows what he wants, and we make his dreams come true.
What was his initial vision for the witches?
Eyrich: Voodoo and witch chic were the words. Just a real '70s meets modern witch style.
When Coven wrapped, did you know that those characters would be coming back?
Eyrich: We wish we had, because Paula and I were tortured this entire season trying to dig up those pieces. It would have made Paula's life much easier. The costumes stayed in New Orleans when we did Freak Show, and they were supposed to be in boxes that were transported [to Los Angeles], so we found some of the stuff, but not all of the stuff.
What in particular were you trying to bring back?
Eyrich: We had some really great pieces that Cordelia [Paulson] wore, and Madison had some really great pieces that I wish we still had. It's mostly Madison that I miss. I wish we could have found her pieces. It was stuff that she had worn but Emma really wanted us to bring back.
Bradley: She was really excited that we found the Christian Louboutin platform spiked heels and the Prada boots. She just put those on immediately. She was thrilled that they were still there.
Coming back this season, how did you consider how the characters had grown since we last saw them, and how that would reflect in their wardrobe?
Bradley: First of all, even though it is a tough show, it was easy to go off of what Lou had created because it was so iconic. That was fun for me, and even though we had new witches, there was a really iconic look to them. But, one, they've grown up, and two, they are fashion-chic, so as girls they would have also changed their style a little without changing who they are. Zoe is now a teacher, but she is still in that Margiela, and a little bit of Alexander Wang. But it's still her. And luckily, fashion has moved right in that space and gone along in there with Saint Laurent and those type of looks that are there. So we're not going against what is happening, and it makes them very current.
Eyrich: She's less Urban Outfitters now and more Margiela.
Bradley: They've all grown up. At the end of Coven, Cordelia goes on a PR [tour], so [the coven] aren't hidden anymore. They're known and have a little bit of fame. That all helped them grow up a little bit without changing them. It was a pleasure, that's all I can say. And who can touch Myrtle Snow [Conroy]?
How do you come up with the ideas for Myrtle?
Eyrich: We literally took her right off the page. The original idea for Myrtle from Ryan Murphy was this woman has been dressing the same since she was in high school, and hasn't changed. When we were developing who Myrtle would be, we had a day to do it. We started pulling a bunch of maxi skirts and patterns and then adding gloves and lace.
Bradley: Frances told me that she has personally watched Diana Vreeland: The Eye Has to Travel 50 times. She's unbelievably and iconically fashion to me. Myrtle Snow is total perfection to me.
And how was working with Stevie Nicks on both seasons?
Eyrich: She's a dream. She's exactly what you think she would be.
Does she come in with ideas of what she wants to wear?
Eyrich: The first season, she brought her own clothes in but was extremely willing to work in anything or wear anything, but why would you improve upon perfection? She had amazing stuff.
Bradley: This season, she came in a day before to bring in choices from her own wardrobe. I believe she wore a McQueen jacket. We have an amazing glovemaker, named Dorothy Gaspar, and we added some gloves into her room should she want to change hers. She didn't change her gloves, but they did disappear. And she did a sketch [for me] on a little piece of paper of the first dress she saw some girl walk by on the street wearing. That was a handkerchief hem, and she's created Stevie Nicks from that girl walking past her when she was a teenager ever since.
Eyrich: That's so cool.
Bradley: You don't know when you get dressed and walk by somebody what kind of influence that can have on a person.
13 Boots to Shop For Your Halloween Witch Costume and Your Fall Wardrobe