Creed II's Trailer Drops
Michael "Bae" Jordan is back.
---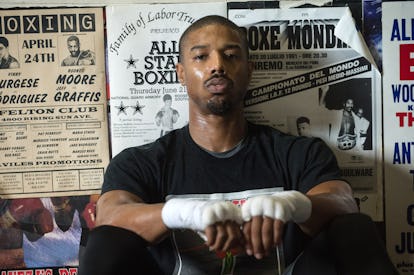 Warner Bros/Everett Collection
Don't call it a comeback.
Following the raging success of 2015's Creed, Michael B. Jordan is returning to his Adonis Creed roots for the aptly named Creed II. And even if you're not a fan of muscle-y gentlemen pounding on some punching bags and slurping up electrolytes, might we encourage watching the trailer for the sake of, well, more MIchael B. Jordan.
If you don't know too much about this rebooted franchise, Creed followed Adonis, played by Jordan, who's the illegitimate son of legendary Apollo Creed from the original Rocky films. Adonis is a talented heavyweight boxer, but he's also a bit of an underdog who realizes in the first film that he wants to do his deceased dad proud by quitting his cushy financial job in favor of boxing full-time. Without offering any spoilers, we'll tell you he ends up doing his dad proud, and Sylvester Stallone had a nice career renaissance, thanks to his poignant portrayal of Rocky Balboa.
And now, we have Creed 2! As the first trailer for the film reveals, Adonis is still balancing the ramifications of living a high-stakes boxing life, which will only get even more significant when a family rival returns to entice him to fight his son in the ring. (Well, "family rival" is putting it lightly. It's Dolph Lundgren's infamous Ivan Drago, who killed Adonis's dad during a match.) Adonis agrees to the fight, in order to honor and potentially change his family's legacy, but soon realizes that fighting Ivan's son, Viktor, might become the nadir in his career if he doesn't go all-in. "I want to rewrite history," he declares. "This is more than just a fight." Cue the training montage!
Creed 2 will be out on November 21.