A Cultural History of Crocs
Bad Bunny, Justin Bieber, and Post Malone have co-signed the unequivocal MVP of summer 2020, the Croc: the most hate-loved shoe.
---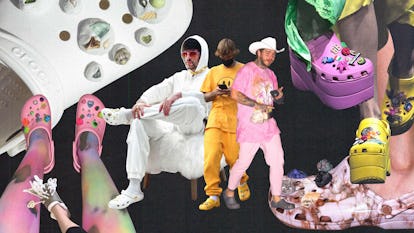 Collage by Maridelis Morales Rosado. Photos courtesy of Getty Images, Crocs, Instagram and TikTok.
Crocs may be simultaneously the most loved and most hated shoe of all time. But over the course of this summer, and even into the past few months, it seems that everyone has tried them on for size—from Gen Zers on TikTok to high fashion fans doing customizations, and even big-name celebrities like Bad Bunny, who collaborated with Crocs on a foamy white pair bedecked in stars. Justin Bieber and Post Malone have their own specially designed Crocs as well. What began as a boating shoe meeting a gardening clog meeting a sandal has fully taken over as a cultural touchstone—and eclipsed fashion's forever comfort shoe, the classic Birkenstock, in the process. Even Balenciaga came up with a platform version, while some of the coolest emerging designers have reclaimed the style by creating Jibbitz Shoe Charms, for further Crocs customization. It's one piece that has a decidedly expansive—and at times, controversial—history.
Fashion historian Miranda DiCenzo thinks Crocs most resemble a comfortable version of the Danish clog, but firmly believes that when they first debuted in the early 2000s, there was nothing else like them. Meanwhile, Ellen Sampson, fashion researcher and author of Worn: Footwear Attachment and The Affects of Wear, links the humble Croc to outdoor shoes from centuries ago, dating back to, at least, the medieval period but also into the 19th and early 20th century.
The basic shape of Crocs have come in and out of fashion for decades, according to Sampson. "You see them crop up in 1930s fashion as outdoor shoes, and again in the 1960s and 1970s—initially as hippie shoes and then more broadly as a marker of youth fashion," Sampson says. "In the 1970s, clogs were particularly associated with Scandinavian style and an outdoorsy aesthetic. In the 1990s, you saw a lot of high-heeled clogs on the catwalks—playing with the symbolism of an everyday or practical shoe turned into something impractical and luxe."
"Crocs looked different and were made of material different from other shoes on the market in 2002," she adds. "Think back to mainstream styles of the early 2000s: canvas slip-ons, like Vans; platform sandals, like Steve Madden, and mesh slip-ons, for example. There were blogs literally dedicated to hating Crocs, and they became a type of cultural phenomena." (Take, for example, I Hate Crocs Dot Com, still going strong in 2020.)
It's often said that tough times accelerate trends, and that very same concept applies to Crocs. You might have seen a heightened presence of Croc-wearing in your neighborhood or on the Internet—and the company's sales from this year are an indication of peak Croc obsession. Crocs reported a record Q3 earnings report, with revenue soaring by 16 percent year-over-year, and digital sales up 35 percent. But the world of high fashion dipped its toe into Croc territory as early as 2016, when Christopher Kane released marble-streaked Crocs with crystal Jibbitz on the runway. A few years later, Balenciaga debuted its neon, sky-high version of Crocs with branded Jibbitz for its spring 2018 show.
Fast forward to today, when sweatpants and loungewear have become the go-to for most everyone, especially those working from home. "There is a distinct style rising: waist-up versus waist-down," explains trend forecaster Marie-Michèle Larivée. "Waist-up is proper Monday to Friday, but waist-down is on weekend mode, all week long. Waist-down, out of frame from video calls, is a style mix with ironic items or very strong debatable potential."
It's true that many of us are pairing leggings with button-downs for our Zoom meetings and social gatherings over FaceTime. Crocs, meanwhile, are the ultimate utilitarian shoe; Jibbitz and customization only came into the picture within the last few years. And the charms still don't impact the overall comfort and practicality of Crocs.
"There's also been a broader resurgence in utility wear—overalls, work trousers and jackets have all made a comeback," adds Sampson. "I think that a clean, practical aesthetic has been building since Normcore but at this point of crisis, wearing stripped back, functional objects seems very now. Overt luxury would be really jarring and a bit off at such a tough time—it would seem a bit gauche. So low-key and accessible status objects are far more appealing."
It wouldn't be a stretch to say Crocs have taken over social media. It's not uncommon to see people filling them with shaving cream, then sticking their feet into the shoes, on Tik Tok.
Meanwhile, on Instagram, over 1.8 million posts show people of all ages decking out their own pairs in DIY Chanel and Dior Jibbitz, or styling them with tie-dye socks. "The continuous rise of social media also has to do with the rise of Crocs," adds Larivée. "Referring to the waist-down ironic style, people post different angles of the camera and play with formal and non-formal wear. The highly visual aspect of Crocs—its materials and colors and a significant symbol of humor—has amplified the [conversation]."
Perhaps the most refreshing thing about the Crocs resurgence has been the young designers who have started customizing Jibbitz, reclaiming the shoes as fully individualized, modern, and unexpectedly cool. Rather than lightweight, plastic charms that feel almost disposable, the new generation of designers getting into Crocs create handcrafted Jibbitz that feel much like works of art. "I bought my first pair of Crocs after convincing myself," explains Lamborghina Robinson, who creates custom resin Jibbitz encased with mushrooms or flowers as part of her jewelry line, Blo_oberry. "When it finally happened, I remember looking forward to picking out Jibbitz most. As I started to shop around, I found myself not seeing anything I was super interested in, and that is when the idea sparked to just create my own."
"I am obsessed with being comfortable," adds Jillian Maddocks, the designer behind 323, who recently released mosaic ceramic Jibbitz. "I would even go as far as to say that comfort is my main source of inspiration behind my designs. Crocs are also the perfect minimalist shoe to be dressed up or down with accessories. I associate them with my dear and weird fellow artist and musician friends who want to be comfortable and unique, yet timeless."
As more trends that define what might become one of the strangest years of all time emerge, it's only fitting that such a divisive shoe has come to represent our time—and at the same time, bring about hope and inspiration to a totally new generation of rising designers. The resurgence of Crocs demonstrates two aspects of fashion that began as trends, and are now growing into something bigger: individual styles are going in a more practical direction, and collectively, we feel more comfortable than ever expressing ourselves by dressing for ourselves. While some may have felt embarrassed or unfashionable wearing a proclaimed "ugly" shoe, which represents comfort and utility before style, it's now all the rage.
Related: Balenciaga Has Its Own Answer to High-Heel Crocs, of Course