Glam Rocks
Going deep into the latest crystal craze.
---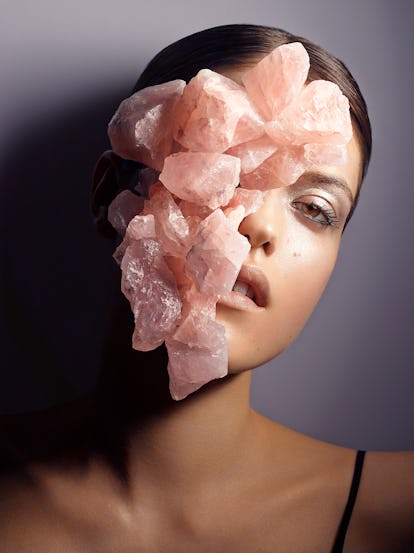 Photographer: Horacio Salinas
Every Friday night, a group of local artists, chefs, screenwriters, fashion designers, and indie celebrities like the French singer Soko file into the Sweat Spot, a dance studio in the Silver Lake neighborhood of Los Angeles, for a crystal meditation session. As they enter, Mark Phillips, the co-owner of the nearby crystal shop Spellbound Sky, offers each person a stone, the properties of which will dictate the evening's theme—anything from developing self-love, with rhodochrosite, to transforming negative energies, with black tourmaline. Phillips originally held these events in his vine-covered storefront, but the space quickly proved insufficient. "We were sending people away," he recalls. The Sweat Spot's owner, the choreographer Ryan Heffington, is a friend and customer. So far, nobody's been shut out, but major astrological occurrences, like a recent lunar eclipse, do tend to pack the house.
Of course, crystals are not an unfamiliar accessory in "Hollyweird." When Stevie Nicks drawled seductively about seeing "crystal visions" in Fleetwood Mac's 1977 hit "Dreams," she helped inspire the L.A. stereotype of a New Age witchy woman who speaks in affirmations and always has a cleansing quartz on hand, as if it were a bottle of Purell. Today, however, a fresh crop of healers, gallerists, designers, and collectors are making crystals stylistically, if not socially, acceptable.
The jewelry designer Adina Mills works out of a studio in Landers, a community in the Mojave Desert, where she has been crafting her chunky geode cocktail rings and crystal-wand power pendants for years. Her unique sculptural pieces are sold at chic boutiques like Roseark, in West Hollywood, and Maryam Nassir Zadeh, in New York, and she counts Lena Dunham among her fans. Many modern practitioners, like Phillips and his partner, Martin Anguiano, who opened Spellbound Sky after leaving the fashion industry as designers for brands like Guess and Nu Collective (which may account for their stylish clientele, including Alexa Chung, Cara Delevingne, and Nicola Formichetti), were "reborn" as crystal healers, and have found that Los Angeles embraces reinvention. Then there's Sameer Reddy, who had been a journalist in New York and Berlin before developing a healing modality that incorporates tarot, Reiki Tummo, and crystals. "I'd always felt like I should live in L.A.," he says, noting the city's cultural openness. Since March, he's been happily ensconced in Laurel Canyon, where he sees clients in a jewel box–like treatment room on the top floor of his house.
When Azalea Lee, a former wardrobe stylist, decided to make a line of metaphysical fine jewelry featuring one-of-a-kind gems, she took a hands-on healing course in Hawaii with Katrina Raphaell, whose trilogy of books on crystals is widely credited for instigating the 1980s boom. Last fall, Lee opened Place 8 Healing, an all-white aerie overlooking downtown L.A., where she sells rare crystals and conducts healings that she says can be surprisingly visual. An image of another time or place might very well be from a past-life encounter, she suggests matter-of-factly. (Indeed, Lee believes that her own knowledge of this "crystalline power" came from a former life in Atlantis.) "I can totally understand when people are like, 'Where did you get this information?' " Lee says with a hearty laugh. "To me, if you can walk out feeling happier, who cares if it's hippie-dippie woo-woo stuff?"
Despite their New Agey–ness, stones have served as tools and talismans for millennia. Their medicinal use dates back to ancient Egypt, where lapis lazuli, malachite, and red jasper were thought to pull disease from the body. Turquoise is sacred to some Native Americans, for whom the "fallen sky stone" is a protector and aid, and the Chinese value jade for everything from blood purification to generating abundance. With more than 4,000 varieties, there is a mineral for every need, and Spellbound Sky encourages newbies to browse. "We want everybody to get in on the energy," Phillips says. And while the current market has created a niche for "crystal curators" who put a premium on size and provenance, Spellbound's Anguiano points out that small crystals—many priced at $5 or less—are perfect for meditation or carrying with you "to access the energy at all times."
It doesn't seem likely that Apple will be offering an amazonite-studded watch anytime soon or, for that matter, a How Is My Energy? app. But Elder Statesman creative director and CEO Greg Chait might have had the right idea when he slipped tiny moonstones and fluorites into his last holiday collection "just to see what would happen." Chait doesn't wear his spirituality on his sleeve, but his quartz-dotted boutique in West Hollywood reveals a man who knows his way around a gem show. "What I like about it all," he says, "is you can't prove that it doesn't work."
Hair and Makeup by Tinna Empera for Cloutier Remix; Model: Anna Nevala at New York Model Management; Crystals from Species by the Thousands