The Prescient Photographer Who Shot Gloria Steinem, Jane Fonda, Patti Smith and Other Famous Young Feminists of the 70's
Cynthia MacAdams's 1977 portrait of feminism, Emergence, looks especially relevant in these times.
---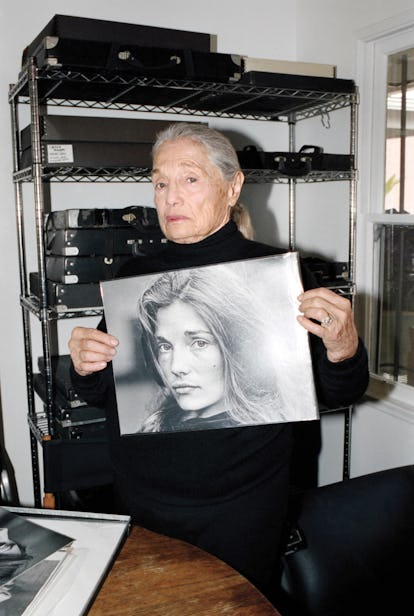 Photograph by Jody Rogac; Hair and makeup by Shannon Pezzetta for MAC at Starworks Artists
The photographer Cynthia MacAdams, 77, is sitting in the dining room of her Los Angeles apartment admiring two walls she recently painted red, in accordance with feng shui principles. "It's a healthy red. It brings joy and energy," she says. She's surrounded by her work (including a large framed print of an Egyptian pyramid) and simple drawings of nudes by her former lover, the artist and feminist writer Kate Millett. And then there's the looming image of the Hindu goddess Kali—fierce, ready to fight—whom MacAdams views as both her protector and a destroyer of obstacles. She pops the cork of a Champagne bottle, pours a couple of glasses, and recounts the time she went to Peru to act in Dennis Hopper's infamous The Last Movie—a cocaine-, LSD-, and sex-fueled 1971 production that costar Michelle Phillips jokingly says "almost became the last movie for all of us."
MacAdams, who studied at the Actors Studio, in New York, with Lee Strasberg, has been friends with the Mamas & the Papas singer ever since. Phillips characterizes MacAdams as someone who follows her passions and makes strong impressions along the way. It's no wonder the men who navigated the boat that took them on an excursion down the Amazon while on location for the film never forgot the topless blonde standing at the helm, her arms outstretched in homage to the local gods.
"Yeah, I was a nudist, but I also impressed them with my blow-dart-gun skills," MacAdams says. "I was 30 years old and went wherever the winds took me. I think we're fools when we stop going with the wind, because the wind is a great guide."
That fearless, searching curiosity has led MacAdams through a career that has made her an art world outsider but also someone who often finds herself at the nexus of a movement. Her work is stylish and stark yet sensual, clear, and as unabashed as the close-up she once took of a clitoris. She's perhaps best known for her 1977 second-wave-feminist book, ­Emergence, a collection of portraits of ordinary women as well as artists, activists, and intellectuals on the verge—women like Phillips, Gloria Steinem, Patti Smith, Jane Fonda, Mary Ellen Mark, Lily Tomlin, Laurie Anderson, and Judy Chicago. Now, 40 years after Emergence was published, a documentary inspired by the book, Feminists: What Were They Thinking?, is in the making.
Steven Kasher, who specializes in photography that intersects art and social struggle, presented MacAdams's work at his New York gallery in 2010. He surmises she hadn't been offered such a significant show until then because the directness and politics of her photos might have been a turnoff for other dealers. "This work is pertinent because we want to see what these amazing women looked like when they were in their prime, shaking things up," he says. "The spirit of that struggle is in the pictures. Cynthia captures them boldly, without trying to be complex or intellectual."
In her artist statement for the book, MacAdams was a bit more blunt: "I looked for women who could say, 'F— off,' if they didn't agree with you, for women who had strength and softness in their eyes and a directness in the way they dealt with their life."
For the actress Lily Tomlin, Emergence continues to be a touchstone: "It's an important part of our history that focuses on a pivotal moment." Those were innocent times, Tomlin observes. "We felt like we could just put ourselves out there and declare what we felt and thought, or were willing to work for." In that time of community, ­Millett's loft on the Bowery was a hub. "Kate was one of my great teachers," MacAdams says. "We'd have all these different women over for chicken dinners—Gloria Steinem, [the artist] Marisol Escobar. We'd drink Côtes du Rhône, smoke joints, and sit around the fireplace and discuss feminism."
MacAdams started photographing women because, as she says, "I believed the future would be in the hands of women—because men were too much of a corporate entity, and women thought about protecting the body and the planet, and the men didn't seem to care about that; they just wanted money in their pockets." Millett, whose groundbreaking 1969 tome Sexual Politics was reissued last year, contributed to the introduction to Emergence. "They're a new kind of woman," she wrote of MacAdams's subjects. "You haven't seen them before. Neither have I. At least not in pictures. A new breed of us just coming into being, never recorded until now, never noticed, given a name, allied into a continuity…the lot of them. They with the new thing in their eyes. Looking back at you. And beyond. Because they're the future."
Yet upon the book's release, the critical response was less than enthusiastic. "Emergence is essentially a celebrity album, and while that has its usefulness, it is hardly the incisive sociological document it professes to be," scoffed The New York Times. When I remind Millett, 82, of that poor review, the conversation turns to the idea of the male gaze, and how, up until that point, women posed to attract men, to advertise, to sell. MacAdams's subjects weren't posing, Millett suggests. She waited and captured the moment. "That's why I called her Skippy. She was always ahead of herself, ahead of her time—and it was going to take a long time for the world to catch up with her."
MacAdams was born in 1939 on a reservation near Webster, South Dakota, into a non–Native American family who ran a newspaper. She says she pursued her dream of being an artist despite the fact that her parents didn't approve. After studying theater at Northwestern University, she moved to New York and got involved with Timothy Leary and mind expansion. ("Yeah, I did a lot of LSD. I was experimenting with ways of looking at life.") She worked on and off Broadway, and in the late '60s appeared in films like Robert Frank's Me and My Brother and Wild in the Streets, where she met Shelley Winters (another Emergence subject), who would become one of her mentors. But Hollywood proved challenging. MacAdams was an out lesbian, and it was clear to her that she didn't have the temperament to play the game. "I'm not beautiful, I'm not sexy, I'm not tits—and I'm not Melania," she says now.
So she journeyed to Esalen, the famous spiritual retreat in Big Sur, met Swami Muktananda, and chanted with his entourage up and down the California coast. Later, in India, she met Richard Alpert, who would go on to author Be Here Now under the name Ram Dass. When MacAdams had had enough of the marginalization of women at the Hindu ashrams, Alpert suggested she go to Nepal and study with Zina Rachevsky, a former actress who had become a Buddhist nun. In 1974, after MacAdams returned to the U.S., Aloma Ichinose, a photographer who had been her friend since those days in the Amazon filming The Last Movie, urged her to pick up a camera. "There is a special look to her work, but it's also unrelenting," Ichinose says. "There is no retouching; she has a way with light that makes the work hard but so honest and wonderful."
Cheryl Swannack, an artist and the executive producer of Feminists: What Were They Thinking?, met MacAdams around that time, when Swannack co-managed the Woman's Building, an exhibition space in Los Angeles for female artists like Judy Chicago, who were all but excluded from the museum-and-gallery system. Swannack says she always thought the book should be made into a movie. "We couldn't have done it until now. In the '70s, no one could have tolerated the idea of women looking so strong and independent."
Even though she, Millett, Tomlin, and MacAdams acknowledge that great strides have been made over the past 40 years, in the wake of the recent presidential election they question if we're even ready today. MacAdams tells me that while she wasn't surprised by Donald Trump's win, she's still depressed. But then she says, "I'm a suffragette. We all have to be suffragettes. Elizabeth Cady Stanton died without getting to vote, but eventually women got the vote. So I will continue to walk and believe in the truth that women are equal to men in every way possible. Now, we just have to be tougher, smarter, and stronger, and eventually we will win."
Watch W's most popular videos here: