Cynthia Nixon Finally Joined Instagram and It Was Her Real-Life Sex and the City BFF Kristin Davis Who Convinced Her
Here are more reasons why you should follow her.
---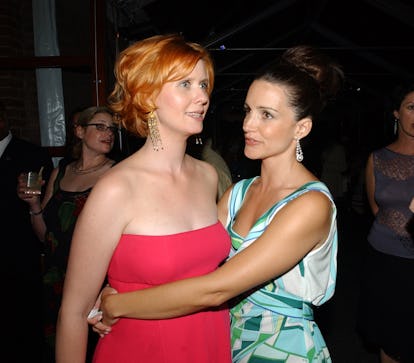 Getty Images
In the first episode of Sex and the City season two, Miranda Hobbes tries to show off her brand new Palm Pilot to her friends Miranda, Carrie, and Samantha over breakfast, but all they want to do is talk about men. Played by actress Cynthia Nixon, this is a peak Miranda situation: She's a whip smart lawyer who not only has the funds to buy a Palm Pilot of her own, but also the type of person who would perhaps rather talk business than boyfriends and what they choose to do with their balls.
Despite the fact that Sex and the City went off the air in 2004, its characters are still often conflated with the actresses who play them. And so, even if Miranda Hobbes is nothing like Cynthia Nixon, we still can't help but wonder what her character would have thought of iPhones instead of Palm Pilots.
Well, last month we got a little closer to seeing what Sex and the City in 2017 might look like, when Nixon finally made an Instagram account. (This is such a Miranda thing to do, no?) Ironically, it was her former co-star, Kristin Davis, who convinced her to join. So, at least their friendship was real.
Nixon created an account on June 9th, and her first post admitted that it was peer pressure that finally made her take the plunge. Sienna Miller also said the same thing this summer, when she, too, joined Instagram for the first time. Celebrities, they're just like us!
Davis also gave her friend a shoutout on her own account, which helped Nixon gain over 175,000 followers today.
Nixon just wrapped her run on Broadway in Little Foxes with Laura Linney, so her early posts include a lot of backstage photos. This one isn't nearly as glamorous as her Tony Awards appearance this year, though, where she won Best Featured Actress for her performance.
In addition to making a political Tonys acceptance speech, and posting about Planned Parenthood on Instagram, Nixon is also an avid LGBT advocate, and started openly dating women shortly after Sex and the City wrapped and identifies as bisexual. She's currently married to education activist Christine Marinoni.
We're so thrilled that Miranda—oops, Nixon—is on Instagram. Is Twitter next?
How to Take a Selfie Like a Supermodel