Meet Daisy Clementine, Lucky Blue's Model Sister
The 20-year-old is best known as a musician – but now she's taking on the fashion industry.
---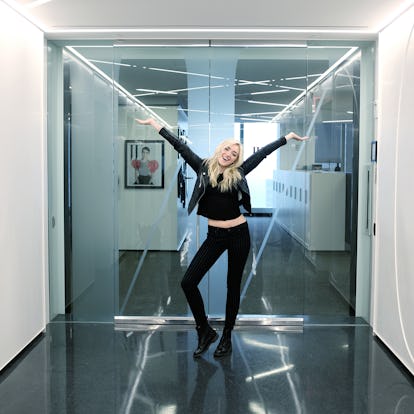 Daisy Clementine Smith, the 20-year-old sister of breakout models Lucky Blue and Pyper America, is making a name for herself—a task that wouldn't seem too difficult, considering. "I was working so hard, but I wasn't booking very much," Smith says though of her attempts to break into fashion. "And then my agents called me and told me I was shooting Italian Vogue and I started crying."
While her siblings' fame rose in both the modeling world and on social media, Daisy worked to keep their family rock band, The Atomics, alive. Music is taking a backseat now that she's landing bookings on a regular basis–all while wearing a uniform of Doc Martens and a punk leather jacket and Doc Martens.
She's also interested in pursuing psychology. In fact, she's developed her own personality chart, which each of her three siblings fits in to. "I think about these things all day," she says.
According to the Smith Theory of Social Psychology, there's the super-social "collector," the "floater," the leader and his/her "ultimate sidekick," the loner, and lastly, the "puppy," whom everyone loves.
"I'm either a loner or a floater," says Daisy. "Lucky is a floater. Starlie is either the leader or an ultimate sidekick. I'm leaning towards ultimate sidekick because she likes to boss people around, but she doesn't like doing the work of the leader. Pyper is either a collector or a puppy. I think she's a collector because she's really interested in people and is super outgoing and brings in tons of friends. The puppy really stays with their clique."
There you have it. And now that Daisy is modeling, she gets to spend even more time with her social siblings.
"The most fun thing for me is shooting with my siblings," she says. "We just mess around. Like we'll all be close together in the picture and Lucky or Pyper will reach around and pinch me. They look perfect and then I look like a total spaz!"
Get to know more about Daisy Clementine in the video below: