Damien Hirst Meets Downton Abbey: Inside the Artist's New Polka-Dot, 18th-Century Takeover
His signature spots can now be found all throughout the former home of Britain's first-ever Prime Minister.
---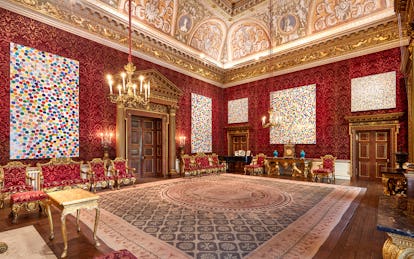 Pete Huggins, courtesy of Houghton Hall
It's been more than three decades since the artist Damien Hirst created his first so-called Spot Painting, a disorganized mess of dots that Hirst has adhered into something of a grid for his 90 solo shows and 300 group shows since. But, as he put it on Instagram last week, there's now a change in his approach: "I'm getting older too and not feeling like I used to!" he wrote, hence him wanting to dive back into the chaos this time around, both in taking inspiration from Jackson Pollock and shifting his dots from white canvases in white-walled spaces to the storied establishment known as Houghton Hall, a Downtown Abbey-like stone structure near King's Lynn in Norfolk, the very east of the U.K., that he's taken over until mid-July.
The exhibition was actually a happy accident: As The Times reports, the show was originally scheduled for the Winter Palace in Vienna before things unexpectedly fell through. Luckily, Houghton Hall's owner, Lord Cholmondeley, was happy to welcome Hirst onto his grounds, particularly as it seems to be "the first time that Hirst has shown a significant body of work in a formal country house setting." What's more, he's even opened up the Hall's 18th-century gardens to some of Hirst's most famous—and thereby, of course, most eye-catching—sculptures, primarily bronze statues painted to look like plastic whose figures of horses and pregnant women's innards' tower over 20 feet tall. (There are sculptures to be found inside the hall, too, most prominently featuring air blowers and multicolored Ping-Pong balls.)
None of the works, though, have trouble standing out in the 18th-century Palladian space, which was built for Britain's first prime minister, Sir Robert Walpole, in 1772. And while service is no doubt not so great all the way near the eastern national reserves, that, of course, hasn't stopped anyone from Instagramming the art, which Hirst now says will be the last of his Spot Painting series. Take a look at it all here, from on the Downton Abbey-esque ground in Norfolk.
Related: From "Genius" to "Ugh": The Most Extreme Reviews of Damien Hirst's Massive, Polarizing New Shipwreck of a Show in Venice