Dan Colen's Sky High Farm Is Leveling Up
With a $500,000 GoFundMe and merch collaborations with Dover Street Market and 12 streetwear brands, the artist is laying the groundwork for big things.
---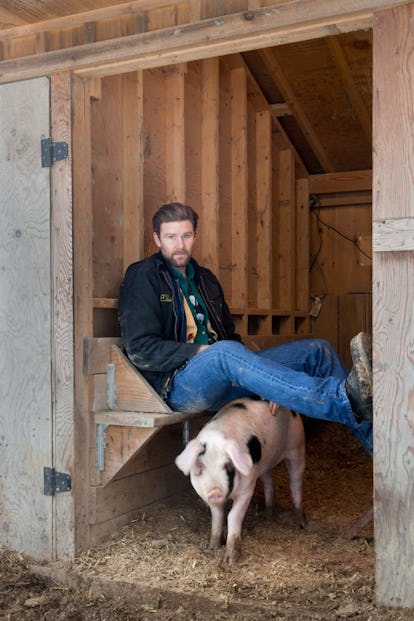 The artist Dan Colen bought Sky High Farm, a 40-acre sprawl in New York's Hudson Valley, on something like a whim nine years ago. "I struggle to find the right word, and I use 'compulsion' or 'inspiration,' but they don't really feel right. A whim, in a way, almost feels right-er, except it's not heavy enough," he said, speaking on the phone earlier this month, around the time when the eggplants, tomatoes, and peppers were being harvested. "Anyway, I started it with very little planning or forethought. Luckily there were some people in my life that were able to help steer it in a good direction."
Within that first year, the property went from a place where Colen could work on large-scale sculptures to an ambitious experiment in regenerative farming, food justice, and community service, with a full-time team dedicated to tending the land. Since 2011, Sky High Farm has provided more than 66 tons of fresh produce and meat (almost every ounce of what they produce) to food banks and food pantries in the area and New York City. Now, after almost a decade of being funded exclusively by Colen himself, he's looking to expand its potential to give back.
Through a just-launched GoFundMe, Colen hopes to raise $500,000 in order to double the production capabilities of the farm, scale up their distribution, expand their education program through partnerships with organizations like the Bard Prison Initiative, and simultaneously support local farmers and increase their donation capacity by buying even more produce and meat from small-scale growers in the area.
"One thing that the farm makes clear is the power of diversity in terms of creativity, in terms of community, in terms of soil enrichment, in terms of seed development," Colen said. And after years of operating independently, it became clear to him that the same needed to apply to the way the project was funded, allowing the farm to work with a support network that opened up further opportunities for impact while giving it a more stable future. "Leaving the farm at the mercy of my market started seeming irresponsible," he said. "As an artist, as I get older, I have to accept that there's better years and there's worse years."
Colen applied and had been approved for 501c3 status years ago, but hadn't enacted it until just recently because it brought up so many concerns: "I understood the scale of this thing, and I started wondering, Can I afford it? Is it going to take away from my art?" But after many conversations, the fact that the farm could operate with the help of others—particularly from organizations that are focused on climate change and social justice issues—was an encouraging idea.
Along with that reframing came a clearer understanding of the relationship between regenerative farming and food justice. "Most regenerative farming is for a privileged few. I think it has to change," he said. "Food pantries are not stocked with fresh, organic produce, they're stocked with shelf stable products and there's no food justice until regenerative farming techniques are used to grow food for everybody. It has to be about taking care of the planet and its people all at once."
The fallout from the pandemic on already at-risk communities increased the sense of urgency, he said, while also causing some changes on the farm. With planned internships falling through because of stay-at-home orders around the country, Colen and his girlfriend stepped in to fill the roles usually filled by seasonal interns, working in the fields between time in the studio and a metal shop he recently set up.
Back in February, Colen worked with Dover Street Market and the illustrator Joana Avillez on a line of Sky High Farm merch, featuring a dreamy crescent moon logo printed on vintage sweatshirts, tees and caps. After it quickly sold out, with all proceeds going to the food banks with which the farm works, Colen also started to see the potential for merch as another way to get people involved and excited, particularly for younger people who might not have the ability or knowledge to support a cause otherwise.
"I get that a lot of young people don't know how to develop that side of their life," he said. "I felt like I could offer something that was still on-brand but was totally buyable." In October, also at Dover Street Market, Colen will release the first in a series of entirely charitable collaborations with 12 streetwear brands, which will help raise awareness for the work they're doing while also funneling money to the food pantries that need it the most. First comes clothing, then farther down the line could be the potential to incorporate Sky High's spoils—wool for sweaters, calendula for skincare—into a broader swath of products.
This new focus on the farm came after an extended period of introspection. "For a long time, I had an insecurity about myself as a farmer, I had an insecurity about myself as an advocate for social justice and for food justice. And over the years, I've developed a comfort with it. I still understand that I'm coming from a very unique perspective," Colen said. "The few months leading up to Covid and in these last few months now, I realized I am not a farmer and I will never be a farmer. I am an artist. And no matter what I do, it is always my art."
"I think coming to that realization, or that point of view, is really important in terms of me being able to lean into this project," he added. "Because there is no dilemma of one taking away from the other if they are the same thing. And at the end of the day, making sure there aren't people who have zero access to fresh food is just more important than making a painting."
Related: Wolfgang Tillmans's 2020Solidarity Project Approaches Aid in a New Way