A Modern Surprise Is Hiding Behind the Historic Facade of Artist Danh Vo's Mexico City Home
A tour of the peripatetic artist Danh Vo's house in Mexico City.
---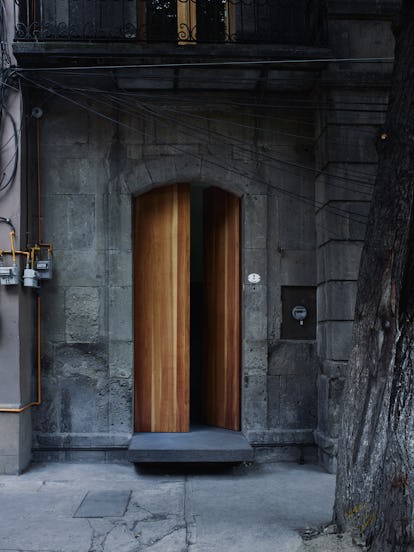 Photographs by Martyn Thompson
"For 10 years, I was always going where I was working—spending two months in Asia, two months in America," says the artist Danh Vo, an intrepid 21st-century bricoleur, whose eloquent and provocative assemblages continue to circumnavigate the globe. Born in Vietnam and raised in Denmark, Vo, who attended the Royal Danish Academy of Fine Arts, in Copenhagen, and the Städelschule, in Frankfurt, began producing and showing his conceptually based projects while still a student. In 2010, Stefan Kalmár—then the recently appointed executive director of Artists Space, one of New York's longest established nonprofit venues—presented Vo's first U.S. solo exhibition, "Autoerotic Asphyxiation." At that show, in a century-old industrial building, the high-ceilinged gallery appeared to be empty at first glance. Sheer white curtains covered the walls and windows, and the room was gauzily illuminated by daylight.
On closer view, however, a quiet but highly complex installation emerged: a tracery of embroidery on the curtains, the shapes borrowed from 19th-century Chinese and Tibetan botanical specimens; an array of furtively taken photographs informally documenting ardent young Asian men in wartime Vietnam; and a voluptuously calligraphed copy of an 1861 letter written by a French missionary in Indochina facing imminent execution. Vo's distinct talent for interweaving delicate gestures, hard evidence, and disparate histories stirred imaginations. And so his perpetual world tour gained momentum.
In 2011, for an exhibition at the Kunsthalle Fridericianum, in Kassel, Germany, Vo introduced July, IV, MDCCLXXVI, the first iteration of We the People, a 1:1 replica of the French sculptor Frédéric-Auguste Bartholdi's colossal neoclassical figure, Liberty Enlightening the World, aka the Statue of Liberty, in some 250 individual, hammered copper sections. True to the original, those large copper casts are thinner than two stacked pennies. Displayed as an arrangement of fragments, this universally recognized monument is surprising and almost unfamiliar. Vo has by now installed variations of this piece in galleries and parks throughout the world, from Chicago to Shanghai, and continues to travel with the work.
During the 56th Venice Biennale, in 2015, Vo was Denmark's official representative; while readying his installation "Mothertongue" for the Danish Pavilion, he was also co-curating an astonishing group exhibition nearby at the François Pinault Foundation's Punta della Dogana. A collaboration with curator Caroline Bourgeois, "Slip of the Tongue" featured 175 works by 43 artists ranging from Giovanni Bellini to Nancy Spero. Vo is currently preparing for a major survey at the Guggenheim Museum in New York, scheduled to open in February 2018. "I knew I had to find a place to situate myself," he says, quietly acknowledging his nomadic existence. "I fell in love with Mexico; this was a new world, and I discovered how Eurocentric my upbringing had been."
In Mexico City in the 1960s, observed the British writer Rebecca West in Survivors in Mexico, passionate people had "built a city so modern that it gives a yesterday look to the recent quarters of London and New York and Paris, yet [they] talk perpetually of a past remote by 400 years." For Vo, the city offered an incomparable mix of indigenous modernism, vividly layered history, and professional engagement. He was keen to find a home there, and in early 2014, while in Mexico preparing an exhibition for the Museo Jumex, he discovered that fellow artist Pedro Reyes and his wife, the designer Carla Fernández, were looking to sell their hundred-year-old house in the city's Roma Norte neighborhood. At the same time, Vo's local gallerists, José Kuri and Mónica Manzutto of Kurimanzutto, were at work with the architect Alberto Kalach on a bracingly revelatory house renovation. Vo promptly bought the property and enlisted AREA, a newly formed architectural firm cofounded by Kalach's young associates Héctor Módica, Carlos Ledezma, and Lourdes Del Rio Suárez, to work on it. Within two days, AREA had produced a "lunch box model" of its architectural proposal and began work on the project—just as Vo was once again heading out of town. Although the initial proposal had focused primarily on undoing earlier renovations and restoring the interior, repairing structural damage, and maintaining the historic facade, it evolved into something else. "Usually, we are more rational," says Ledezma. "But Danh would leave us with mind-bending riddles, so this project became much more like making a sculpture."
Viewed from the street, in the shade of a towering ahuehuete tree, the compact three-story house appears almost unaltered. The original stone windowsills are worn and crumbling; the new shutters and main door, made from sabino, are unadorned and Shakerlike in their simplicity. "The tree in front of the house is 20 years old," Vo points out admiringly, noting that it might be a direct descendant of the widest tree in the world: the 1,500-to-2,000-year-old Arbol del Tule, an enormous ahuehuete in Oaxaca.
Even though the facade is in keeping with the historic character of the residential street, one subtle but significant architectural intervention was introduced. A cantilevered front step—a sort of minimalist diving board suspended above the cracked sidewalk—was constructed from recinto, the local black lava stone. Like a calling card left on a threshold, it's a discreet note hinting at surprises to come.
Inside, the floors are paved with the same nubby dark recinto, creating a sort of river of lava moving continuously from the front door into the kitchen and living area, then out to the enclosed patio. The narrow white-walled entry hall is two stories tall, illuminated from above by a window fronted by a vestigial wrought iron balcony. At the center of the space, a brass–and–stainless steel javelin by the Berlin- and Lisbon-based artist Leonor Antunes stands upright, dramatically impaled in a cross-sectional slice of a log. "The javelin is from a series that she did in 2004, making weapons into sculpture," Vo explains. "An actual javelin is hollow in order to be light enough to throw. This one is solid." In a ceremony to honor the house, the javelin was dropped through a hole in the roof, landing bull's-eye at the center of its rustic wooden target. The round hole in the roof remains in place—"just like the Pantheon," joke the architects.
"Danh told us that he didn't want a tame environment," Ledezma says. "He likes that in Mexico you can always have a relationship with the outside." During the day, when sunlight bounces off the whitewashed walls, the patio becomes a sky space, a shimmering box of light. A free-range collection of manmade objects and natural specimens—calabash gourds, coiled jute, primitive birthing stools with carved, handled seats, molcajetes, massive roots, and child-size típico chairs—has been knowingly assembled in an artful rendition of a contemplative garden.
Everywhere throughout the house, there are unencumbered design conversations, keepsakes from collaborative projects, and a playful spirit of inspiration and transcultural rhyming: A Navajo-inspired Pendleton blanket is twinned with a Turkish rug; a pair of witty Grasshopper lamps by the midcentury architect Greta Magnusson Grossman, as angular and animated as cartoon characters, seem to cast a wink at Chapultepec Park, Mexico City's legendary "Grasshopper Hill." A deep-seated armchair, with marshmallowlike leather cushions and planked oak arms intended for balancing a drink, is a 1960s Whiskey chair by Janette Laverrière, the radical Swiss-French interior architect who created both functional furniture and conceptually based "useless objects." Vo had been introduced to Laverrière's work through his longtime friend the sculptor Nairy Baghramian, who found a "sister in spirit" in the nonagenarian designer. In 2014, when Vo organized a salon-style show for Duddell's, a cultural hub in Hong Kong, he opted to present his and Baghramian's work alongside Laverrière's.
Among the many things that Vo researches and collects are images of staircases, found at, among other places, archeological sites, modernist buildings, and artist-designed gardens. In Vo's house there are three staircases, each one distinct in character. In the corner of the front entry, a set of narrow steps leads up to an intimate library suffused with daylight and the woody scent of sabino. Along the back wall of the patio, a wide, bannister-free stone staircase climbs to a platform landing before taking a dramatic turn up to a balcony patio where a garden—featuring mounds of flowering sage, spiky stands of lavender, and a gnarled fig tree—hovers in midair. A third, small outdoor stair zigzags sharply up to the roof and a steeply peaked attic guest room that's more hideout than penthouse.
The remarkably transformative gut renovation was completed in just eight months. While Vo traveled, he and the architects communicated steadily through Skype, e-mail, and by phone; back in Mexico City, he often stayed at the Downtown Hotel, while the 80-person crew—including carpenters, plumbers, tile setters, welders, glaziers, and masons—conjured a dramatic vision of a house in the city. Vo says that when he was still a student in Copenhagen, he questioned how it was possible for an artist to work both individually and in collaboration. Now, comfortably at home in Mexico City, he continues to explore ways of answering that question.
Inside the Mexico City Home of Artist Danh Vo
The facade of the house blends with the neighborhood, but the floating doorstep provides a clue to what lies beyond the threshold.

Photographs by Martyn Thompson
Danh Vo's house turns its back on its urban surroundings. The sitting room opens onto a courtyard through a wall of windows, below.

Photographs by Martyn Thompson
The house's first-floor garden.

Photographs by Martyn Thompson
Photographs by Martyn Thompson
The rooftop bedroom is more hideout than penthouse.

Photographs by Martyn Thompson
Photographs by Martyn Thompson
The design dialogue that runs through the house is evident in the sitting room, with its mix of furniture and objects.

Photographs by Martyn Thompson
A view of the first-floor garden from below.

Photographs by Martyn Thompson
A javelin in the entryway is, in fact, 
a sculpture by the artist Leonor Antunes.

Photographs by Martyn Thompson; photography assistant: JosE Anibal Alvarado; Portrait: Courtesy of the artist and Kurimanzutto, Mexico City
See what's trending on W video: