Danica Roem's Victory Over "Bathroom Bill" Sponsor Robert Marshall Is the Start of a Symbolic Shift in American Politics
Roem is the first transgender woman elected to Virginia state legislature.
---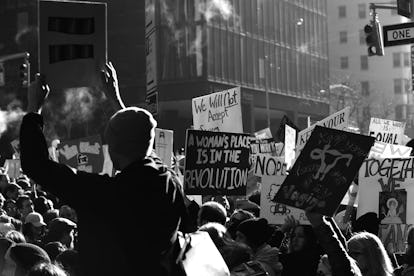 Photo by Angela Datre.
"Voting is an act of resistance," activist Sarah Sophie Flicker wrote on her Instagram Tuesday evening. Several hours later, the results of this week's off-year elections started to roll in. In Virginia, Democratic candidate Danica Roem became the first-ever openly transgender woman elected to that state's legislature, emerging victorious over Republican incumbent Robert Marshall. Another Democratic candidate from Virginia, Chris Hurst, was elected to the state's House of Delegates. Ravi Bhalla became the first Sikh mayor in American history when he was elected in Hoboken, while running against five other candidates.
What each of these small victories share, in addition to being subtle indicators of a tide beginning to turn against last year's overwhelming Republican victories, is that they are also irresistible stories of reversal. Perhaps the most powerful example comes from Virginia's 13th District, where Roem, the first transgender candidate for the Virginia state legislature, beat Marshall. The 73-year-old Republican incumbent was the sponsor of the infamous so-called "bathroom bill," a transphobic measure that "would have required people to use the restroom that corresponds with the gender on their original birth certificates," according to the Washington Post, and was rejected earlier this year. Marshall, who served 13 terms, or 26 years, has described himself as the state's "chief homophobe; during the campaign, he consistently referred to Roem by male pronouns and would not debate her. Roem, a former journalist and member of a metal band, nevertheless said at a victory party: "I don't attack my constituents. Bob is my constituent now."
Roem's victory, while not the first of a transgender individual elected to state legislature in the United States (that honor, as Jezebel pointed out, goes to Althea Garrison, who was elected to the Massachusetts state legislature in 1992 before her political career was effectively hobbled when she was outed against her will that year), is already being touted as a particularly rousing one—for the transgender community, for the Democratic party, for the American political landscape—for that very reason. "The symbolism of Ms. Roem's victory was amplified by the fact that the man she defeated—Bob Marshall, a Republican running for his 14th term—is an outspoken opponent of transgender rights," the New York Times wrote late Tuesday.
But Roem was not the only candidate who triumphed over their political diametric opposition. Tuesday was rife with instances of this symbolism.
Hurst, a former television news anchor, featured stricter gun control prominently in his campaign platform, focusing on "those most susceptible to homicide and suicide from firearms," according to his website—namely, men and women of color and victims of domestic violence. It was a particularly personal stance for the 30-year-old: His girlfriend, Alison Parker, was shot and killed on live television two years ago. And on Tuesday, Hurst beat a Republican incumbent with National Rifle Association backing. (The incumbent, Joseph Yost, had an A-rating from the NRA.)
Bhalla, Hoboken's newly elected mayor, confronted not only five opponents in his bid for office but also xenophobic flyers posted around town reading slogans like "Don't let terrorism take over our town," alongside an image of Bhalla. (Bhalla, a Democrat and Hoboken city councilman, wears a turban, a sign of his faith; Sikhism, a monotheistic religion, is often conflated with Islam.) Tuesday's elections were not just triumphs for the Democratic party, but also triumphs over xenophobia, transphobia, and homophobia, and triumphs for women's health and autonomy and gun control, starting on the local level.
Laurie Anderson leads a 30-second primal scream on the anniversary of Donald Trump's election: