Dark Phoenix Trailer: It's Sophie Turner Vs. Herself Vs. the World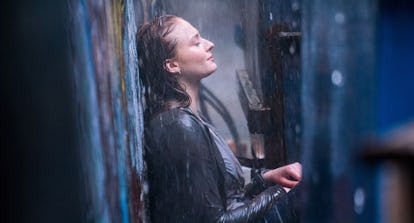 20th Century Fox
As the first trailer for Dark Phoenix depicts, we have many reasons to be worried about Jean Gray (Sophie Turner, thanks to the aftermath of a mission gone wrong with the rest of her X-Men gang.
Serving as the catalyst for these superheroes, a routine rescue mission in space soon turns dangerous when a solar flair strikes Jean. For any other person, that would've meant death, but thanks to her extremely powerful mutant DNA, it means one thing and one thing only: unleashing within her an even more powerful mutant (the titular Dark Phoenix), one that wants to cause nothing but catastrophe and chaos, of course! It's not ideal for this faithful team of do-gooders, but thanks to the help of her fellow X-Men—all your favorites, like a shape-shifting Jennifer Lawrence and a magnetic Michael Fassbender, are back—she might be able to squash away her second personality for good, much to the chagrin of Jessica Chastain's new villain.
To better prepare for these dual roles, Turner rigorously studied multiple personality disorder and schizophrenia in the lead-up to filming. "So many scenes I have to go from broken-down Jean — that's when she's most susceptible to Phoenix infiltrating her — to this confident, arrogant, judgmental character within milliseconds," she told EW earlier this year.
Chastain, as the film's antagonist, also noted the amusing inspiration for her character, who defies what we typically see in a superhero outing. "Simon [Kinberg, the director] and I were talking about the character and I said, 'I keep thinking of the vet who tells you you need to put your dog down,'" she explained. "There's something very clinical about it."
Dark Phoenix will be released on February 14. See the full trailer, below: