Brit Pop
Fearless design champions David Gill and Francis Sultana bring their work home.
---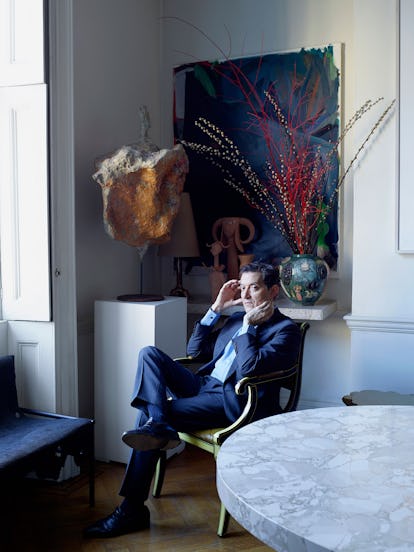 To call it "quintessentially London" would be underselling it. The art and furniture dealer David Gill and the designer Francis Sultana live in one of the city's best-kept secrets: an extraordinary Georgian oasis of calm a few yards away from the blare of Piccadilly, behind the Royal Academy of Arts, and more or less opposite Fortnum & Mason. "It's called Albany," Sultana says. "If you're not in the know, you call it the Albany." Hegrins. "It's one of those things the English do to divide youup into those who know and those who don't." He's Maltese; Gill is Spanish.
Over the past quarter-century, the two, separately and together, have been instrumental in reviving a sense of grandiose adventure in decorative furniture. They've commissioned pieces from some of the giants of contemporary art and design—among them, Mattia Bonetti, Zaha Hadid, and Marc ­Newson, who named a chair after Gill—and cajoled others into becoming patrons of new work. Sultana decorates homes all over the world and produces hundreds of bespoke pieces every year. The objects they champion are eclectic, sometimes flamboyant, often witty, uniformly pricey, and, like London's Albany itself, always rich in narrative.
Built in 1770 for Viscount Melbourne, the building, which was converted into bachelors' chambers in 1802, has seen many famous residents, including Lord Byron, the society photographer Lord Snowdon, actors—Dame Edith Evans, Terence Stamp, and, currently, Bill Nighy, who strides, ­spindle-legged, through the lobby as we arrive—and the prime ministers William Ewart Gladstone and Edward Heath. Gill and Sultana moved in seven years ago, taking over the space once leased by Georgette Heyer, a writer of passionate historical romances. "They're not called 'apartments'; they're called 'sets,'" Sultana says. "They were originally sets of rooms for young gentlemen and their butlers." Women were permitted only in the past century. "Children are still not allowed. Nor are pets."
Sultana caught his first glimpse of Albany when he was a young child growing up on the Maltese island of Gozo. Obsessed with design for as long as he can remember, he pored over issues of House & Garden and The World of Interiors. "I would be at the news agent every day, desperate for a copy." Albany came onto his radar via a story on the home of the legendary designer David Hicks. "I was a fan of his work since I was a child. He redecorated his set here twice, and I always thought to myself, That would be an amazing place to live. I loved the elegance of it, and its Englishness," Sultana says, sitting on an Art Deco Eugene Printz daybed below a window that looks out on Savile Row.
In 1991, on a trip to London to visit his cousin, Sultana, then 19, wandered into David Gill Gallery on Fulham Road. Everything about the place resonated with him. "It was the combination of old and new that was very exciting," he remembers. "There were period pieces, like Line Vautrin from the '50s, and contemporary furniture by Donald Judd. This whole new design world was opening up, and I realized I wanted to be in it." The following year, instead of enrolling at the architecture school where he'd been accepted, he returned to London and started working for Gill. "I was like a sponge: I would just sit there in the back room with all the old auction catalogs," ­Sultana recalls.
If Sultana was the self-taught enthusiast eager to learn, Gill was the studious font of all knowledge. At the University of London, he'd studied art history, writing his thesis on "The Age of Baroque"; after graduating, he worked in the Modern Prints and Old Masters department at Christie's for several years before setting up his gallery, in 1987.
Gill started out selling rediscovered classics by the likes of Eileen Gray, ­Jean-Michel Frank, and Émile-Jacques Ruhlmann. Often these were pieces he'd found in flea markets in Paris, but as collectors became aware of their value, that source dried up. With designs from the past in limited supply, he set out to create the collectibles of the future. Working with emerging artists like ­Grayson Perry—Gill was one of the first to show him—and designers like Newson, Tom Dixon, Elizabeth Garouste, and Mattia Bonetti, the gallery started to present specially commissioned limited-edition pieces. Today, the Albany set is full of those collaborations. On the space-age Bonetti console are pots by Perry and by their newer ceramist star, Barnaby Barford. Fredrikson Stallard's fiberglass King Bonk armchair and stool sit under Hadid's finlike Dune shelves, which playfully disrupt the strict Georgian geometry of the room. "There's a feeling they're floating," Gill says.
In the more cautious London of the 1980s, David Gill Gallery conspicuously stuck out. On opening day, David Mlinaric, an interior decorator for clients as varied as Lord Rothschild and Mick Jagger, turned up and said, "Where have you been?" The fashion journalist Suzy Menkes anointed the place with a feature in the International Herald Tribune. "I had Jacob Rothschild calling me from Day One," Gill recalls. With Gill's mentoring, Sultana began designing furniture. "I saw that he was supergifted," Gill says. "And when he showed me a spread of his drawings, I couldn't believe what I was looking at." Sultana's first piece was a sofa commissioned by Annie Lennox. "This was the early '90s," says Sultana, who was eventually named artistic director at the gallery. "It was very curved, beautifully upholstered."
Next to Sultana's desk in his office at Albany are a pile of orange-bound ­Hermès notebooks in which he paints neat watercolors of wardrobes and chairs. He does about 350 sketches a year, he estimates, as he flicks through the pages. Almost all of his designs are produced as special orders, intended to complement a room he's decorating. Unlike the more groundbreaking designs he commissions with Gill, he says, "they're tailored, classical items that fit with other furniture. It's not about making big statements."
In their home, however, Sultana and Gill have no shortage of statement pieces. In the living room, with its Richard Prince photographs and the ­Garouste and Bonetti coffee table, there's a chair that neatly sums up the pair's aesthetic. It was made for the eccentric art collector Carlos de Beistegui, whose 1951 Bal Oriental, in Venice, has gone down as one of the most lavish parties of the 20th century. Having asked Le Corbusier to design him a penthouse on the Champs-Elysées, de Beistegui then turned the starkness of the modernist's design on its head by hiring the flamboyant Emilio Terry, known for his lush, mock–Louis XIX style, to decorate it. "Bringing in Terry was genius," Gill says. "It would have been easy to say, 'Le Corbusier is a great minimalist architect, so let's go minimalist with the interior design.'" Gill spotted the rich green upholstered chair in a shop window and waited outside until the store opened, lest anyone snatch it up.
Appropriately, this treasured find now sits opposite a glossy new fiberglass chair and stool by Fredrikson Stallard. That combo sums up what Gill and Sultana have achieved at Albany: Their rooms are a collection of fine but, above all, comfortable pieces, enormously varied in style and material, amassed over the years. "It's a mixture of people we like in the room," Sultana says, looking around. "It's got a lot of story."
The living room of David Gill and Francis Sultana's London apartment, with Richard Prince's Untitled (Woman With Eyelashes), 1982–1984, above the mantel. On the Garouste and Bonetti coffee table is their collection of ashtrays and cigarette boxes. The upholstered chair is by Emilio Terry.
Gill, in the dining room, with Franz West's Untitled (Orange), 2003, and a Grayson Perry vase.
The couple modified the Garouste and Bonetti dining table with a scagliola marbleized top.
A Seville torchère by Garouste and Bonetti, one of the design duo's pieces for Gill.
Sultana sits on a King Bonk chair in front of a shelf by Zaha Hadid and Christopher Wool's Untitled, 2003.
Sultana says of the Eugene Printz sofas in the study: "We've had them for 25 years. Wherever we've moved to they've fit in."
Also in the living room: An Alu console table by Mattia Bonetti, underneath Paul McCarthy's Aug25, 1668, Pirate Drawings, 2001. The ceramics are by Barnaby Barford and Grayson Perry.
Photography assistant: Kensington Leverne.