DJ David Mueller Says He Finally Paid Taylor Swift That Dollar
David Mueller sent the dollar on November 28, he says.
---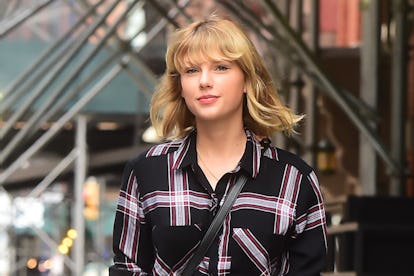 Getty Images
This summer, Taylor Swift sued DJ David Mueller for groping her during a 2013 photo-op (technically, it was a countersuit, as he first sued her for slander after she told people about the incident, though that case never made it to trial) and won her case after a trial in which she gave frank, fearless testimony. Her team asked for $1 in damages to prove a point, and while the dollar showed up in Swift's bathtub of jewels in the video for her single "Look What You Made Me Do," it had yet to make a real-life appearance. When Swift was interviewed as part of Time's Person of the Year feature on the "Silence Breakers" who spoke out against sexual assault, she said she had not received payment.
Today, however, Mueller told the Associated Press that he did indeed pay her a dollar, on November 28.
He provided proof of payment and said that he'd mailed the singer a Sacagawea dollar coin, apparently in response to the fact that Swift's team had called her court victory a win for women. "I mean if this is all about women's rights…It's a little poke at them, a little bit," he told AP after the trial. "I mean, I think they made this into a publicity stunt, and this is my life."
It's unclear exactly how paying his court-mandated fee with legal tender depicting an inspiring, heroic woman like Sacagawea is supposed to be a poke at Swift. Does he…not think…women's rights…are a thing? Does he think Swift will be inconvenienced by having a coin rather than a paper dollar? Like, "oh drat, how will she use the office vending machine now?" Mueller, maybe you should keep your thoughts on women's rights, and your hands, to yourself.
Watch: "I Will Not Be Silent": Hollywood's Biggest Names Pledge to Speak Up Against Sexual Assault