Cable Muse
Jewelry magnate David Yurman's first fragrance is inspired by his wife, Sybil.
---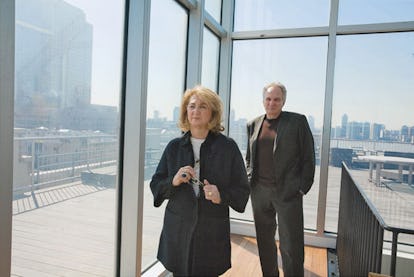 Almost by definition, designers are visual people, the sort whose memories serve as mental photo albums stocked with images. But today, as jewelry designer David Yurman and his wife, Sybil, sit in the kitchen of their company's headquarters in New York's TriBeCa reminiscing about their lives together, the couple is sifting through scents, not pictures.
"Remember musk?" David asks, smiling as he affectionately nudges his wife. "Putting Caswell-Massey Musk on lightbulbs, then putting scarves over the lamps?"
The Yurmans' new fragrance.
"I do," says Sybil, who has long played the role of David's official muse. "That was when we were living on Martha's Vineyard."
The olfactory focus of the conversation is less surprising when one learns that the Yurmans, who normally spend their days eyeing sketches of necklaces and rings, have been, for the past 18 months, relying very heavily on their noses to create their first fragrance—called simply David Yurman­—which launches in late July.
"One perfumer would give us 80 essences, and we'd write down what we liked or what those essences meant to us; then another would give us some; then another," says Sybil, a honey blond dressed in a mostly black ensemble with three different chains of her husband's design draped around her neck. "Many of the essences pertained to moments in time for us, so we were reliving our thirtysomething years together," she explains. "It was rejuvenating, because we were having sensual experiences all day long."
When it comes to fragrance, "sensual" is the key word for the Yurmans, who had very clear ideas about how a perfume bearing their name should smell. "I didn't want vanilla," says Sybil adamantly. "I didn't want food smells."
"Yeah, no strawberry, please," seconds her husband, who is soft-spoken with wavy gray hair. "I didn't want it to be just a light, happy moment. I wanted much more complexity. But getting the blend right, that was the big deal."
To do so, they selected fragrance house Firmenich from among the four firms that submitted samples. After refining 21 different versions, none of which met with the Yurmans' approval, Firmenich perfumer Harry Fremont finally struck gold with a blend of mandarin, peony, water lily, patchouli, soft musk, wood and rose otto. That last note, according to Fremont, was the key. "It gave it a feeling of being wider, like the cable," he explains, referring to the thick metal rope that is the signature motif of David's jewelry. "There was now a fluidity to the scent."
Unlike the traditional fragrance pyramid of bursting top notes, second-act middle notes and lingering base notes, David Yurman is a linear formulation—meaning no one note, or group of notes, stands out more than any other. "You can take a long time to continually discover new elements," says David.
The striking bottle is an amalgam of many elements as well. A faceted gold flask appears to float between two pieces of crystal, and Yurman's famous cable snakes around the cap. "It's actually our wedding ring," points out David, holding out his cable-wrapped ring finger to illustrate. That's fitting, considering that the fragrance began as a gift from husband to wife. "I really wanted a fragrance, and David wanted to make me one," says Sybil, when asked why, after 28 years in accessories, they suddenly felt the need to branch out into scent.
But in the end, David is enjoying the fruits of his labor at least as much as his wife is although his namesake scent is undeniably feminine. "It's slightly different on every per-son. On me it's different than you, I'm sure," he says, sniffing his wrist and breaking out into a sly smile."I think it smells best on me."
Fragrance photo: Thomas Iannaccone