Nose Knows: Five Minutes with Scent Savants Dawn and Samantha Goldworm
The Goldworm twins might be in the business of fragrance, but they take the rest of their beauty routines pretty seriously, too.
---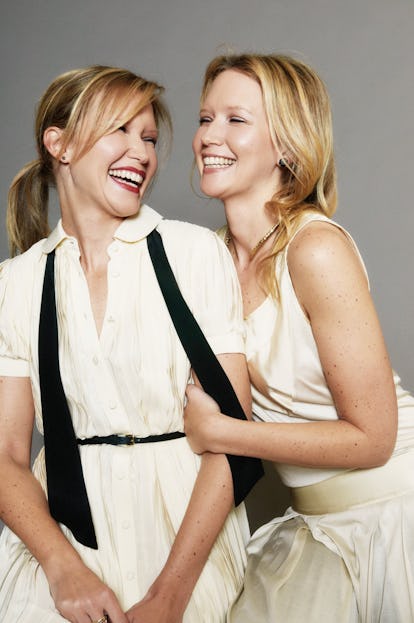 Dawn and Samantha Goldworm create fragrances, but mostly of the ephemeral variety. They own olfactive branding firm 12.29, and their mission is to connect brands with their clients through smell. In other words, they scent spaces: the Whitney, Design Miami and the fashion shows, including yesterday's Toogood show in London. Here, the twins discuss their creative process, their morning beauty routines and a forthcoming perfume line.
So what was it like to scent the Whitney? Dawn Goldworm: We scented the DDG holiday party at the Whitney, and because they're a company that uses all natural materials – woods, a lot of crystal, a lot of silver – the scent we used is like if you took a sample of a sandalwood tree and cut it in half and put your nose in the center of the base of the tree. It smells very woody, slightly earthy, kind of dry, very creamy and very fresh. Samantha Goldworm: It's beautiful in the way it lives in the air, too. The Whitney can feel very big and almost cold, and the scent made it feel warmer. Not completely comfortable because that's not the objective, but it feels intimate. D.W.: It makes the environment feel very rich.
Tell me about your other art projects. S.W.: We did the Armory Show two years ago. That was fun. D.W.: The Armory show was interesting because they wanted it to smell like the Hudson. Bettina Prentice brought us in. She wanted it to smell like the pavement of New York, the Hudson River and the feeling of wet slate, wet cement. It's a very esoteric smell. But it has a perfumery type level of freshness to it; it smells salty, wet, gray. S.W.: The great thing about scenting art shows is that on the day before, it smells like construction. Usually when you walk in to any art show, you can smell that construction, you can smell that everything is newly there. And it almost gives you a headache – it gives me a headache. And that scent covers it up, so when you walk in, you can take a deep breath and think, "Ok, I'm ready to explore, I'm ready to go drink champagne" or whatever you were going to do. This year, they got a lot of great feedback because it changed the feeling.
Do you also get a lot of people asking you to bottle it so they can wear it? S.W.: We get emails often, especially from hotel guests.
But you've never done that, except my precious bottle you gave me from Rodarte's Spring 2010 show, which I still cherish. S.W.: We've done some candles for clients. D.W.: Many of our hotel clients want the guests to be able to buy candles, so we do that.
Okay, time for the beauty questions! What is currently in your purse? D.W.: Christian Louboutin Velvet Matte Lipstick, a Rosebud Salve and a perfume sample. S.W.: Mac Matte Russian Red, Marc Jacobs Le Marc Crème in Magenta, Nars Velvet Matte Lip Pencils in Red Square and Cruella, Nars Satin Lip Pencil in Rikugien, Make Up For Ever No. 9 lip pencil 3C, Stila Mascara, Chanel Rouge Coco Baume, Rosebud Salve and a roll-on fragrance [my] sister created.
What's in the perfume bottle? D.W.: This is the perfume I'm wearing today. It's 85% natural. When you work with that many naturals, they don't stay on your skin as long. Musk, however, does. That's one of the reasons we use musk so much, because it's so heavy, there's such an intense weight to the molecule, which is what helps the scent stay on your skin for such a long time.
Is this a work in progress? Is it completed? D.W.: The perfume's completed; the project is not. It'll probably launch in a year… S.W.: We're launching our own perfumes under our 12.29 label, but we're not launching them yet. This is one of them. D.W.: I'm still playing with the quality of rose oil.
Do you know the cost? D.W.: Yes.
Yes? You two have your own language. What does "yes" mean?! S.W.: When Dawn creates something, we let her do whatever she wants, and then we find out the cost. Sometimes, depending on the project, we might have to rework the costs, sometimes she just goes cuh-razy and it's not affordable. So, when she just said, "Yes," that means the cost is very high. D.W.: It smells expensive.
Okay, next one: What is your first beauty memory? D.W.: Our father used to travel quite a lot when we were younger. He'd go to Europe on business and he'd always bring back the glass parfum bottle of Coco by Chanel. You couldn't buy it in the States at the time. When we'd go to temple on Friday nights… S.W.: …we'd go into our parents' bedroom… D.W.: …and our mom would put a little dab behind our ears, on our wrists and on our knees. And I remember our nylons… S.W.: …we had to wear nylons, and you could see the drop from the parfum behind our knee on our nylons. D.W.: And when there was only a drop left in the bottle, she would give it to me and I'd put it in my little intimates drawer. We were like eight or ten years old.
Describe your morning beauty routine. S.W.: Every day, I use Ponds wipes. I do the high and low routine. Ponds, then Shiseido scrub, then Clinique pink eye cream, then Amore Pacific serum for rehydration, then Amore Pacific moisturizer, then Three Lab Tinted Moisturizer. It's awesome, so creamy. Eye stuff, a lot of Lancome liner, lash primer and Oscillation Mascara. D.W.: I cleanse with Bioderma Crealine H20 cleanser with Cle de Peau cotton squares, which I'm obsessed with. Then I use Cle de Peau Serum, which is also an exfoliator, then Cle de Peau moisturizer, Amore Pacific eye cream, Cle de Peau Foundation, Claudio Riaz brow shadow and face powder. I love Yves Saint Laurent mascara, and I love Oscillation, too. It's my constant go-to. I use Vaseline on my lips, and Louboutin as a stain, but I don't use it all the time. And whatever perfume I'm wearing at the time.
If there were one desert island beauty product you could keep, which would it be? S.W.: Probably the Amore Pacific moisturizer. D.W.: Perfume and Vaseline. My skin is very dry, and I use Vaseline all over my body. I'm obsessed with it.
What discontinued product or shade do you mourn? S.W.: Definicils Pro mascara. Lancome used to make one with a curved brush. It was a great mascara. D.W.: Everything in my routine, I try to keep unscented because I like the perfume to be the star. So, everything from my soap to my shampoo to my body cream is unscented, except there is one bar soap I'm obsessed with – Hermes L'eau d'Orange Vert soap. Now, because they've relaunched their soaps, they're phasing out that L'eau d'Orange Vert bar soap. It's a real problem! I gave it to my mother and she used it in like a week! She put it in the shower and then asked for more. I said, "Mom, this isn't like a five-dollar bar of soap!"