Two of a Kind
Oscar de la Renta calls upon an old friend for his new jewelry line.
---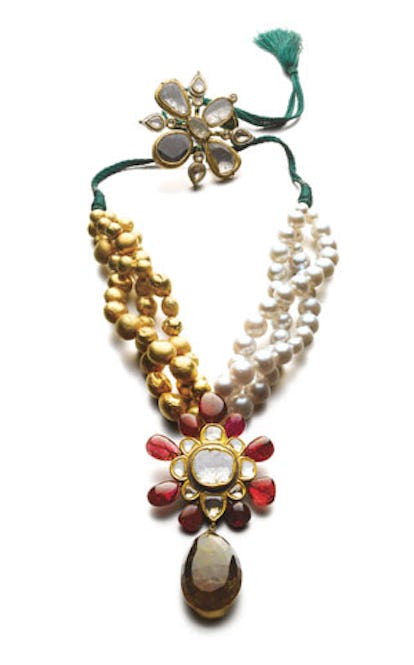 Oscar de la Renta is recognized the world over for the impressive name he's built as one of fashion's top designers, and certainly its most debonair, with an empire ranging from fragrance to furniture. Loulou de la Falaise is famous for being the longtime muse, jeweler and all-around right-hand woman to Yves Saint Laurent. De la Renta is known for his supremely refined and feminine design ethos; de la Falaise, for her nonchalant, French-chic tomboy style. Given their distinct personalities, when news of a jewelry collaboration between the two first surfaced last year, the venture seemed a rather curious one.
But for all the surface contrasts, these fashion stalwarts have plenty in common. And while the partnership certainly wasn't expected, it makes considerable sense. For starters, they go back—way back. "I've known Loulou forever," says de la Renta with a laugh. "I don't think it's kind of me to say how many years." He's close friends with her mother, former model Maxime de la Falaise, as well as Loulou's husband, Thadée Klossowski. Likewise, Loulou says that when the pair first got together to work on a jewelry line for the designer, "it was a bit like a family reunion. Oscar comes closest to the world that I used to know."
Oscar de la Renta's 18k yellow gold and citrine bangle, $4,800, 18k yellow gold and tourmaline cuff, $27,000, 18k yellow gold and diamond necklace, $20,400.
The line, to debut this fall exclusively at Oscar de la Renta boutiques, is mostly made of single- and multistrand beaded necklaces—a de la Falaise trademark—each an eclectic hodgepodge of stones in varying textures and sizes. But there's a handful of earrings too, including a pair of diamond and tourmaline cascades and some thick, stackable bead bracelets. Then there are the more adventuresome designs: the one-of-a-kind showstoppers like a half-pearl, half–gold bead necklace, its quartz, diamond and spinel pendant, de la Falaise notes, being de la Renta's idea.
This new pursuit shares in both their dramatic, bold styles—"I don't like things that are shy," he says—not to mention their love of exotic, far-flung inspirations. The one quasi-guideline de la Renta issued was the recommendation that de la Falaise work with a jeweler in India by the name of Mahesh Bharany and his trove of rich rubies, diamonds and sapphires. Yet despite such opulence, the offerings never skew too precious but rather showcase the chunky, crafty bohemian look that has become a de la Falaise jewelry signature. Chez de la Renta, the style reads "luxurious gypsy." "I knew she would be the perfect fit," says the designer.
Indeed, just listen to de la Falaise's thoughts on the partnership: "I think one has to like the people one works with," she says, "and having this warm relationship between us, it becomes fun. It's more like cooking with a friend."