A Death Becomes Her Musical is Coming With Kristin Chenoweth in Meryl Streep's Role
The '90s are as undead as the film's characters.
---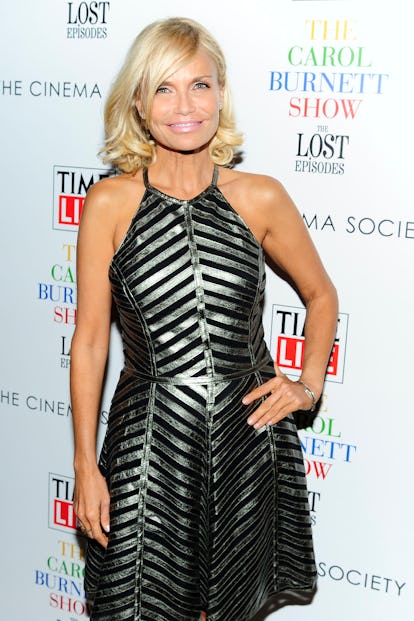 Death Becomes Her—the 1992 cult dark comedy starring Meryl Streep, Goldie Hawn and Bruce Willis—is going where so many '90s cult movies have gone before it: Broadway …well hopefully. A musical adaptation has been announced with Tony winner Kristin Chenoweth attached to take on the role of Madeline Ashton, previously played by Streep, according to Variety (http://variety.com/2017/legit/news/death-becomes-her-musical-kristin-chenoweth-1202639112/).
As Ashton, Chenoweth will play an aging actress, alongside a rival (previously played by Hawn), as they both long for everlasting youth. The women drink a magic potion, which leads to their unfortunate fate as they turn into living corpses. And while one might expect Chenoweth to play the role previously portrayed by Hawn, arguably the less narcissistic (at first) of the two characters, when she'll take the stage, she'll be depicting scheming, over-the-top Ashton. The fantasy film, directed by Robert Zemeckis with screenwriting by Martin Donovan and David Koepp, won an Oscar for Best Visual Effects in 1993. It was a hit at the time, grossing $149 million worldwide.
Of course this isn't the first beloved 90s film being turned into a musical. Amid this never-ending 90s revival happening across the arts, past 90s film-to-musical adaptations include a long list of Disney releases—Aladdin, *Beauty and the Beast*, Tarzan, The Hunchback of Notre Dame, The Lion King— alongside edgier fare like 1990's Cry-Baby and Edward Scissorhands (incidentally, both starring a young Johnny Depp). Other '90s staples like Sister Act, Groundhog Day, Honeymoon in Vegas, The Bodyguard and First Wives Club, amongst others, have all made the jump from screen to stage.
Death Becomes Her is being developed by Universal Theatrical Group, after the success of UTG's record-breaking Wicked, which co-starred Chenoweth. The actress, known for her long-standing work in musicals, as well as her recurring role in Fox's musical comedy-drama Glee, received a Tony nomination for Wicked (she won Best Featured Actress in a Musical in 1999 for You're a Good Man, Charlie Brown) and an an Emmy win in 2009 for Outstanding Supporting Actress in a Comedy Series in Pushing Daisies. Though, interestingly, Chenoweth is just about the only talent attached. A director and writers (or either words or songs) have been attached. There is also no timeline as of yet either.
In any event, it the 90s will remain about as undead as Death Becomes Her's two central characters.