December Release: Blake Lively
Blake Lively Talks About Perks Of Gossip Girl, Tension With Leighton Meester, And Feeling Like An Imposter On Movie Sets
---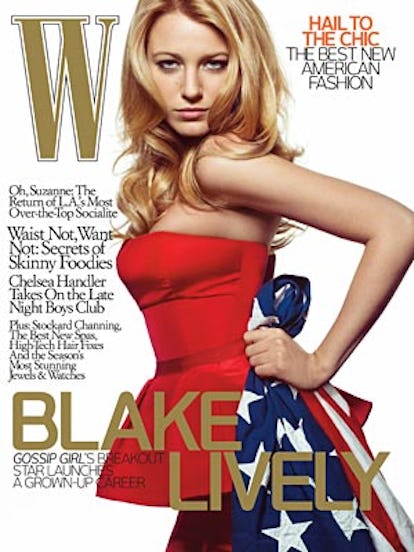 (November 10, 2008, New York, NY) Blake Lively opens up to W magazine about the perks of stardom…"I probably have, like, 60 gorgeous bags. I have a closet with my really sharp, fancy, nice ones – the ones that go with my Valentino pumps, for example. And then I have a closet with the ones that are a little more rugged-feeling, the kind that go with my Belstaff motorcycle boots."
Following are other comments from Blake Lively's interview found in the December issue of W:
ON HER AVERSION TO PARTYING …"I don't really like to go out. I'll go listen to live jazz, but the club scene isn't so fun for me."
ON DENYING GOSSIP OF REAL-LIFE TENSION BETWEEN HER AND COSTAR LEIGHTON MEESTER…"I've never really had a competitive relationship in any work situation. The media is always trying to pit us against each other, I guess because it's just not interesting to say, 'Everyone gets along; everybody just works 18-hour days and goes home to sleep.' That's not fun to read, I guess…"
ON HOW HER BROTHER, ACTOR ERIC LIVELY, SECRETLY CONTACTED HIS AGENT IN AN EFFORT TO PUSH LIVELY TO PURSUE AN ACTING CAREER…"He was trying to get me to make life decisions at 15! I was really busy at school, and I would have these agents calling and saying, 'We have an appointment for you.' It was really hard to say no, because I didn't want to make my brother upset."
ON HOW ATTENDING HER MOTHER'S ACTING CLASSES AS A YOUNG GIRL HELPED HER BREAK OUT OF HER SHELL…"My mom and dad always taught acting, so instead of getting me babysitters, they would just bring me to class. And I'm a naturally shy person, so it really helped. I would've just been hiding under the table, pulling on my mother's dress if I hadn't been in their classes. It forced me out of my shell."
ON FEELING LIKE AN IMPOSTER WORKING WITH HIGH-CALIBER ACTORS SUCH AS ALAN ARKIN, JULIANNE MOORE AND WINONA RYDER WHILE FILMING HER UPCOMING MOVIE THE PRIVATE LIVES OF PIPPA LEE…"Getting to work alongside that caliber of talent was just mind-blowing. I thought that one day Rebecca [writer, director] was just going to catch on."
ON ON TRANSITIONING FROM MOVIES TO TELEVISION…"I've been learning as I'm going along. I thought, Okay, I'll try a movie. And I was loving films, so I thought, No, I don't want to try TV. But now I'm loving being on the show more than I ever could have imagined. It has been just the most amazing experience anybody could ever ask for. It's such a blessing."
ON HOW THE GOSSIP GIRL CAST IS EXPECTED TO CHEW THROUGH A 55-PAGE SCRIPT EVERY EIGHT DAYS…"You get used to it. I can read a four-page scene once and have it memorized. It's a skill you learn in school: disposable cramming. We're flying by the seat of our pants a lot of times, which is why I enjoy doing films. It's a change of pace. It sounds cheesy, but with a film, you get to let each scene marinate."
ON SHEDDING POUNDS FROM HER "FIVE NINE AND THREE-QUARTERS" FRAME FOR HER UPCOMING FILM, ELVIS AND ANABELLE …"I play a beauty queen who died of bulimia. But beauty queens are still very toned. So I lost weight, but I got toned. It was the healthiest I've ever been. I just made chicken breasts from Whole Foods on a George Foreman Grill, with asparagus and broccoli."
ON HER FATHER, ACTOR ERNIE LIVELY'S, CONDITION AFTER A RECENT MAJOR CAR CRASH…"He's doing great, all things considered. It was very serious. And it's hard to be on the other side of the country from him. I'm so used to being within 10 minutes of my family."
Please credit the December issue of W for the above. For additional information or to schedule an interview with a W editor, please contact Engelman & Co. at 212.645.9222. Thank you.