Paradise Found
Dedon furniture founder Bobby Dekeyser traveled halfway around the world in search of his dream destination. Armand Limnander pays a visit.
---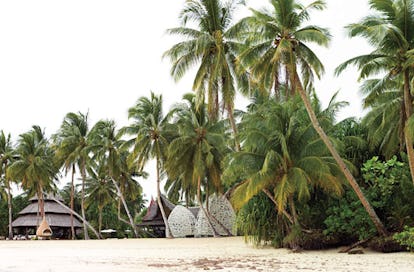 Over the past few years I've developed an idiosyncratic theory about traveling: Ever since the jet set gave way to EasyJet, my thinking goes, you need to hop at least three different planes to discover any place truly off the beaten path. (This is assuming you're traveling commercial and departing from a major city in the United States or Europe.) In our new world order, places that once sounded glamorously remote—Cartagena, say, or Chiang Mai—can easily be reached with a quick stopover in Miami or Bangkok. Once there, you're bound to find a Four Seasons, Sofitel, or Shangri-La with a perfectly proper room not unlike the ones at the Four Seasons, Sofitel, and Shangri-La back home; chances are that at some point during your ­vacation you will run into a famous fashion designer—except that he'll be wearing shorts and a weird hat.
Not that there's anything wrong with all this, mind you. But more and more I've been craving something different—and I'm willing to go the extra mile, ­literally, to find it. Imagine my excitement, then, when I discovered that a trip to Dedon Island in the Philippines would require not just three different planes but 37 hours of travel. I'd fly 15 hours from New York to Seoul and then, after a four-hour layover, continue for almost five more hours to Cebu, ­Philippines; landing at the stroke of ­midnight, I would check in at—no joke—the local Shangri-La and, 12 hours later and jet lag permitting, board a puddle jumper for the final hour-long hop to the small island of Siargao.
It was worth it. Arriving at Dedon ­Island (not actually an island but, rather, part of Siargao) is like visiting a magnanimous uncle's fabulous tropical getaway. There's nothing so prosaic as a reception desk to speak of; instead, you are simply led through luscious foliage to one of the nine airy cabanas designed by Jean-Marie Massaud and Daniel Pouzet that dot the four-acre property. Nestled among the cabanas are a low-key yet impeccably attended restaurant, a spacious outdoor living room, a pool, and a beachside bar. But the real attraction is the pristine nature surrounding you: a forest of mangroves on one side, and the ocean—clear, still, and bath warm—on the other. A strenuous day's activities on the island might include a ride in a "hubble-hubble"—a motorcycle taxi, which can safely accommodate two but is sometimes loaded with entire families—to Dapa, a tiny town with a bustling fish market; or a visit to Cloud 9, a surf break of worldwide ­renown. (Held in the fall, the Billabong Cloud 9 Surfing ­Invitational is the main event on the island's otherwise charmingly comatose social calendar.)
The aforementioned "magnanimous uncle" is Bobby Dekeyser, the founder of Dedon, the outdoor-furniture company known for its hand-woven poolside lounges and chairs, as well as for its beachy, Bruce ­Weber–photographed ads. Dekeyser can vouch for ­Siargao's idyllic qualities firsthand: Because most of Dedon's wares are manufactured in nearby Cebu, he's been coming to the Philippines regularly since the early nineties. About a decade ago, Dekeyser started chilling out at a friend's home in Siargao after his grueling factory trips, and in 2010 he persuaded the friend to sell him most of his land, renaming it Dedon Island.
Dekeyser, who looks like he could have been one of Weber's models, was born in Belgium but moved to Germany when he was 9, eventually gaining notoriety as the goalkeeper for the famed soccer team Bayern ­Munich. In 1991, at age 26, he suffered a career-ending accident on the field that nearly cost him his left eye. Using his soccer earnings, he set out to create his dream company. "I knew it had to be ­something to do with being ­outside," Dekeyser says. "I had this rattan furniture on the terrace, but it kept breaking down with the weather, so I thought, Let me try making my own."
It did not go smoothly. During his first showing to buyers, the only thing Dekeyser sold were some wooden giraffes from Madagascar that he'd brought along to use as decorative props. A year or so after that, a Club Med outpost in the Bahamas placed an order for a thousand rattan pieces—every single one of which disintegrated a couple of months after delivery. "The executives called me in to the Bahamas and were waiting with a big mountain of unusable furniture and a lawyer from New York," ­Dekeyser says. The next day, as he was moping on the beach, he stumbled upon Gilbert Trigano, one of the founders of Club Med, who was there on a visit, and told him the story. "He just said to me, 'Ah, who cares?'" Dekeyser remembers. "'When I started Club Med it was just about having people get together, bringing dancers from Paris, and having a good time. All the rest was secondary.'" Club Med ended up giving ­Dekeyser a second chance to deliver the furniture—one he did not waste.
In fact, Dekeyser seems to have channeled some of Club Med's early laissez-faire attitude into Dedon Island—albeit without the legendarily orgiastic seventies vibe. Everything is included for a flat fee—about $1,200 per person, per night—whether you're planning on a day of nonstop massages, are throwing a champagne luncheon on the beach, require a personal yoga instructor, or are bent on exploring the nearby coves via a private boat. "For me, luxury means being with friends and not thinking too much," Dekeyser says. "I wanted to create a place that operates at a very high level but still feels completely natural." Dedon ­Island, which can accommodate a maximum of just 20 people at a time, was built employing only local workers and materials (save for a few glass panes and bathroom fixtures) and also functions as a kind of testing ground for Dekeyser's furniture. The impressive beachside bar was woven entirely by hand on location, and a couple of Dedon Nestrests—the womblike cocoons designed by Pouzet and Fred Frety—hang languorously from funny-looking palm trees bent ­during a monsoon.
Thanks in part to collaborations with designers like Pouzet, Massaud, Philippe Starck, and Richard Frinier, Dedon's original concept of barefoot glamour has caught on. According to Dekeyser, the company has grown from 16 employees in 2000 to 2,800 today and is showing no signs of slowing down. Dekeyser's autobiography, Not for Sale, just published in Germany, will be translated into English by the end of the year, and he recently set up an educational foundation and weaving school in Cebu. A Dedon fragrance is in development, a clothing collection may follow in the not-so-distant future, and Dekeyser is already considering opening other ecofriendly resorts.
Despite his success, what Dekeyser genuinely seems to enjoy most—aside from hopscotching around the globe two weeks out of every month—is a kind of hyperactive hanging out amid nature. At Dedon Island he is in constant motion—swimming laps in the pool, jumping on a trampoline, kicking around a ball, or riding a motorbike to the resort's organic farm to check on the long beans. One of his favorite spots in the world is Sohoton, a glorious maze of seawater lagoons, pools, and caves about an hour by boat from Siargao. The area is uninhabited, pristine, and protected—visitors are allowed to experience it only via kayaks or small canoes called bancas, though Dekeyser prefers to glide from inlet to inlet standing atop a large Dedon paddleboard, creating a suitably messianic effect.
Only when Dekeyser and I were on the way back from Sohoton to Dedon Island, after a day of exploring underwater caves and jumping into the ocean from cliffs populated by monkeys and rainbow-colored birds, did it occur to me that my favorite travel theory would require some reworking. Three planes, a hubble-hubble, a yacht, a canoe, and a paddleboard? Now we're getting somewhere.
The beachfront at Dedon Island, with its bar (far left) and living room and dining area (center). A Dedon Nestrest hangs from a palm tree, and the woven white structures flank a trampoline.

Photographer: Massimo Vitali
The Dedon Island staff in the resort's ocean pagoda

Photographer: Massimo Vitali
Photographer: Massimo Vitali
One of the many ocean inlets in Sohoton—the white fleck in the distance is Dekeyser on his Dedon paddleboard

Photographer: Massimo Vitali
Dekeyser takes a dip in the pool

Photographer: Massimo Vitali