Demi Lovato Opens Up About Being Single and Addressing Her Addictions In Her New Album
The singer talks taking a break from the industry, addressing her addictions for the first time ever in her music, and just how much she's been loving being single lately.
---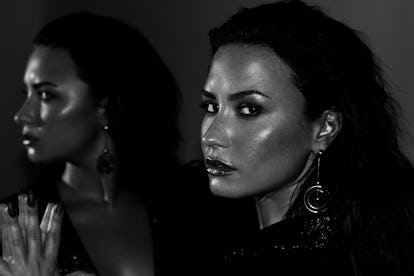 Angelo Kritikos
"So excited for 2017," Demi Lovato tweeted this time last year—though not about the album she'd already been recording for the last six months or so, Tell Me You Love Me, which is out this Friday. "Taking a break from music and the spotlight… I am not meant for this business and the media," she continued with an emoji that casually waved goodbye.
The news came hours after Lovato had gotten backlash for calling out Taylor Swift in an interview—one in which she also opened up about her split from Wilmer Valderrama, her partner of six years until that June. "I was in a darker…" Lovato, cozied up in her room in Los Angeles, started to tell me recently in exactly the type of interview she didn't envisage herself doing anymore this time last year before having a change of heart. "I was just more frustrated last year with social media and things like that, and words getting twisted in interviews."
Of course, there was also the simple fact that Lovato, who'd performed everywhere from the White House to the Grammy Awards that year and just wrapped up playing nearly 50 shows over the previous few months with Nick Jonas, including her own sets everywhere from Antalya to Guadalajara, was simply exhausted. "I was tired and burnt out and had just come off of a tour," Lovato continued. "I wasn't feeling very inspired."
Exclusive: Behind the Scenes of Demi Lovato's Tell Me You Love Me Album Cover Shoot
Behind the scenes of Demi Lovato's Tell Me You Love Me album cover shoot, photographed by Angelo Kritikos.
Behind the scenes of Demi Lovato's Tell Me You Love Me album cover shoot, photographed by Angelo Kritikos.

Angelo Kritikos
Behind the scenes of Demi Lovato's Tell Me You Love Me album cover shoot, photographed by Angelo Kritikos.
Behind the scenes of Demi Lovato's Tell Me You Love Me album cover shoot, photographed by Angelo Kritikos.

Angelo Kritikos
Behind the scenes of Demi Lovato's Tell Me You Love Me album cover shoot, photographed by Angelo Kritikos.
Behind the scenes of Demi Lovato's Tell Me You Love Me album cover shoot, photographed by Angelo Kritikos.
All that, however, changed in December: Lovato woke up to the news that she'd gotten her first-ever Grammy nomination; her 2015 album, Confident, was in the running alongside records by Justin Bieber, Adele, Ariana Grande, and Sia for Best Pop Vocal Album. The nod, along with more of her habitual charity work—Lovato helped build a women's empowerment center, visited schools, "did a water walk with the mamas of the tribes" in Kenya, even returning for a "very spiritual" safari in January—reenergized the pop star, who suddenly "stopped focusing on the negativity in the industry," she said. "I just felt ready to go."
By early March, she'd fully re-embraced social media, creating an Instagram for her dog whose first post announced that Lovato—and her pup, Batman—were back in the studio; by late March, she'd featured in a song with Cheat Codes, and was at work promoting that along with her starring role in The Smurfs, her second film project that year after February's Beyond Silence, a documentary about mental illness that Lovato executive produced.
Her chief concern, of course, became Tell Me You Love Me, which Lovato described as "definitely more mature and more raw" than her previous work. "I really tried to have my own Stripped," she said, citing the album in which Christina Aguilera, one of her biggest influences, successfully revamped her image from teen to a sexually empowered adult, as announced by a topless, black-and-white album cover, which in large part inspired Lovato to shoot her first black-and-white album cover, too.
The aesthetic relaunch wasn't the only breakthrough on this album for Lovato: "I've never sang about my alcohol addiction and my drug addiction, and that's what 'You Don't Do It for Me Anymore' is about," Lovato said of the showcase of her newfound "soulful," "R&B pop" sound that, belt it out as she may, she found "definitely hard" to sing.
Of course, there's still a lot of fun to be had, as the album's first single, "Sorry Not Sorry," proved this summer, complete with a music video that's essentially a giant house party, complete with pink flamingo pool floats and a sequin-covered Paris Hilton. And despite the fact that there's been speculation "Ruin the Friendship" has been rumored to be a clap back to everyone from Swift to Selena Gomez to Nick Jonas, and that "Daddy Issues" seems to allude directly to Lovato's relationship with her late father, whom she's previously described as abusive and mentally ill, the singer insisted both of those tracks fall on the "lighthearted"—and "definitely sexy"—side of things.
Lovato herself didn't announce the titles of those songs and those on the rest of the album; instead, she shared the details with her fans ahead of time and left the job to the Lovatics, who've been overwhelmingly enthusiastic and supportive of Lovato for a full decade now. "I remember when I was 15 and booked Camp Rock and started shooting the movie. I'd been replying to everybody on my MySpace and things like that, but that was when I didn't have enough time to reply to everybody," Lovato recalled. "I kind of had to come to terms with the fact that I wouldn't be able to respond to every single person, and it just kind of escalated from there."
That was especially true when Lovato turned 18 and started talking publicly about struggling with her mental health, including self harm, drug addiction, and bulimia in particular—all taboo topics the former Disney star has embraced openness about to this day. "That's something that's a part of who I am and am always going to want to talk about," Lovato said, adding that it's only amplified her connection with her fans even further. "I have a really special relationship with my fans that I don't think other artists have, and I'm really fortunate, so I want to incorporate them in every way possible."
True to her word, after promoting "Sorry Not Sorry" at a series of intimate house parties, Lovato has organized a contest for her fans to be in her next music video. And next up after the album is another documentary; unlike 2012's Demi Lovato: Stay Strong, which was about Lovato's rehab and recovery, this one, Simply Complicated, which will be released on YouTube next month, gives "really close-up, personal" insight into her recording process and "what it's like being 25 and single."
The latter, Lovato said, has "definitely made a difference" on both her and Tell Me You Love Me—though in quite a positive way. "I put more time into this album and working out my schedule. I was really dedicating all my time to the studio—I wasn't off with a boyfriend or whatever. And mentally and emotionally, it just made a difference, too."
As for how she feels these days about not having a partner?
"I don't know, I think I'm happy with where I am," Lovato said. Especially, it seems, now that she has Twitter back on her side to clear things up—and plug her latest projects. "If you're that curious about my sexuality, watch my documentary," she tweeted last week when rumors were swirling about her being seen holding hands with the DJ Lauren Abedini. She added: "But I don't owe anybody anything."
Related: Demi Lovato First Met Kate Hudson at the Gym, and Now They're Designing Athleticwear Together
See W's most popular videos: