Demi Lovato First Met Kate Hudson at the Gym, and Now They Are Designing Athleticwear Together
The singer has teamed with Fabletics, Kate Hudson's line of athleticwear, for the brand's first ever collaboration.
---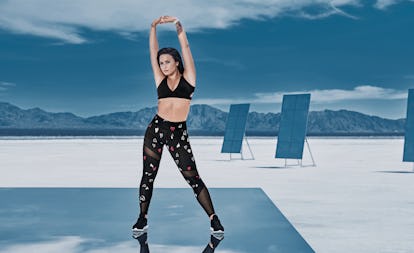 If you are one of Demi Lovato's 57.5 million followers on Instagram, then you know the singer is no stranger to the gym. Amidst a healthy dose of make-up free selfies and glam red carpet pictures, the 24-year-old often posts videos of her seemingly very intense workouts, including a recent clip of her doing mixed martial arts that has already amassed 2.5 million likes. It makes sense, then, that Kate Hudson tapped Lovato as the driving force behind her activewear brand, Fabletics's first ever collaboration. Demi Lovato for Fabletics drops later this month with a limited-edition capsule collection, with a full performance collection coming August 2017. Additionally, a portion of the proceeds from the collection will directly go to Girl Up, the United Nations Foundation's adolescent girl campaign, and SchoolCycle, which works in partnership with UNFPA to give girls bicycles, spare parts and maintenance training to provide a quick and safe mode of transport to school.
Here, Lovato details her chance meeting with Hudson, her current go-to workouts, and what makes a good piece of athleticwear.
Tell me how this collaboration came about.
I actually met Kate Hudson in the gym one time. I had never met her before. I think we approached each other because we had a mutual friend, and I had wanted to meet her and vice versa. We just connected and I love what she's done with the brand, and she knew I wanted to be a part of it. When they asked, I said "Absolutely."
Did you know what you wanted to make going into the design process?
I knew what I wanted to do, I just needed help with designing and sketching and all of that stuff. It was important that this collection reflected who I am. I wanted to incorporate a lot of patterns and phrases and sayings that I really like. On some of the clothes you'll see "Stay Strong," or "Confident." It's really cool. There are mesh pieces and some knit tops. There's a limited collection for May, and the full collection comes out in August.
What was especially important for you to have as part of the collection?
I wanted to make sure that I had flattering yoga pants. There are some brands that are really great with compression pants, and I wanted to make sure that the pants that I had have great compression in them, so that's what we did.
When you are personally shopping for athleticwear, what do you look for?
I look for clothes that I'm going to feel comfortable in and are going to inspire me to want to stay healthy while looking cute.
What is your go-to outfit for the gym?
Leggings, a tank top, and a zip-up hoodie… You want to wear more tight-fitting stuff if you do yoga, and if you do hot yoga, you don't want to wear a jacket. So it all just depends on what you're doing.
Are you a fan of the athleisure trend, and wearing your gym clothes out and about?
I'll put on clean gym clothes and definitely rock that look, for sure.
What workouts have you been doing lately?
I love training mixed martial arts. I've been doing it for about a year now. I started with boxing, and that turned into kickboxing, and that turned into muay thai, and then into jiu jitsu. I do it six days a week. I focus on that for my cardio, and for my other workout, I do strength and conditioning with another trainer.
Do you have a ritual to get into the zone or prepare yourself for a workout?
The only thing I do to prepare myself for a workout is drink caffeine—either black coffee or a pre-workout drink. After, i always have a recovery bowl, which is made of fruits, nuts, and kefir.
Do you listen to any music at the gym?
I listen to a lot of rap music. Kendrick Lamar's new album is really good
Do you have any pre- or post- workout beauty routines?
I don't wash my face before because I work out first thing in the morning. I normally just wait until after my workout, and will use some moisturizer and a toner.
What's the hardest workout you've ever done?
It's not really a matter of the hardest workout, it's more about how hard you are willing to work.
Related: Kate Hudson, Actress and Activewear Entrepreneur, Explores the Sounds of Sequins in ASMR