Demi Lovato Parties with Paris Hilton and Wiz Khalifa in Her Sexy New Music Video
The Summer of Paris continues.
---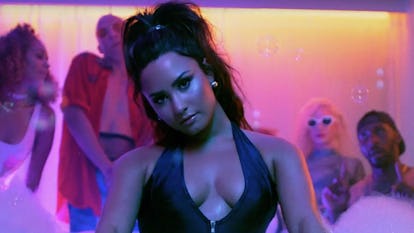 Demi Lovato/Vevo
"On June 29th, Demi threw a house party and we made a music video. This is what happened."
Demi Lovato debuted the video for her new, more adult single "Sorry Not Sorry" on Wednesday afternoon, and despite fun house-party visuals dominating most of the radio-friendly pop tune—we would happily include a bouncy castle or an inflatable bubble bath at our next bash while this plays in the background—perhaps the most enjoyable part of watching "Sorry Not Sorry" unfold is playing a game of celebrity Where's Waldo?
If you look carefully, you can find the formidable trio of Paris Hilton, Wiz Khalifa, and Jamie Foxx bopping around Lovato's California party apparently enjoying themselves.
In the song, Lovato confidently croons about—shocker—not caring about her actions in her signature breezy vocals—this one is sure to be in late contention for Song of the Summer soon enough. Lyrically, Lovato even peppered in a few expletives, distancing herself even further from her Disney persona. "Now payback is a bad bitch / And baby, I'm the baddest / You f—in' with a savage / Can't have this, can't have this, ahhh / And it'd be nice of me to take it easy on ya, but nahhh," she sings. "Baby, I'm sorry (I'm not sorry) / Baby, I'm sorry (I'm not sorry) / Being so bad got me feelin' so good."
"Sorry Not Sorry" originally dropped as a single last week, and it's safe to say it'll be included on Lovato's next album, whenever she chooses to announce it. Lovatics, rejoice!
As for Hilton, well, its her latest foray back into our national consciousness. The heiress is having quite the summer thanks to the release of her 23rd perfume, a new single on the way, some great [throwback pictures with Kim Kardashian](Paris Hilton Shared the Ultimate Throwback Photos From a 2006 Vacation with Kim Kardashian), hanging out with Katy Perry, and the sudden feeling of early '00s nostalgia that's everywhere.
Related: Paris Hilton Invented Everything You're Doing in 2017, and She Knows It
Paris Hilton Breaks Down Her 13 Favorite 2000s Trends, And Why They're Still Hot: