Fashion's Hottest Designer Demna Gvasalia Makes a Triumphant Return to Trieste, Italy
The Vetements and Balenciaga creative director won a prize at the fashion festival over a decade ago—now he's come back as a juror.
---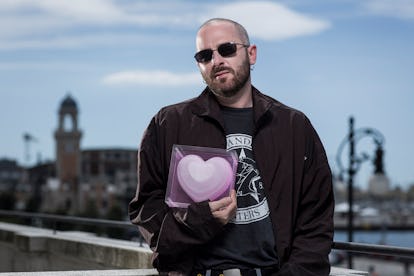 Last weekend, Vetements and Balenciaga creative director Demna Gvasalia was in Trieste, Italy, with his close friend and collaborator, the stylist Lotta Volkova. Although the two are currently planning a trip together to Los Angeles, the visit to Trieste was for business, not pleasure. Gvasalia was a juror in the 15th edition of ITS (International Talent Support) Fashion Festival, alongside fashion designers Silvia Venturini Fendi and Iris van Herpen, the Museum at the Fashion Institute of Technology curator Valerie Steele, Diesel's Renzo Rosso and more.
It was somewhat of a homecoming for Gvasalia, who won the ITS Collection of the Year Prize in 2004, when he was a 22-year-old student in the fashion department of Antwerp's Royal Academy of Fine Arts. The €13,000 prize allowed him to pay for a year of tuition—and now the rest is history. Here, Gvasalia took a moment to reflect on his accomplishments, why he'd never quit Vetements, and all the details of his upcoming summer vacation.
Welcome back to Trieste! How does it feel to return to ITS as a juror? Yes, I was a finalist in the third edition in 2004. It was a different experience being on the other side. I don't actually believe in competitions. I didn't really want to apply, but my brother Guram [Gvasalia] was very eager because he actually wanted a free trip to Italy. He never made it, but he filled out my application and got my stuff and he sent it all there. Then they contacted me that I was selected so I had to go. And it was a really nice experience being with all those candidates back then. A lot of people I knew from Antwerp and London took part, and there was a kind of a family feeling. There was no feeling of competition at all and I definitely didn't believe in winning. It was my first collection and I really wasn't sure about it. I lacked confidence, and voila the outcome was that I got the prize.
How did your presentation go? It was a horrible presentation. There was a microphone and I could hear my voice, and I had a kind of panic attack. I spilled my water glass, I dropped the mike. I mean everything went wrong that could go wrong. I don't think I even finished my explanation because I can't really explain clothes.
That's a philosophy you still stand by. How has sticking to your convictions helped your career? I'm a very intuitive person. I'm really not like, logically you should do this… never. If I'd used logic I never would have launched Vetements, because everybody including my family and my best, closest friends, told me: you're crazy, you have an amazing job you're well paid, why are you doing that because there's so many young brands and they struggle. But all the money I earned I put aside to start the brand.
Was starting your own brand always the plan? I was 32 and kind of incubating the idea of my own brand. And at one point, after two seasons at Louis Vuitton, I thought this was the time for me to do something. I felt safe in a way with the experience I had to start something up. There was no logic, it was more like gods telling me: "You have to do it now. You're at the age where you can still struggle for things like that." So I invested everything I had saved, about €100,000 in Vetements
Now that the business is up and running, how do you keep it together? I wouldn't be able to work with someone who is just interested in money. For Guram [Gvasalia], the goal is just the same as it is for me, even if we both have do different things: to stay independent and for Vetements to become a brand.
So you're not going to give up on Vetements now that you're at Balenciaga? Oh no, this is my life's project. I'm never going to start another brand. But I also have an opportunity now to do another brand [Balenciaga] myself. Creatively it's another opportunity to do something I would not be able to do at Vetements.
The Spring 2017 Vetements show took place in [Paris department store] Galeries Lafayette. What was that like? It's not an easy thing to to close a whole floor, on the second weekend of Fall sales. They had to install everything in an hour and a half.
I loved that you collaborated with so many brands for the collection. It felt quite ironic in that setting. That was the reason we chose to show at Galeries Lafayette because I thought we needed to be in a place where there's mass consumption happening. We had already shown in a church, a sex club, a Chinese restaurant. For us the question was: what is Paris?
One of the brands you collaborated with is Juicy Couture. What does that mean to you? I love it. For me Juicy is my L.A. reference.
Which brings us to your summer vacation. You're headed for L.A. pretty soon? The 28th of July I'm off at 10 a.m. I've just rented a house and a Mustang convertible for the last week in West Hollywood. There's a pool and it's really cute. It looks a bit like Marilyn Monroe's house. It's kind of tacky.
And when do you come back? The 28th of August. I made sure that it was exactly one month. I didn't want to come back on the 27th, because I thought if it wasn't the whole month I would be slightly frustrated.
What do you like about Los Angeles? I love the space and the freedom. You breathe in L.A. It's like the opposite of claustrophobia. I'm a bit claustrophobic in general, but there I feel the freedom, the space. I think we're going to visit the studios, and then I'm probably going to drive to Palm Springs. I have to go to there at least for a weekend for some cocktail parties and to see all the crazy people on the streets in Palm Springs, who are quite hilarious.
What else are you planning to do? Lotta [Volkova] is going to visit. We're going to go to Jumbo's Strip Club probably. For me, L.A. is about very simple stuff. It's like just randomly driving or going to In and Out Burger. I love going to the Rose Bowl. Or I can just stay at home and do nothing. I mean, just the feeling of being far away from everything that I normally deal with here. I find that very liberating.